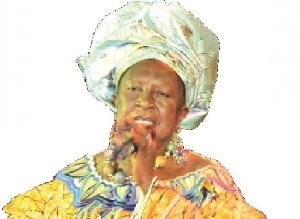 I am mourning this amazing Female Legend, Ewurama Badu. I am also happy that Values for Life (VFL-Ghana) was able to bring you to the first VFL Night with the Female Legends last year.
I just found this report on the event, written by the eloquent Francis Doku and thought I would share it with you.

As a female and also as an artiste, I have duly acknowledged, on many occasions, the contribution of the females who came before me and who made it possible for me to be what I have become.

Auntie Ewurama, thank you for agreeing to come to Accra to receive the award and for performing your hit songs to the admiration of all on that night.
You had fun too dancing to the music of your sisters Asabea Cropper and Naa Amanua. You had so much fun you couldn't wait for this year's event. You kept calling to be sure you were going to be invited.

Alas, although Leonora Buckman assured me that you were coming to join us for the 2017 edition, ill health didn't allow you to. The news of your passing hurts, it hurts really bad.

I pray you travel safe. May the angels meet you and keep you company. Until we meet again, senior sister, senior colleague, rest in perfect peace.