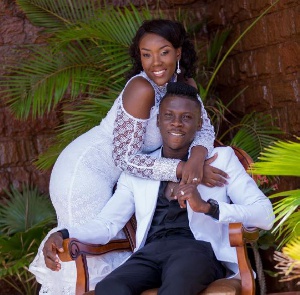 It is the dream of most people to tie the knot when they feel it is their time. It becomes unbearable and painful when you are told when to marry and to whom. This situation could either make or unmake you depending on the type of person you are. Some even lose interest as a result of vicious attacks on them just because society thinks they married a nonentity.
I was happy for Stonebwoy when he decided to take his Dentist girlfriend, Dr. Louisa Ansong to the altar. Reason being that, it is not easy as a man to decide on a particular woman to marry looking at the ratio of women to men in the country. It takes self discipline and the grace of God to stick to one woman.

Honestly, I was livid when fans of Stonebwoy soiled his wedding with their needless and ferocious academic comparison of his yet to be wife to Shatta Wale's wife, Shatta Michy. Some justified their infantile actions by claiming Shatta has been raining unwarranted insults on Stonebwoy for no apparent reason. What broke the camel's back was when Shatta decided to make mockery of Stonebwoy's way of walking at the just ended Ghana Meets Naija Concert. So they felt Stonebwoy's marriage afforded them the opportunity to tell Shatta some hometruths. In my opinion, that was silly and uncalled for because there was no need to attack Shatta Michy who has remained silent on this real or perceived beef between the two Dancehall heavyweights.

The attitude of those who indulged in the trolling of Shatta Wale and his wife shows how shallow minded some people are. We hail and worship people just because they are in certain professions that are held in high esteem. The fact that Louisa is a Dentist does not mean she is a better wife than Michi. Michi has been Shatta's pillar. With all his bag of troubles, she has still not given up on him. That should tell you how persevering and loving she is. She puts herself in the firing range for her husband damning all the consequences. That is what is expected of every good wife worth her salt.

The fact is higher education is paramount but it does not mean that, those who could not attain that feat are airheads and as such should be treated with disdain. It is good to educate yourself if you have brains and the means. We must understand that we cannot all be Doctors, Engineers, Lawyers, and Architects. So there is no need to denigrate people as a result of their inability to attain higher education. It is now a fact that those who have put to good use their talents are the ones ruling the world.

Also, accumulation of academic qualifications does not make you a better wife or husband. I believe your academic background exposes you to other aspects of life which will come in handy when necessary. It adds extra value to your life but over dependent on it will spell doom for the marriage. Many married couples started their marriage in a good note only for the marriage to end on the rocks just because they could not do anything beyond the A4 sheet called certificate. We should also not lose sight of the fact there are people who have all the academic qualifications there is but are humble. They have a thriving marriage because each person is ever ready to compromise in order for the marriage to work. They do not Lord over their spouses with their academic achievements.
Managing a home goes beyond the classroom. Some can not even manage their own lives and compound it by adding marriage. The basic ingredients for a good marriage is love, respect and a forgiving heart. So academic qualification is just a bonus.

Some of our forefathers never saw the four corners of a classroom but they were able to hold their marriages together for decades. Some even married more than one.They knew how to manage their homes without any professor schooling them. What pertains now is petrifying. The divorce rate is sky rocketing by the day. Most of the casualties are those perceived to be enlightened more than our forefathers but are quick to break their marriage without thinking twice.

Every parents' pride is to see their children married and stay married until the marriage is annulled due to the death of a partner. So to have your daughter ridiculed in public, I don't think the parents of Shatta Michy will take it lightly. It is as though they could not fend for their daughter. In this sick society we are, I will not be surprised the family is stigmatized due to this unhealthy attitude of some bullies.

We are so attached to certificates that people who can not make the grade for higher education are forced to use dubious means to gain entry into our institutes of higher learning just to impress people. No wonder some so called educated elites after all their education spend lavishly on their weddings just for the cameras. They empty their accounts and top it up by taking loans and end up as paupers. They start pointing accusing fingers when they hit a bad patch and have no solutions. The next tangible solution is a divorce. It is important to note that I am not against opulent weddings. If you have the means and some bucks to spend, you are at liberty to have the wedding of your dreams.

Also, I am also in no way saying that it is only drop outs who have good marriages. They also have their issues that plague their marriages. They also do mess up big time. My issue is we should not be cajoled into thinking that academic excellence is the only route to a good marriage. Anyone who thinks that is the only requirement, then that individual is living in the stone age era.
As a society let us encourage ourselves to believe in our dreams irrespective of our educational deficit. Let us guard against making disparaging remarks about others because we think they don't meet our standard. We do not know what this silly attitude could do to others. Who knows the psychological trauma Shatta Michy might be going through? She may not be open about it, but will be suffering within.

All we should ask God for is a good partner who is willing to help and shape our dreams. We all have our Louisa Ansong in different shapes. It is up to us to identify her. We can also make our own Louisa by helping in unearthing the potential in others.

Love and cherish whoever you marry. Pray for your spouse for you will spend the rest of your life with him or her. If your partner comes out good, you will enjoy it alone but if the reverse occurs, the vile tongues will be ready to pounce and shred you into pieces.

To Stonebwoy, congratulations on your marriage. Do not forget that, those who are hailing you now for a good choice are the same who will condemn you beyond measure if does not work out as envisaged. May you enjoy a fruitful union.

Finally, all rational beings must realize that academic qualications is not the bedrock of a marriage. It must be relegated to the background and serious attention given to the marriage. It is only the two individuals who can make it work by understanding, sacrificing, and above all the protection of God against internal and external forces in order for the union to stand the test of time.