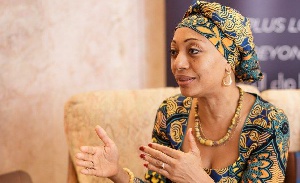 Some readers sent me a link (January 22, 2019) titled, "Italy wants France sanctioned for 'creating poverty in Africa'." That morning, I had just watched a BBC report on that very same subject.
From the link, Italy's deputy Prime Minister, Luigi Di Maio, had accused France for their policies in Africa that "have created poverty and caused" the massive migrations of poor Africans into parts of Europe, including Italy.

Nkrumah and CFA franc

The deputy asserted: "If France didn't have its African colonies - because that's what they should be called - it would be the 15th largest economy.

Instead it's among the first, exactly because of what it is doing in Africa." He continued: "France is one of those countries that by printing money for 14 African states prevents their economic development and contributes to the fact that the refugees leave and then die in the sea or arrive on our coasts".

According to the deputy, "France was manipulating the economies of 14 African countries that use the CFA franc – a colonial era currency" which supports the French Treasury and keeps it afloat to the cost of the francophone African countries.

That may come as a surprise to many Africans today, but that very point was mooted by Kwame Nkrumah during the independence struggles in the 1950s.
In his book, "Neo-colonialism: The Last Stage of Imperialism", he noted that of the Francophone countries, for example, "the international financial positions of these countries [and] their operations accounts" are controlled by the French Treasury, and are "being used in such a way as to impoverish" the Africans.

It is on that note that Nkrumah's vision for African Unity continues to ring loud and clear, and who stood better to resound the urgent call than Nkrumah's own daughter, Samia Yaba Nkrumah? She recently delivered the following address at the King Centre in Atlanta, Georgia. It went like this: Dr King visits Ghana, 1957

Greetings from Ghana and Africa; your home, the home of every single African. After all, Osagyefo Kwame Nkrumah said, "I am not an African because I was born in Africa. I am an African because Africa was born in me".

I thank the King Centre, my dear sister Bernice, and all of you, for including me in this historic meeting and gathering. I am here not in my personal capacity as such, but for what I represent. And that is a vision for the total freedom and unity of Africa and Africans everywhere.

Indeed, many of us perhaps were not born by 1957, when Ghana became independent. But before the independence celebrations took place, the government of Ghana thought that, "No, we cannot celebrate without the presence of some prominent sons and daughters: Africans who are living abroad". Dr King was one of those invited to witness that historic declaration of independence.

Yes, our links go that far and deep
Dr King came to Ghana in 1957. And there, he witnessed the historic celebrations and heard Kwame Nkrumah's declaration that "The independence of Ghana is meaningless unless it is linked with the total liberation of Africa".

He meant Africa and Africans. And for us, Africa is not only the continent: it is Africans everywhere on the globe; North, South, East, West Africa; the Caribbean; North America; Brazil; Australia: everywhere where Africans live.

Now in Accra, Ghana 1957, Dr King met and interacted with the head of the official US delegation, Richard Nixon. These two men met in Accra, 1957, something that we would have thought it very difficult to happen right here at the time.

But that just shows us what a shared vision can do: It can do the impossible. The impossible becomes possible. And I hope this is what has brought me here to be with you today.

A year of return

We have a mission to accomplish. A mission to realise the dreams of great people such as Dr King and his dear wife, Bernice's mum. A mission to realise the vision of Kwame Nkrumah for the total unity and freedom of Africa.
This year as I speak, the government and people of Ghana, the President of Ghana, have declared it "The year of return". Many Africans from here have been invited to come. Come back home. Come back home and let us work and sing together. It's not going to be easy, because we have our share of problems.

Yes, we have some tall buildings in some neighbourhoods; we have some few industries; we have excellent food, but we are importing a lot of our food. We have about sixty per cent of the land in the continent still not cultivated. Sixty per cent of our population is below the age of 25 in Africa.

The average African is a young person. So we have a lot of work to do. But we are never going to accomplish this work if we work separately: Ghanaians alone, Africans in North America alone, Congolese people alone, Egyptians alone, South Africans alone.

The only way we can realise the dream of our fathers and mothers is for us to work together. Africa must unite!

Africa must unite

Kwame Nkrumah said it. He didn't say Africa could unite; he said "Africa must unite". So my dear brothers and sisters, let us take today as the beginning of thinking and planning and conscientising ourselves.
You don't have to come home physically, because - as we know - everything happens in our thoughts and in our minds. And thank God, the almighty God, that we are speaking in a church. Because it's our consciousness that first of all needs to be freed.

We will be free. We will be free of poverty, of lack, of dependency, of exploitation, of discrimination, if our consciousness become free of all those ills.

May the almighty God guide us. May the pan-African spirit of our ancestors give us the strength and the courage to do the impossible. Africa must unite! Amen!

Writer's E-mail: anishaffar@gmail.com