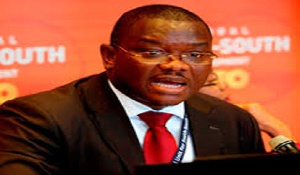 I have several reasons for supporting Mr. Sylvester Mensah. Among them are his charismatic charm, his appealing age and mastery of eloquence and strategic directions that he always provided.
Sly, at 54 achieved a lot. He washed his hands and dinned with kings and the most influential in Ghana and beyond.

A man who possesses a potpourri of charisma and attractive age to lead Ghana at a pace that will deliver us from the current socioeconomic quagmire and unite our party(NDC), Sly, as he's affectionately called holds maximum influence in Greater Accra where he broke his political virginity, and Volta Region, the world Bank of NDC, where his father comes from, is honored and revered by all political players from those two regions.

With Sly in the saddle, the NDC can energize its 'world bank' and also attract floating voters from Greater Accra, strategically. Palpably, Sly is a colossus in these two most influential and powerful electoral Regions of the NDC.

As a former CEO Of NHIA, he's been able to touch lives and health of Ghanaians directly. He did not only serve as a CEO but a 'messiah' of that organization, thus, the NHIA underwent an infrastructural quantum leap under him. Those who are aware of this unmatched feat always conclude that "Sly is NHIA and NHIA is Sly ".

In order to ensure prudent management of resources, Mr. Sylvester Adinam Mensah supervised the construction of the current edifice that serves as the headquarters of the National Health Insurance Authority. Similarly, all regional offices were built under his strategic leadership of NHIA.

He began the construction of some District offices before he was removed from office to the Flagstaff House as a presidential staffer. Sly's timely infrastructural intervention has delivered NHIA from needless advance killer rent which he is strongly advocating against.
ACT 852 was passed into law through his handiwork. This law gives the NHIA a national character and ensures that the operations of the NHIA are controlled by a single Authority that regulates the functions of District offices across the country. Indeed that was the turning point of the success story of the NHIS in Ghana.

Utilization and claims management have seen positive records under Sly's leadership. Lest I forget, do you know that Sly 'midwifed and nurtured' the biometric Regime of the scheme? The new biometric cards system introduced by Sly ensures instant card issuance to clients, and replaced the old magnetic cards that took three months to be issued which was not only frustrating but a recipe for a possible collapse of the scheme.

Mr. Sylvester Mensah won several awards as CEO of NHIA both locally and internationally. Notable among them are: Business and Leadership Awards in Brussels – Belgium, 2014; Best Chief Executive Officer in Ghana award by IMANI Ghana, 2014. On behalf of NHIA Sly received the Leading Public Institution Award presented by IMANI in 2014.

The rest are Outstanding Performance and Transformational Leadership Award by the West African Regional Magazine, 2014; The African Price for Excellence and Leadership in Corporate Governance by the Global Centre for Transformational Leadership, 2013; and West African Regional Magazine Achievers award in 2012.

Mr. Sylvester Adinam Mensah was also inducted into the West African Nobles Forum as an eminent West African in 2011. In 2010, he received a UN/WHO award for Excellence and leadership in Geneva, Switzerland.

Remarkably, during his tenure as CEO of the scheme, more Ghanaian youth got employment opportunities to work with the NHIS.
Sly became a Member of Parliament at age 33, CEO of NHIA, lecturer, banker between his 40s and 50s, and can possibly become president in his late 50s.The world is now gravitating towards leaders who can best be described as insider-outsider politicians like Sly.

At age 54, if Sly comes across as young as some people think he is, then he is well positioned to lead NDC and Ghana.

I'm particularly comfortable with 54 as the Winnig age in the flagbearership race of the NDC and I'm not in this class of thinking alone.

Mr. Slyvester Mensah is admired by many including the young, the old and the aged. The intellectual class of Ghana describes him as "giant slayer" and I described him as mild mannered and 'smooth talker' with persuasive tongue that is second to none in the NDC Presidential candidature race.

He passes by no man without a smile, a friend to all and enemy to none. The younger his looks in the competition the stronger his appeal to delegates across the country.

Amazingly, his visit to northern Region some few weeks ago revealed a hidden treasure of admiration he enjoyed from all constituencies he visited. His sweet tongue and soft-spoken voices drew endless applause and endorsements from delegates and chiefs.
He is bold, confident, decisive and exudes the kind of charm that is enough to attract floating voters. As a handsome man of 54, many still confuse his good looks to mean a "young" man who's not old enough to lead.

54 as an age never comes as younger, regardless of how one looks at the figure 54, even if the number is turned the other way round and it becomes 45, he would have still been qualified to lead the NDC into 2020 general elections.

Sly has demonstrated enormous potential to lead Ghana from the get-go. However, there are other names in the race which undoubtedly are equally qualified to lead the NDC, but they appear to be spent forces since they have outlived their usefulness, youthful charm and energy to win elections as Sly.

The population of Ghana and the world is tilted towards charismatic Youthful personalities such as Mr. Sylvester Mensah.

My love and admiration for Sly further swelled after I read his book "In the shadows of politics". This book revealed truths and facts about his life before, during and after politics. It was vividly narrated that anyone who read it will have no option but love and admire Sly.

One can say that there are still so many people who don't know the man Sly. Their knowledge of him didn't go beyond his name and handsome face.
Those people are not only unfair to Ghana but highly unfair to the NDC, that is if they are members of the party because their lack of in-depth knowledge of the man Sly seems to be delaying Ghana the golden opportunity for economic transformation aimed at turning Ghana into the "makka " of Africa where no youth will be idle.

I humbly advise those in this category, to listen to or read about the vision Sly is espousing in his campaign to lead the NDC and Ghana. He is promising to unite the party, reward loyalty and create prosperity for all.

Sly exudes loyalty and evokes the spirit of "no edidigya", this catchy and powerful phrase evolves around the social Democratic ideology which defines the man Sylvester Mensah as caring, and one who listens more than he talks. He Is a friend to the elderly and a comrade to all.

I will not be surprised if Sly emerges as the presidential candidate for NDC in December 2018.