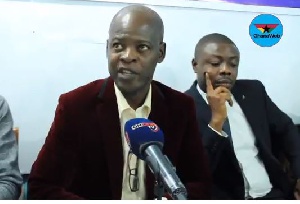 It was "irresponsible" and "reckless" for Energy Minister Boakye Agyarko, to have told an international forum that some disgruntled Ghanaian politicians who are not in favour of a military cooperation deal between Ghana and the United States of America, are inciting the youth in the Western Region to blow up some oil pipelines, Dr Steve Manteaw, Chairman of the Pubic Interest and Accountability Committee (PIAC), has said.
The Energy Minister, who dropped the hint in Houston, Texas, USA, at a meeting with some oil companies on the sidelines of the Offshore Technology Conference (OTC), said the disgruntled politicians had polluted the minds of the youth to the point of inciting them to wreck violence in the oil enclave of the Western Region.

Commenting on the minister's remark, Dr Manteaw wrote on his Facebook page that: "A lot of this is untrue, reckless and irresponsible. No politician is instigating the youth of the Western Region to blow up the country's oil installations, and no group is planning to do that.
"I know one of the reasons Ghana is taking part in the OTC conference taking place in Houston is to attract investment into Ghana's oil and gas sector, and I am wondering how this scaremongering can achieve that objective. Boakye Agyarko must learn to rise above pettiness and mischief."