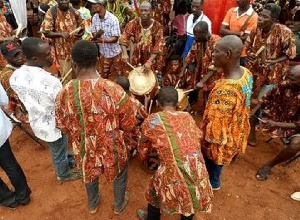 There are indeed missing pages of Ghana's history and one of such people who have been left out of history books in Ghana are the Ahantas and their contributions to the foundation stone of this great country called Ghana.
When I wrote on Otumfour Badu Bonso II and what he stood for as an African king who opposed slavery greatly which eventually led to his death, I received some loud applauds from Ahantas home and abroad.

Today, I am recounting the heroic exploits of John Canoe, another brave Ahanta ever lived on this planet earth. He took wars to the Europeans on several occasions and won.

He was variedly referred to as John Kenu, Johann Kunny, John Conrad, Johann Cunny, Jean Cunny, January Konny or John Conni by the Germans, the Dutch, the French and other European tribes who invaded Africa particularly the then Gold Coast depending on the impression this great son of Ahanta left on them. During his days, he gave the Europeans particularly the Dutch and the British a sour memory about him as he portrayed the blackman superiority as he was constantly fighting them so he was referred to as THE AFRICAN GENERAL by the Europeans .

Who is actually this man with varied names as pronounced by the Europeans?

There are no available records about his date of birth but he is known to be a chief from the Ahanta tribe of present day Ghana. He was a powerful merchant in the then Gold Coast who had his own private army and was an ally of Brandenburg-Prusia at the time of Brandenburger Gold Coast colony in Axim. He was actually a German trained who later turned his back on them to help his Ahanta people who were being captured and sold into slavery at the time. He intercepted several slave ships and freed the captives.

Between 25 December 1708 to 1724, he took over Fort Frederisckburg which had been abandoned by the Brandenburgs and controlled it against several massive conquest attempts by the Dutch. Every attempt made by the Dutch to take the fort from him failed as he defeated them on countless occasions.
He fired guns and cannons at his Fort to send signals to passing ships as a sign of his preparedness to trade with them. He also did that to dispel enemy ships and also to signal that he is ready and fully prepared to repress any attack on his fort.

As an ally of Brandenburg-Prusia and a broker, he succeeded in directing trade to his post, Fort Frederisckburg to an extent that revenues dwindled greatly at the Dutch forts in Axim, Butre and Sekondi. At least some 95 ships were recorded to have traded with John Canoe at Fort Frederisckburg when he took over between 1711 and 1713.

In 1717, Brandenburg sold its possessions in Gold Coast including Fort Frederisckburg to the Dutch without the knowledge of John Canoe and he was highly displeased with them. Despite his anger with Brandenburg for betraying his trust, he still remained their middleman and kept his grips on Fort Frederisckburg. He led two year war against the Dutch and the British at their bases.

In the course of, he attacked Fort Metal Cross at Dixcove which used to be a British trade post and caused a severe damage to it. His warriors were mainly Ashantis and Wassas with a complement from his tribe, Ahanta and Nzemas.

During the warring years with the Europeans powers particularly the Dutch and the British, he provided a great support for his army and the people Ahanta from his trade proceeds. In 1712, he again went to war with the British and won. He was at the time controlling an army of 15, 000 men. His army later grew up to 20, 000 men as he continues his warring expeditions with the foreign powers.

This made the Dutch and the British to put constant pressure on Brandenburg to stop trading with him since he acquired most of his guns from them.
In 1724, he withdrew from controlling Fort Frederisckburg after 7 years. Around that same time, he again went to war with the British who this time solicited the support of Fante troops but this time John Canoe was defeated. When Princess Town was captured, John Canoe vanished. It is believed that he escaped to Kumasi, the capital of the Ashantis who were his allies after the British tried to capture him and sell him to into slavery. That was the last time the Europeans heard of John Canoe.

He was listed as one of the three large African traders or merchants of the 18th century Gold Coast presently known as Ghana. John Kabes and Thomas Ewusi were the other two who were also in command of private armies and controlled trade at their pleasure and were also a piercing thorn in the flesh of European powers who came to Africa to exploit us through trade and slavery.

There is still more to John Canoe story. I will tell you later.

Ahanta has a story and I am saying it so be proud of yourself if you are one of us. Historians in Ghana have forgotten us but we have not forgotten ourselves.