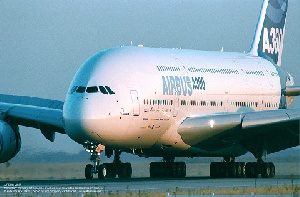 Media Foundation's Suleiman Braihma came out with an interesting analysis sequel to the Airbus scandal that mentions some government officials in Ghana as dealing in corruption. In his analysis, he apparently points the accusing finger at former President John Mahama to be the recipient of bribes from the British company, as reported in the exposé.
If it's so, it'll be damaging to the former president who's also the presidential candidate for the biggest opposition party, going into this year's general elections.

On the contrary, I see more of political gameplay here.

It bears a signature of rightwing capitalist political machination, and to whom it is directed at is obvious to all students of Ghana and international polity - the leftists socialist leaning.

It's not arising from within our jurisdiction although incumbency has been presented with a huge political capital. If we finger the ruling new patriotic party led by Nana Addo to be behind these exposés, for the interest they have as it would boost their electoral fortunes in the upcoming elections, we'll be blinded off and allow ourselves manipulate unknown, the doings of the Masters who are behind the implementation of the new world order. An order that makes in a pariah guardians of moral absolutes.

They, as seen more in the National Democratic Congress (NDC), led by whom the Airbus scandal is apparently pointing at, Former President John Mahama, who do not walk the dictates of the new world order would be swept out of the political field. Exposés of this nature are meant to retire politicians who are implicated in it.
Don't forget it also that from where the exposé came, leaders of that country are projecting themselves to be a world power to reckon with days after a divorce with the mother union, the European Union (EU), ending without a deal the 47-year marriage. Political leaders who walk along the New Britain dream would be shielded, those who don't deserves a good riddance.

Britain today led by Boris Johnson, a rightwing capitalist, to establish a foothold in the political and economic landscape after leading his country out of the European Union (Brexit), will allow out all exposés irrespective of how damaging it would be, so far as it's a socialist's ass that is gored. As the Goka people say it: "who pours libation to bless his enemy?"

Remember it's politics we're talking about here - *It's a game.* The players must be Masters. Alliances must be formed with Master players, and needs to be maintained.

Look at it how the rightwing, conservative, capitalist political alliance is working world over.

USA's Donald Trump, who's also in the rightwing capitalist alliance with Britain's Boris Johnson, not long ago dealt a big blow to the leftwing socialist alliance in killing Iran's General, Qassem Soleimana. Today, at the Democrats Caucus in Iowa, Trump is more mentioned than the candidates who are competing to be elected as the Democrats' flagbearer and face the incumbent (Donald Trump) in the November 2020 national polls.
His failed impeachment trials alone gives credence to how profitable it's when you attack your opponents on the other side of the political divide harshly. Trump has now been given the momentum, sit back and count his political fortunes in the near future.

When one member in the leftwing alliance is attacked, it definitely assumes a debilitating rippling effect in their circles. And so it'll be when it's the rightwing circles that are impaled.

It's more pity though to the President Mahama NDC, as in election year, those in his leftwing circles are carrying burdens of political emergencies with the sequel events so debilitating. Iran hasn't yet come out of the blow dealt their martyred General, another of the leftwing allies in China is battling a ravaging Coronavirus (2019- nCoV).

Another key socialist, Russia, a leftwing leaning, has suffered damages in the gradual loss of key important allies, Ukraine for example is now more leaned to USA, as Syria is becoming a failed state.

On the day you'll drown, the figs by the river rejects you.
We can't bid President Mahama goodbye yet in his political career as we see in Bolivia's socialist Evo Morales. It's still politics we're dealing here, a game played by Masters. If he can still stand his grounds as seen in Venezuela's Nicholas Maduro, then he could remain long on the political turf of play.

Bribery and corruption have beautiful names enshrouded in political language, it's only spoken, understood and walked by the Masters.

But as President Mahama's policies are more seen to be outside of that of the new world order, he should hear from me for the first time that: the Airbus scandal is a coffin that has been placed at his gate, it only buries political fortunes, but not that of the Masters!

We have a job at hand, our fallen walls needs an urgent rebuilding, those whose strength and courage could be doused by a seemingly politically engineered canon, should give way to the patriotic sons of the soil who acting on the dictates of the new world order, will return Ghana to her greatness of old, the pilgrim's pride.

Long Live Ghana!
Contact/WhatsApp: +233249542111

Email: sirlord42111@gmail.com