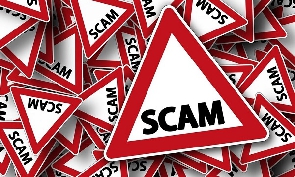 Why are Ghanaians so weak-minded to always allow themselves to be duped by scammers?
As l write, there is one Amos Boakye on the television advertising an Airopay which alleges to work in collaboration with Chase Bank on intent to help needy and poor Ghanaians.

To start with, l would like Ghanaians to note that Airopay from how the advertiser explains it is a complete scam.

He says there are some deceased people in America who have left huge sums of money in their bank accounts that no one is making claims to their ownership.

Therefore, Airopay in partnership with some Americans and the Chase Bank have decided to use that money to help interested needy, and poor Ghanaians.

Any interested Ghanaian is requested to immediately call Airopay on phone number 0530609854 to register their phone and mobile (momo) account numbers with them.
The conditions are that one can only register same account twice to receive a double portion of their assistance.

You have to give them the details of your Ghana card to be able to register your momo account to purchase a voucher

If you buy a Ghc50.00 voucher, you will instantly be credited Ghc1,500.00 to your momo account.

If you buy a Ghc100.00 voucher, you will receive Ghc3,000.00. If you buy Ghc200.00, you will receive Ghc6,000.00 and Ghc300.00 voucher bought will earn you Ghc10,000.00.

Some people phoned in to register and within two minutes phoned back to claim they have truly been credited with the sums of money promised by Airopay.
Ghanaians, from the way Amos started the introduction, the availability of the money to be given out, where the money is coming from and how one can have the promised money credited to their accounts are signs of scamming activities.

Those phoning in to assert that the money has been credited to their account as promised are their colluding partners to dupe innocent but poor Ghanaians.

No Americans have died to leave huge sums of money in their accounts that their relatives cannot be traced hence, Airopay, agreeing with Chase Bank and some NGOs to give the money away to interested needy Ghanaians.

Anyone that falls victim to this scam should not come back to blame the president of Ghana and then ask the president and his government to refund them any money they may have lost to Airopay.

The advertisement as said has the hallmarks of a scamming scheme.
Why is the government so weak to allow scammers of all sorts to frequent the television or the radio?

Ghanaians keep on being duped time and again, yet they have not learnt any lesson from their bitter experience.

Airopay is simply out there to con Ghanaians as others before them had done.