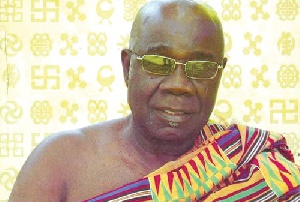 He lived a long, glorious and consequential life. He was a lawyer, a politician, an industrialist, an author, a peacemaker and a patriot. Today, the boy from Aboabugya has gone home and what a life. Whenever I think of him, my heart starts singing, "Now praise we great and famous men".
He was a big man who did not look down on small people. His home was open to all. And I and many others recall many great meals and conversations with Apino holding court and yet making sure all were heard.

He was an industrialist who helped millions stay clean with Apino soap when their government could not even import soap. As he explained to me, "a man should not be dependent on politics for his livelihood." And his business acumen was celebrated by Africa with an award. But even in business, he was always a politician and a nationalist. It was as President of the Association of Ghana Industries that he led the organization to honour his life-long friend and business tycoon Kwame Pianim, while he was in prison for subversion under the brutal PNDC junta. The night Kwame Pianim's wife accepted the award on behalf of her imprisoned husband, there was not a dry eye in that room. That took balls.

And he was a man of action, who, unusual for a Ghanaian, was also a man of thought. Apino loved ideas. I remember discussing Lincoln with him one night. When I suggested that Lincoln's greatest speech was his second inaugural rather than the Gettysburg address, he seemed surprised. When I saw him a month later, he had re-read both speeches and expressed his agreement with my point. He was one of the few people who could discuss the political tensions between Disreali and Gladstone and move seamlessly to ethnic and chieftaincy challenges of Yendi or Wenchi or Tetekaasum.
As he showed in "The River in the Sea", he is a great raconteur. He recounts that 1979 schism in the Danquah-Busia-Dombo tradition that led to defeat with great insight. That experience marked his life and made him a focus of unity. In all the years I knew him, he was always promoting unity and conciliation. To me, his defining quality was courage. Just as he was willing to confront dictators, he was willing to speak truth to power within his own party. With his death, the Apino-da Rocha truth axis is no more and the NPP and Ghana would be poorer for it.

This weekend, Ghanaians from all walks of life, across the political divide will give Apino a fitting send off. He was very proud and passionate about his work on the Constitutional Review panel established by President Mills. He was convinced that a revamped constitution, based on the reform proposals generated there-in would energize our democracy and help us to be the nation our founders meant us to be. We should do this to show that sometimes, the good that men do lives after them.

May God send us more Apinos. Akenten APPIAH-MENKA, my friend, my father, my mentor, rest in peace. Arthur K