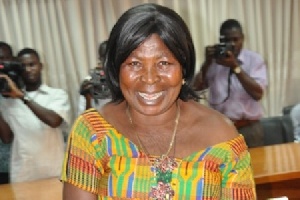 By Badu, K
Even though Madam Akua Donkor does not have a classroom education, she harbours no vestiges of slavery.

I must admit, I could not believe my eyes when I heard Madam Akua Donkor on the radio revealing her inborn predilection for 'Pan Africanism'.

Unlike the so-called intellectuals who more than often take solace in the foreign culture, Madam Akua Donkor is rather antipathetic to the Western way of life.

According to Madam Akua Donkor, she was christened as 'Victoria Donkor by her biological parents. But after growing up and developing superior powers of the mind, she did not see the wisdom in taking 'Whiteman's' name, hence changing her birth name to Akua Donkor.

Madam Akua Donkor opined: "tell me why I should take a 'Whiteman's' name?" "Don't I have my own culture?" "Would a 'Whiteman' ever name his child after me?"
I was indeed dumbfounded to listen to someone who had had no classroom education, yet, so much liberated in the mind. Indeed, she holds no slavish mentality.

As a matter of fact, juxtaposing Madam Akua Donkor's refined disposition with a self-acclaimed intellectual's thought process brings nothing but melancholy, so to speak

Yes, we have self-acclaimed intellectuals who find it inappropriate to be called by their aboriginal names, but rather take comfort in adopted 'Western' names. How bizarre?

So, for instance, an individual would choose say, 'Steve Malory' over 'Osei Kwadwo Opoku'. Sad, isn't it?

It reminds me of a friend of mine who once questioned me about my reasons for refusing to give 'English' names to my boys.
According to my friend, the 'English' people will find it difficult to pronounce the names of my children and therefore it was needless for me to give British born children the native Ghanaian names.

I was indeed befuddled upon listening to my friend's thought process. However, I contained my emotional intelligence and showed deference to my classroom educated friend, who is yet to liberate his mind.

My question to my friend was: "did our colonial Masters name their children after our great forefathers?

"Have you ever seen any Englishman who has named his child after our rich African names such as 'Tetteh, Nkrumah, Busia, Danquah, Acheampong, Afrifa, Amu, Ayikwei, Quartey, Azumah, Gbedema, Atinga, Atuguba, Dramani, Kufuor, Addo, Akoto etc.?" I enquired.

Unsurprisingly, However, my friend answered no and then added that he has realised why I have given African names to my three boys.
Of course, there is nothing wrong to have a name change. However, I find it extremely abhorrent when bona fide Africans swap their rich names for 'Western' names.

What's more, it is absolutely fine for married women and men to have name change. So, for instance, if Madam Akua Donkor was to marry John Dramani Mahama, she can opt for 'Akua Mahama'.

Similarly, if one 'Kwadwo Osei Opoku' chose to enter into a civil partnership with one Mr John Malory, he can choose to use his partner's family name-Malory, hence would be known as 'Steve Malory.

On the other hand, fugitives often resort to identity theft in order to conceal their identity. Thus it should not be surprising when 'Osei turns into a 'Malory'.

Identity theft involves the perpetrator of the crime taking the victim's personal information with a view of using this in an unauthorised way for their own personal gain.
For example, identity thieves can use someone's identity to commit crimes, such as entering (or exiting) a country illegally, trafficking drugs, smuggling other substances, committing cybercrimes, laundering money and much more.

For me, I do not take those flamboyant charlatans seriously, because they are of a dubious character.