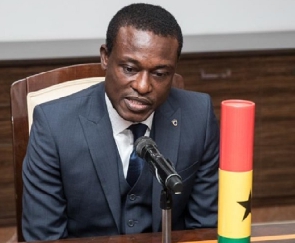 You did acknowledge, Special Prosecutor Kissi Agyebeng, and you stated that "you haven't seen much commitment from the administration to tackle corruption." You're correct because I've published articles in the past questioning your abilities as the next Special Prosecutor after Martin Amidu. I was one of the writers who criticized the former Special Prosecutor for not doing more to combat corruption in the country before the picture became evident after his resignation was prompted by frustration.
I am aware of Akufo Addo's skill at deceit and manipulation, but up until the day the former Special Prosecutor resigned, I had no knowledge that he was interfering with and constraining his ability to carry out the duties he had been given. Akufo Addo was in a hurry to name a Special Prosecutor because the constitution requires that one be appointed if the current one dies or resigns. You may recall that Ken Agyapong and Mr. Amidu were among those who opposed your selection.

In spite of this, Akufo Addo chose you to be the new Special Prosecutor because he is a very arrogant and intransigent Ghanaian president who doesn't listen to anyone. The question you failed to ask yourself was, "How can I be successful with my work if Martin Amidu resigned?" I know you were happy to finally get appointed, but did you think you could simply avoid the limitations Mr. Amidu, encountered with Akufo Addo , when you are aware of the factors that led him to resign?

Kissi Agyebeng, even though I am not a prophet, you'll realize that everything I have written about Akufo Addo has happened, if you go to the archives and read every article I have written about him. There is no need to be a psychologist to recognize the odd behavior of a president, and there is no need to be an economist to recognize that the risky games these politicians are playing with the nation's economy through corruption and illegal money printing will cause the economy to collapse.

Therefore, I've known all along that you'll fail, just like Mr. Amidu did, because Akufo Addo is a man who is never the person he wants the entire world to know he is, based on what the former Special Prosecutor has said about him as well as the little information I gleaned from most of the articles he has been sharing as a columnist on ModernGhana. The president is a man that promotes virtue while engaging in immorality. He simply appointed you to carry out the constitution, but since he is corrupt, he would never permit you to fight corruption.

Akufo Addo, who has served as president of Ghana for six years, has irreparably damaged our country via his extravagant spending and immoral lifestyle, to which he is hopelessly addicted. Many people are afraid to write the truth about the president, but I don't feel that way because speaking the truth doesn't require fear, and more importantly, I do the same against the governments of Belgium, where I currently live, and the United States because many of the policies they have implemented to further their own interests also worsen the situation in Africa.
As a result of the fact that King Leopold II, was a criminal who deformed and mutilated Africans' hands in the Congo, I wrote to the previous Belgian Prime Minister, Michael Michel, requesting that he destroy all statues of that criminal king in Belgium. Considering that there isn't a statue of Adolf Hitler for committing a horrendous crime against humanity, especially the Jews, why should they create one for Leopold despite the terrible atrocities his country did to the Congolese?

He replied to my letter by saying that the issue is a royal one and that things would get better. In reality, I notice significant changes in Belgium today about Black people, and I truly commend the Belgian government for its efforts to foster a welcoming environment between Whites and Blacks across the nation. Black people now make up the majority of the workforce in Belgium's offices and elite institutions, which was unimaginable two decades ago. God is there for everyone, but sometimes we need to pick up the pieces and fight the battles ourselves instead of waiting on God.

Mr. Kissi Agyebeng, in order to keep this article from getting too long, I sincerely ask that you quit rather than dishonor yourself by continuing to serve in this administration. The one opportunity you had to show Ghanaians that you are not corrupt after being harassed and accused of being corrupt came when you froze the assets of the late Kwadwo Owusu Afriyie-Sir John after his will revealed his years of corruptible behavior. However, it was the same Akufo Addo that instructed you to release Sir John's assets to his family.

What are you doing with Akufo Addo, someone that is preventing you from fighting against corruption or naming corrupt politicians in the country, is the question I have for you? Is it because of the money you are making? Are you not going to resign to spare yourself any approaching shame? Let me remind you that a good name is more valuable than money. Even though am not the one to advise you to leave this scandalous government, yet one day, you'll remember that I previously recommended you to so.

Mr. Kissi Agyebeng claims that the government's efforts to combat corruption have not shown sufficient commitment. That indicates that the president has put him in shackles and is preventing him from performing his duties. Therefore; he must resign to save money for the country because Ghana is insolvent.