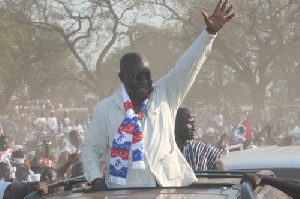 "Public office is no longer going to be the platform for the brazen theft of public funds. Public service is going to be just that, public service. I have said it before, and I will repeat it. Those who are coming into office, if we win, must understand that they are coming to give public service. Those who are coming there to make money must stay in the private sector."
Presidential hopeful Akufo-Addo made these "patriotic" remarks as part of a general presentation he delivered to the Young Executive Forum of the NPP, a UK-based affiliate of the NPP, recently.

This bold statement sounds good on paper, at least in the broader context of his promise to create an office for "an independent Special Prosecutor," who will be vested with a legislative mandate to execute the fight against public corruption.

All these create a universal sense of patriotic cynicism against and ironical hypocrisy on the part of a desperate aspiring president, Akufo-Addo, who did not ask for or even attempt a pursuit of a separation of powers between the Office of the Attorney General and the Ministry of Justice, both of which he officially assumed in the corrupt Kufuor administration and there performed poorly if not abysmally, eventually leading to his secondment to the Ministry of Foreign Affairs.

By the way, Akufo-Addo deceptive "patriotic" political rhetoric can only go so far except when one begins to closely examine the stream of internal party corruption allegations Paul Afoko, Baah Acheamfour, Kwabena Agyapong, Kennedy Agyapong, and other NPP honchos have leveled against Akufo-Addo, the late Jake Obetsebi-Lamptey, and others in the highest hierarchy of the party's leadership.

Widespread allegations involving Akufo-Addo and his underhanded bribing of party delegates in exchange for his presidential candidacy are still fresh on our minds, not to mention his scandalous involvement in the mystery surrounding the so-called "Drill Ship Saga"…and several other scandalous controversies trailing this desperate man everywhere his Machiavellianism and politics of division go.

As a matter of fact, knowledge of these allegations is enormously indispensable as they contribute to political discourse on proper transvaluation of values pertaining to policy positions, on pragmatic political economy strategies and tactics which our presidential candidates and political parties claim to represent.

As for the Mahama presidency for instance, if we ever care to know, there is already abundant information in the public to evaluate him on…his pending legacy. This therefore means among other things, that we are primarily left with the other presidential candidates to do with them as we wish, especially as the 2016 general elections draw nigh. This is a somewhat difficult task that must be accomplished nonetheless. But "talk," they say, "is cheap." This may evidently be truer in the case of Akufo-Addo.

In an article "Akufo-Addo…The Artful Dodger," a piece published on Ghanaweb on July 17, 2008, Henry Acquah presented the following review of a 16-point charge against Akufo-Addo, the artful dodger:

1. Why did Akufo Addo, as Attorney General, oversee the de-confiscation of frozen assets of Raymond Amankwah, a world reputed Cocaine Baron?
2. Did he not know that by literally presiding over that act, a terrible example was set and cocaine barons all over the globe were sent a signal that the new government of Ghana had no problem with the trafficking of narcotic drugs?

3. Did the fact that Raymond Amankwah was a relative of Akufo Addo in anyway influence that decision?

4. Was Raymond Amankwah until his recent arrest in Brazil, not associated with Akufo Addo's campaign?

5. Was Akufo Addo not the Attorney General in the year 2001, when the state prosecution of Frank Benneh was suddenly discontinued?

6. Why did he so mysteriously stop a case that NDC's Deputy Attorney General, Martin Amidu prosecute so relentlessly until NPP took over the reins of office?

7. Does Akufo Addo know that the discontinuation of that famous case was another strong signal of his own lack of political commitment to fight the drug menace and the indication of the weakness of NPP's resolve to deal with the canker?

8. What about the three NPP Dzorwulu branch executives who were busted with narcotics at Kotoka in February 2002 when Akufo Addo was AG?

9. Is it not interesting that under his tenure as AG, all those three arrested NPP drug queens just vanished into thin air? Their dockets also just disappeared like magic?

10. What did Nana Addo do about that case to send a strong and clear message to Ghana and the world that his government was dead set to punish anyone, regardless of proximity to the ruling class, who dares engage in the dangerous narcotic trafficking?
11. Was Akufo Addo not the parliamentarian who was pushing hard for a law (described by Ghanaians as Amoateng Bill) to be passed that will essentially allow Ghanaian drug offenders, languishing in Thai jails among others to be sent back to Ghana to complete their term?

12. O, how Nana Addo cares about the plight of Ghanaians abroad!!! What has Nana Addo got to say about his woeful failure to show a similar compassion, zeal and resourcefulness in the case of the over 40 Ghanaians who were brutally butchered to death in Gambia under his tenure as Foreign Minister.

13. Does Nana Akufo addo still believe in the Amoateng Bill? Does he think that it will be useful to bring back to Ghana, top NPP drug financiers like Eric Amoateng and Raymond Amankwah?

14. Why does Nana Addo think that the accusation of Drug addiction has never been leveled against any other leader or potential leader of his party, (Busia, Victor Owusu, Adu Boahen, J.A. Kufuor, Alan Kyeremateng) but only him? Is it just a coincidence?

15. Why has it been so difficult for him to personally respond to the accusation as Obama has done in the USA and as Prof Mills has convincingly done about the allegation that he was sick and dying?

16. Is Nana Addo surprised that given the catalogue of serious actions and inactions on his part, Ghanaians think that he is not qualified to be leading a nation that wants to wage a serious crusade against the drug canker and other attendant problems like the spiraling crime in the country? We can go on and on and on. But we need to pause and wait for direct and truthful answers from the NPP candidate. It is shocking that a man who prides himself a great story teller, suddenly becomes so mute anytime the above questions are asked.

Finally, though we may all agree that Akufo-Addo and President Mahama are not the same, we shall still entreat Akufo-Addo to read, if he had not already, the article "Fighting Graft: Mahama Offered Me A Ministerial Job…Appiah Ofori," published on Ghanaweb and dated May 18, 2016.

In this eye-opening article anti-corruption campaigner Appiah Ofori, an NPP member, made the following "shocking" revelations about President Mahama, granted that the latter offered him a Ministerial job in his government on the condition that he, Appiah Ofori, contributed to the fight against public corruption regardless of whether or not any of his [Mahama's] political appointees were caught up in the dragnet of public corruption. Here are Appiah Ofori's own words to that effect:

"This gave me the impression that Mahama will not tolerate corruption in his government but sadly the corrupt practices in his government are amazing. When his appointees are found guilty of corruption per the Auditor General Report, no prosecution is made and that is the only way fear will be put corrupt officials and thereby reduce the high rate of corruption. This is my problem with President Mahama."
Readers may want to replace President Mahama with Akufo-Addo in this quote and again, to refer back to Henry Acquah's article "Akufo-Addo…The Artful Dodger" (Note: Readers may also want to take a look at Nana Akyea Mensah's article "Akufo-Addo is a Corrupt Individual," Ghanaweb, September 8, 2014).

In other words it all should be clear by now, that the vigorous pursuit of the art of empty political rhetoric or political-moral inaction on the part of the ruling class in the face of wanton public corruption constitutes a "genetic defect" in the political structure of our duopoly.

This "genetic defect" is a transferable meme in the political structure of our duopoly in view of the politics of equalization.

The politics of equalization then breeds impunity which in turn gives rise to a demoralizing landscape of political immorality.

Henry Acquah's article does demonstrate that Akufo-Addo is not antithetical to this demoralizing landscape of political immorality. To this extent by clearly stating his policy objections to acts of "brazen theft of public funds," Akufo-Addo is also demonstrating the nuances of political deception and Machiavellianism, which is that his prospective government may totally ignore "non-brazen theft of public funds."

That is, his presentation was totally devoid of policy strategies and tactics for dealing with "non-brazen theft of public funds."

This could be why Akufo-Addo is such a Machiavellian, though open, mystery.

This is because he was not and had never been, apparently, a true reflection of his vaunted rhetoric of political and moral seriousness.

His projected seriousness is therefore merely a window-dressing rehearsal for political convenience, a staged political deception calculated to actualize his childhood dream of becoming president at all cost.
We shall see how this childhood dream pans out in Kwame Nkrumah's Ghana. Maybe we may have to give him the benefit of the doubt.

REFERNCES

Ghanaweb. "My Gov't Will Deal With Blatant Theft…Akufo-Addo." June 12, 2016.

Henry Acquah. "Akufo-Addo…The Artful Dodger." Ghanaweb. July 17, 2008.

Nana Akyea Mensah (The Odikro). "Akufo-Addo Is A Corrupt Individual." Ghanaweb. September 8, 2014.

Ghanaweb. "Fighting Graft: Mahama Offered Me A Ministerial Job…Appiah Ofori." May 18, 2016.