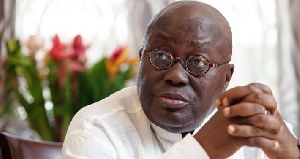 By Kwame Okoampa-Ahoofe, Jr., Ph.D.
English Department, SUNY-Nassau

Garden City, New York

November 24, 2016

E-mail: okoampaahoofe@optimum.net

These things can almost always be readily predicted, especially when they come from these Beijing-oriented faux-socialists of the ruling National Democratic Congress (NDC).
I am here, of course, referring to the 48-hour ultimatum given the 2016 Presidential Candidate of the country's main opposition New Patriotic Party (NPP) by the chiefs of Winneba and the Effutu Traditional State to apologize for allegedly making a pejorative remark in the form of the popular expression of "Simpa Panyin," an expression commonly associated with a deliberately derelict or morally irresponsible adult.

A writer with Simpa moorings has already eloquently explained the legend behind this idiomatic expression (See James Kofi Annan's "Simpa Panyin and Matters Arising…" Modernghana.com 11/23/16), and so I shall not waste time rehashing the same herein.

According to the chiefs, failure by Nana Addo Dankwa Akufo-Addo to meet the ultimatum would prompt them and their people to massively cast their ballots for his main political opponent. Still, I was caught completely off-guard (See "Effutu Chiefs Give Akufo-Addo 48 Hrs to Apologize for His 'Simpa Panyin' Comment" Kasapafmonline.com / Ghanaweb.com 11/22/16).

What was deafeningly clear to me was the unmistakable fact that somebody among the ranks of the Effutu Traditional State's chiefs was out to get the former Attorney-General and Minister of Justice. For starters, any levelheaded or sober traditional ruler – and I speak as one who partly hails from unarguably the most powerful Ghanaian royal family, namely, Asante-Dwaben and Manhyia via Akyem-Asiakwa – who felt as implacably offended by a purportedly derogatory remark allegedly made by Nana Akufo-Addo against the great people of Simpa, the traditional name of Winneba or Windy Bay, would have taken at least two or three steps to ascertain the veracity of the allegation before publicly calling on Ghana's former Chief Diplomat to apologize for the same.

In this instance, however, we find Neenyi Otubua Sripi, II, the Tufuhene or Chief Counselor of the Effutu Traditional State, issuing an intemperately worded and toned statement demanding an apology from the distinguished grandson of Nana Sir Osagyefo Ofori-Atta, I, the seminal master-brain behind the foundation of the National House of Chiefs, as we presently know it, and legendary King of Akyem-Abuakwa, within 48 hours or two days without having ascertained from this first-rate Ghanaian trial lawyer the fact of whether, indeed, he had so cavalierly presumed to bring the name and reputation of the chiefs and people of Simpa, or Winneba, into abject disrepute. In other words, what we clearly had here was a virtual declaration of war against the three-time Presidential Candidate of the New Patriotic Party. Needless to say, even as I compose this column, my eyes are totally suffused and effectively blinded by tears.
The reason for the preceding being that not only do I personally have first-cousins and other relatives whose father, one of the Acquahs, a community health inspector – or Tankasse – who died at a quite advanced age in the 1960s and had been married to my eldest paternal aunt, Ms. Kate Agyepong, of Kyebi-Aburaso, my maternal grandfather, the Rev. T. H. Sintim, of Akyem-Begoro, Asiakwa, Dwaben and Asante-Mampong, was recently celebrated by the chiefs and people of Winneba for having selflessly championed the establishment of the Presbyterian Church of Winneba and the first Presbyterian Primary School in the Winneba Township in 1945. Thus, to say that I have been thoroughly traumatized by the behavior of Neenyi Otubua Sripi, II, and his associates is an epic understatement. But it is, nevertheless, a trauma that is decidedly personal in nature.

And, oh, I also have relatives among the venerated Ghartey Royal Family of Winneba by way of the Abroquahs/Abrokwas of Akyem-Tafo and Apedwa. And so all this generous display of raw animosity by Neenyi Otubua Sripi, II, could not have hit me more where it hurts the most. It also further and fully convinces me of the great wisdom in my decision not to indulge in the well-paid, albeit indisputably dirty, vocation of career politicking. You see, rather than insolently issue his 48-hour demand for an unreserved public apology, Neenyi Otubua Sripi, II, could have first issued a statement calling for Nana Akufo-Addo to clarify the veracity of the "Simpa Panyin" remark which, by the way, was reportedly not even made in the Winneba Township but rather at Hwidiem in the faraway Asutifi Constituency of the Brong-Ahafo Region, as part of his presidential electioneering campaign, and with direct reference to President Mahama's clearly mischievous condonation of NDC-instigated and provoked bursts of violence against members, supporters and sympathizers of the New Patriotic Party.

Instead, we had a harshly worded statement issued by an apparently rabidly anti-Akufo-Addo traditional ruler who also appeared to have already found the NPP leader guilty of a remark or statement the veracity of whose contents had yet to be investigated and ascertained. Ultimately, whatever the real facts of this case may be – Nana Akufo-Addo's Simpa royal accusers now claim that the evidence against the respondent clearly appears to have been deftly doctored to suit the objectives of his political opponents – the former New Patriotic Party's Member of Parliament for Akyem-Abuakwa South has no other alternative but to unreservedly and unconditionally accept the unqualified apology rendered to him by the chiefs of the Effutu Traditional State, as well as to Mr. Afenyo-Markin, the NPP-MP for the Winneba Constituency (See "Effutu Chiefs Apologize to Akufo-Addo Over 'Simpa Panyin' Comment" Classfmonline.com / Ghanaweb.com 11/24/16).

But that Neenyi Otubua Sripi, II's apology demand was read on the latter's behalf by the Adontenhene, Vanguard Chief or Chief Warrior, of the Effutu Traditional State, Neenyi Gyete Gyankuma, II, made matters all the more painful. Then again, whoever said that ours was an infallible or the most perfect of worlds?

*Visit my blog at: kwameokoampaahoofe.wordpress.com Ghanaffairs