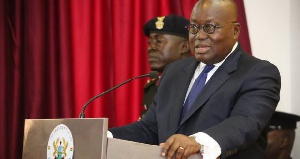 "…the change in government from NDC [National Democratic Congress] to NPP seems to repeat mere changes to personalities occupying high offices and positions of trust in our land and not change in the substantial matters of reorientation" (Nii Allotey Brew-Hammond).
AKUFO-ADDO RENEGES ON CAMPAIGN PROMISE NOT TO PLAY ETHNIC POLITICS

Theherald.com notes:

"Whereas the president, Nana Addo Dankwa Akufo-Addo, has managed to accomplish the feat of populating his administration with more family members than any past Ghanaian head of state, military or civilian, ever ventured to attempt, his cousin, the Finance Minister is also busy promoting his friends.

"Upon assuming office, the finance minister, Ken Ofori Atta, wasted no time after realizing that Ghana was cash trapped, he puts together some few friends, who have money, including himself to lend to the state…"

These statements best describe how the game of politics is played in Ghana.

From the politics of the belly to nepotism to ethnic nationalism to crony capitalism to kleptomania to political ethnocentrism, the ruling class of Ghana has practiced them all.

This brings back unhappy memories of hypocrisy from the politics of yesteryear, in Ghana.

Not too long ago, the opposition New Patriotic Party (NPP) and its supporters were criticizing ex-President Mahama for stuffing his administration with persons mostly of northern extraction, rather than with members of his ethnic Gonja.

The National Democratic Congress (NDC) fired back, claiming the NPP under ex-President Kufuor did the same, when he too filled his administration with Akans, mostly Asantes.
In response, sympathizers of ex-President Kufuor and his government reached far back in time, pointing to ex-President Rawlings as either being the first to inject or introduce ethnic nationalism into Ghanaian politics, especially the Fourth Republic.

These sympathizers harshly criticized Rawlings too for stuffing his government with mostly Ewes.

Politics of equalization. As usual.

This is where the culture of impunity, nepotism, political corruption, cronyism, political patronage, and crony capitalism come into play.

It is not as if we are saying a president cannot or should not appoint competent technocrats, or other highly qualified persons of character, who also may happen to be close to him or her in one form or another, either by way of consanguinity or non-biological association, to positions of authority or power.

It is the case that politicians reward their loyal supporters, financial backers, campaign strategists and advisors when they are elected to political office on the strength of contributions from these political loyalists.

This is a normal process in political practice. As a matter of fact nepotism has always been integral to the architecture of Western democracies, not the least of which is American democracy. For instance Eric Trump, Donald Trump's son, has referred to nepotism as "a factor of life."

Read this Washington Post report by Lindsey Bever:

"Nepotism," Eric Trump recently told Forbes, 'is a kind of a factor of life.'
"Donald Trump, who has made his pro-nepotism thoughts known, entered the White House nearly three months ago and has since been filling federal and personal-business-empire positions with relatives…

"We have anti-nepotism laws in the federal government and in lots of state governments, because the practice of hiring relatives undermines public confidence that the government official is actually finding best person for the job," government ethics expert Kathleen Clark told The Post…

"In addition to the problem of public confidence, hiring a relative also causes problems within the government organization. It can undermine the morale of government officials. It can cause confusion about what the lines of authority are; in other words, the relative may have a particular title, but many may perceive the relative's role as even more important than the title would suggest…

"Tying the comments to her brother's interview with Forbes, ThinkProgress offered the following headline: 'Eric and Ivanka Trump Deliver Spirited Defense of Nepotism.'"

In this same article Lindsey referenced a 2006 interview where CNN host Larry King asked Donald Trump how he felt about nepotism. The latter answered the question as follows without a blink:

"I like nepotism…But I like nepotism."

We now know why Ivanka Trump has taken to riding on her father's presidency and global influence to, as it were, tacitly promote her brand and to expand her circle of wealth in the process, with the Chinese and other Asian economies behind the manufacture of her clothing line and accessories.

Do we understand why her father may have suddenly gone soft on the Chinese?

Do we also understand why American customers and some major American retail companies are boycotting her products—clothing line and accessories?
And is her father willing to slap still tariffs on imports from China knowing full well the implications of this policy decision for his daughter's business interests and empire, that is, in the context of her Chinese-made products?

In other words why is President Trump encouraging Americans to patronize locally made goods and services, while America under his watch continues to import some of these same goods and services from China, including those of his daughter's Chinese-made brands?

By the way, what is the obvious choice between a patriotic, highly qualified blood relation and a non-qualified, unpatriotic non-relative? Where exactly do we draw the line between competence and incompetence in this matter?

On the other hand when the activities of a holder of political office and conflict of interest overlap in a questionable Venn diagram of political opportunism, serious questions about the holder's fiduciary responsibilities and loyalty to the state certainly arise…

This is what may have transpired in the case of Finance Minister Ken Ofori-Atta. Well, Akufo-Addo's government resembles Trump's in some interesting respects as one journalist describes it:

"President Akufo-Addo, despite his "elephant size government", has majority of his appointees coming from two out of the ten administrative regions of Ghana with some of his relatives, including his daughter, featuring prominent on the list of appointees…

"Aside the list of 110 Ministers and deputies, other appointees of Akufo Addo are also made up of the President's relatives and clansmen among them, Mr. Ken Ofori Atta, Kwesi Amoako Atta, Gloria Akuffo, Samuel Atta Kyea and Nana Asante Bediatuo among others…"

Moreover, the fact that the constitution grants the president discretion and authority to appoint persons to political office doesn't, in and of itself, absolutely imply selfish acts of imprudence in governing strategies and tactics on his part.

Rather, we view this basic constitutional empowerment of the president as a privilege, and not a right as the generality of Ghanaians may see it, in which case also meritocratic balance in ethnic and regional constitution of government takes precedence over elements of ethnic nepotism, ethnocracy, ethnic democracy, or official sanctioning of ethnic politics in any form or shape.
It is sad to see Akufo-Addo renege on his campaign promise to form an all-inclusive government. We can understand why Nii Allotey Brew-Hammond, National Chairman of the Progressive People's Party (PPP), is criticizing Akufo-Addo for "running a 'family and friends' government."

Ironically, Prof. Stephen Ade who consistently went on the attack against the Mahama administration claiming among other serious charges, that this outgone administration was incorrigibly corrupt and disproportionately filled with persons from the Northern Region, can only describe Akufo-Addo's "Akan government" as "impressive."

We shall return with Part 2, the concluding segment.

REFERENCES

Theherald.com. "Ken Ofori Atta: Silence Is Not An Option." Ghanaweb. April 23, 2017.

Lindsey Bever. "Eric Trump Calls Nepotism 'A Factor of Life.' Here's What He May Not Understand About Privilege." April 6, 2017.

Ghanaweb. "Akufo-Addo Forms 'Akan' Government." alhajjnewspaper.com. April 25, 2017.

Ghanaweb. "Mahama Issued 24 Dud Cheques, Not 44—GRA." April 25, 2017.

Myjoyonline. "Akufo-Addo Accused Of Running 'Family And Friends' Gov't." March 15, 2017.