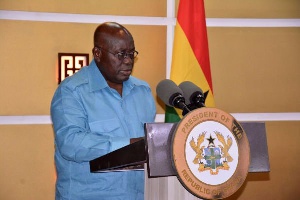 This latest installment concludes our three-part series!
We strongly believe that looking seriously into this matter of potential conflict of interest falls within the jurisdiction of the Commission on Human Rights and Administrative Justice (CHRAJ).

What rather bothers us at this point is the extent to which our institutions are politicized and what the implication of this means in terms of the question of independently adjudicating policy matters—such as conflict of interest—of enormous national interest.

Do we recall the CHRAC's role in investigating the so-called Ford Gift Saga?

What came out of this investigation, another clear case involving a potential conflict of interest where a Burkinabe contractor gifted the president a ford only for this same contractor to end up being awarded contracts by the state?

Yet we are still not certain if the Commissioner for CHRAC, Joseph Whittal, a Mahama appointee, will be neutral in adjudicating the petition brought before him.

That is to say, undue political interference has been a major drain on national development, a dominant feature of our failed democracy. It is true as they say, "who pays the piper calls the tune." Granted, the fact is also that power acquired through democratic channels—even if fake or genuine—sometimes confers a false sense of political immortality on winners.

This false sense of political immortality breeds, which in turn reinforces, a culture of impunity, abuse of incumbency, arrogance of power, coercive power, and institutional corruption in a revolving-door of uninterrupted official continuity in a sham duopoly such as ours.

Unproductive, uncompetitive revenge and frigid wickedness in high places therefore exert a state of normative oversight over the instruments of political socialization.
Even in this atmosphere political theology becomes a mere smokescreen for the effective exercise of political convenience.

All of these variables simply boil down to the important question of public corruption, which is the most serious problem in Ghana. And conflict of interest has contributed enormously to it.

We all will do well to recall the ignominious scandal that has engulfed Ibrahim Mahama, ex-President Mahama's younger brother, who is currently in the grip of the Economic and Organized Crime (EOCO) for reportedly issuing some twenty-four dud cheques to the Ghana Revenue Authority (GBA).

How did Ibrahim Mahama end up being awarded contracts by a government headed by his own brother?

Technically, the question should not be about whether contracts should be awarded or go to a president's relative(s) and friends who have everything it takes to executive the contracts in question, per se, but rather whether these contracts are widely advertised enough to attract a wider net of potential cost-effective bidders?

Any proper non-partisan investigation into these serious policy matters should attempt to answer these questions.

Now it is being alleged that the Social Security and National Trust (SSNIT) has dragged him, his company Engineers & Planners (E & P), and Directors of E & P to court over alleged non-payment of his employees' SNNIT contributions! If this is in fact true, what does it say about us as a people?

And then there is the sad case of these post-Nkrumah pseudo-capitalists, nation wreckers, crony capitalists, and talking-bird Black Englishmen who have literally sold off what Nkrumah built for the country to foreigners, to themselves, and to their cronies under the guise of economic liberalism, just to enrich some recidivating political thieves and criminals at the expense of national development.
We've become callous practitioners of autocannibalism and autovimprism—social-political self-destroyers?

We've been spending so much time trying to tear down the little wall of achievements we've built across the years. How so? Is this not sad? Why are we doing this to ourselves?

Do we remember Nelson Mandela saying this?:

"If the ANC does to you what the apartheid government did to you, then you must do to the ANC what you did to the apartheid government."

Is the ANC different from the NDC and the NPP? Killing, acid-bathing, poisoning and shooting our political opponents—all in the name of some imported democracy from the West.

We've become the sleepless, restive little boy hiding in the troubled souls of CIA darling-boy Charles Taylor, Idi Amin, Emperor Bokassa, Omar Bashir, and Mobuto Sese Seko!

Of course, we are in an era of alternative facts and post-truth politics where politicians hide behind the frosted glass of political theology and profit from the masses' absolute acquiescence to political manipulation.

Ofori-Atta, we've been told, reportedly asked his pastor Mensah Otabil to pray over the 2017 budget before its content was formally laid out in parliament, and later made public.
What do political theology and political economy have in common?

How much does Otabil really know about political economy? About conflict of interest?

No wonder pastorship and our executive dominance have so much in common.

No wonder we have become slaves of irreducible ignorance, cognitive imbecility, and mental murder!

What a country!

In Ghana, politics and corruption are indistinguishable. Politics has become an insane asylum for hungry thieves and career criminals and budding political entrepreneurs to announce their presence or arrival, to leverage their future, and to become the little Eurocentric monsters and vampires they had always dreamt about as children.

Regardless, the masses are not doing just enough to hold their leaders to account. Because politics has numbed the critical faculty and moral conscience of the ordinary Ghanaian, to the extent that the Nkrumahist idea of patriotism has lost its value, all because of our wicked post-Nkrumah leaders.

This general characterization includes the present government.
We will give it, the Akufo-Addo government, the benefit of the doubt, however.

But the masses must learn to hold Akufo-Addo's feet to the fire with the aim of bringing out the best in him, while remembering that Akufo-Addo in his embarrassing plagiarized speech promised them a "First World" leadership, yet, thus far, what we have had from his government is a "Third World" leadership.

He should prove us wrong!

REFERENCES

Ghanaweb. "Ibrahim Mahama Sued For Non-Payment Of Workers' SSNIT Contributions." April 29, 2017.

Ghanaweb. "Bond Saga: CHRAJ Confirms Receipt Of Petition." April 27, 2017.