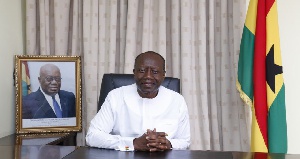 "If those journalists who pride themselves on reporting corruption in others, then ask for unofficial payment for themselves, isn't that a touch hypocritical?...At the very least, you know, now that you will never receive any 'soli' from the British High Commission" (John Benjamin, British High Commissioner to Ghana).
THE IRONY OF "SOLI" JOURNALIST LIKE KWEKU BAAKO AND THE LINGERING SPECTER OF EXTREME PARTISAN POLITICAL COMMUNICATION

Kweku Baako compromised his personal integrity (ethos), and told the world what he is actually made of, when he willingly accepted a gold chain award from one of Ghana's and Africa's unforgettable corruptocrat, J.A. Kufuor.

In other words he demonstrated a great potential of incorruptibility as soon as he embraced the leprotic arms of public corruption. This also confirmed his lack of independence insofar as journalistic objectivity goes.

A self-appointed spokesperson for the NPP, Kweku Baako hardly demonstrates a semblance of neutrality, of the nature of political and ethical purpose, in his public pronouncements. All the available evidence points to Kweku Baako as being a stomach journalist. He is not alone in this regard, however.

Ghana's charged political atmosphere brought about by extreme partisan politics and ideological polarization, incidentally has given birth to a situation where manufacturing consent has progressively undermined independent journalism to the extent that journalists are literally in politicians' pockets.

Journalists are slaves and pawns in the kind of Machiavellian political games that our politicians play. Politicians have capitalized on journalists' material greed, poverty, irreducible ignorance, unpatriotism, ideological suicide and cognitive imbecility to corrupt these journalists further.

What is more, like his pal Kwesi Pratt, Kweku Baako is a victim of this game theory of antagonistic duopoly.

Yet the entire ideological framework called Kweku Baako lacks the operational genius of tactical silence where, ideally speaking, silence exerts sovereign authority over the claustrophobic space of uninformed cacophony in the case of a man who is generally conceptualized as an epitome of encyclopedic knowledge.

As if this conceptualized designation of encyclopedic knowledge directly speaks to the universality or generality of folk wisdom, carefully taken up or circumscribed by the political logic of Ghana.

Besides, there is clear evidence of palpable knowledge deficits in his celebrated panoply of encyclopedic topography. Also it may have been lost on the self-seeking media famewhore, the so-called patron saint of Ghanaian journalism, that, investigative journalism in particular, and if we may add for corrective edification and emphasis, journalism in general, are not exact sciences.

Kweku Baako is not an exact science himself, a pseudoscience for that matter. In fact he has simply been a misnomered nuisance as part of some high-profile public discourses.

Ghanaian journalists are so corrupt and beyond that, they are part of the major reasons institutional corruption is entrenched and so widely spread across the country. They are for the most part criminal agents of institutional corruption as their actions and inactions feed the habit of institutional corruption.
Ghanaian journalists who are already in the pockets of politicians will take bribe from politicians and then turn around to bury the curious, prying eye of investigative journalism, meant for exposing social and political rot, in the graveyard of moral hypocrisy, as political morality and patriotism mean absolutely nothing to them. They are so corrupt to the core, beyond redemption.

Even when investigative journalists such as Ana Aremeyaw Anas so much as painstakingly unravels the stinking rottenness of Ghanaian society, the resulting hue-and-cry moirology raised over this stinking rottenness of public corruption and institutional breakdown becomes a nine-day wonder.

The fundamental thrust of our argument therefore makes for the particular case where the smart-alecky talking-head, Kweku Baako, does not have to always see himself as being compelled or obligated to express an opinion in every single instance of media or political communication.

Doing so makes him look intellectually opportunistic and worn-out and dated, strategically uninformed. Some media outlets attribute the following statements to Kweku Baako:

"Touching on the conflict of interest allegations, he [Kweku Baako] said Ken Ofori Atta's relationship with the Enterprise Group is public knowledge and duly acknowledged in his Assets declaration.

"He added Franklyn Templeton has been transacting business with the government of Ghana under the NDC, way before Ken Ofori Atta became Finance Minister.

"Is somebody suggesting that merely because Ken Ofori Atta is Finance Minister and has business relationship with Trevor who is also with Franklyn Templeton, then the US company must divest its business deals with Ghana?"

Ofori-Atta may eventually prove to be a Machiavellian Trumpian schemer.

Time will tell if he is an antithesis of this characterization.

That is, it is high time time proved beyond all reasonable doubt if he is a dove or a snake!

FOOD FOR THOUGHT: SOME CRITICAL OBSERVATIONS

Kweku Baako's argument is hard to follow if he makes sense at all. For, the fact that Ofori-Atta's has a relationship with the Enterprise Group and that this is already in the public domain, and further that this is acknowledged in his assets declaration, does not rule out conflict of interest.
It also does not make any sense for Kweku Baako to claim that since Franklin Templeton has been in a business relationship with the NDC, a government of which Ofori-Atta was neither a member nor held a cabinet position, then it must surely follow that potentially conflict of interest is impossible under the NPP, with Ofori-Atta as Finance Minister.

Kweku Baako may have assumed that Ofori-Atta were either Kwabena Dufuor or Seth Terkper. This working assumption of, however, his turns his narrative or discursive logic completely upside down because Ofori-Atta were neither Dufuor nor Terkper. This is pure science fiction.

On the contrary, Kweku Baako may be transporting us into the reified terrain of political superstition.

Long story short, Ofori-Atta was not the Finance Minister in the Mills and Mahama administrations.

Neither did Kweku Baako provide incontrovertible evidence proving Dufour or Terpker had any professional or business links to Trevor Trefgarne.

Kweku Baako may therefore have had to evoke a precedent of conflict of interest from the Dufuor-Terkper's ministerial dispensations in order to establish a substantial link of continuity to the outstanding one presently engulfing Ofori-Atta and his ministry, and the NPP government.

Last, but certainly not least, Attorney General Gloria Akuffo, a non-Executive Director at Enterprise Group Ltd., Ofori-Atta and his wife Angela Ofori-Atta, and Trevor Trefgarne—reportedly are all board members of Enterprise Group Ltd. Trevor is board chairman of Enterprise Group Ltd.

Finally, Kweku Baako didn't explore this connection and the fact that Attorney General Gloria Akuffo recently pleaded ignorance of the transaction that is currently at the center of a serious national controversy, though, technically, as Attorney General, the transaction should not have gone ahead without her legal input. In simple terms, we will posit that serious allegations of insider trading, nepotism, abuse of power, and information asymmetry are at the root of the controversy.

All these circumstantial events may point to a potential conflict of interest. In the meantime Kweku Baako is on a wild goose chase, which is probably why he is calling the NDC's bluff after rubbishing others' claims to the contrary.

As a matter of fact he is an excellent embodiment of "ignorance, mischief, misinformation, disinformation," very harsh words he used for critics of Ofori-Atta since news broke of the controversial bond transaction and its accompanying potential conflict of interest.

The afore-referenced quotation which we attribute to him may constitute an unnecessary distraction or digression from the potential facts of the bond-transaction case as details from public discourse on the matter seem to suggest.

Fundamentally, then, Kweku Baako is therefore an opportunistic slave—and a dangerous one as a matter of course—of his own biased intentionality in matters of public policy, establishment journalism and ideological partisanship.
He may have forgotten that nepotism and cronyism feed into, support, and give birth to serious instances of public corruption; negate competence and meritocracy, promote a perception of distorted fealty to the state and political tribalism, and speed up the moral atrophying of the Ghanaian society at large.

Kweku Baako may also have glossed over the fact that the ruling class and its spokespersons, like him, and the ranthoneous Kennedy Agyapong, hide behind a convenient frosted glass of populist rhetoric and labels such as social democracy and property-owning democracy, and from behind this frosted glass have erected a Great China Wall of internal colonialism—where the generality of Ghanaians are locked up in as Eurocentric psychological slaves in an economic-political asylum.

Let's ask ourselves this simple question: Is there really a choice between the incompetent NDC and the incompetent NPP in our largely Eurocentric, ethnocentric duopoly, with both criminal political organizations also known for their characteristic proclivity to strategic incompetence? And these incompetent governments represented by both parties, regrettably, are the celebrated darlings of the capitalist West just like all lazy political parties in Africa are celebrated in the same West, as one perceptive journalist observes in the case of Liberia's Eleanor Sirleaf Johnson, so-called "Africa's War Lord Queen." We shall quote the journalist (Thomas C. Mountain) at considerable length merely as an illustrative reminder of what nepotism and cronyism is doing to Africa:

"She used to be the de facto foreign minister for that most bloodthirsty of warlords former Liberian 'President' Charles Taylor, and she addressed the US Congress in his support.

"President Johnson is the queen of the warlords, for she has granted fiefdoms to many of Charles Taylor's top Capos in today's Liberia. This is the Charles Taylor that is an incarcerated war criminal having been found guilty of crimes against humanity by that pack of western lickspittles enthroned at the International Criminal Court.

"That's right, the ruling President in Liberia was the right hand woman for a serious killer and today is surrounded by many of his most notorious warlords.

"You see President Johnson was handpicked by the USA and it lackeys at the UN to rule Liberia when the Charles Taylor regime finally collapsed, doing so under the rubric of "democracy", never mind Ms. Johnson tends to run unopposed?

"To give you an idea just how rotten things are, the Liberian Truth and Reconciliation Commission, in front of which Ms. Johnson testified, issued an opinion calling for Ms. Johnson to be barred for life from Liberian politics.

"When one speaks of warlords it is meant literally, for the lords of war under Charles Taylor now rule much of the Liberian economy and critical government departments. John T. Richardson was appointed head of the Housing Authority and was a top commander for Charles Taylor and is infamous for being the commander of the operation where 5 American nuns were murdered.

"Eugene Nagbe was a senior commander under Taylor and was appointed Minister of Information. Roland Dou was a senior frontline commander and is now head of special operations at the National Security Agency alongside President Johnson's step son Fomba Sirleaf. Charles Taylor's wife, Jewel Howard-Taylor has been a Senator and is being touted as the next Vice President.

"And the list goes on and on, exposing how some of the worst criminals in neo colonial Africa are ensconced as warlords high up in the national crime syndicate that rules Liberia.

"Interestingly enough, Charles Taylor was convicted by the ICC of crimes against humanity for crimes he committed in…Sierra Leone? But wasn't Charles Taylor President of Liberia? Yes, and he committed all sorts of terrible acts in Liberia for much longer than he did during his invasion of Sierra Leone during its bitter civil war, but the ICC couldn't touch anything Liberian for it would leave Eleanor Sirleaf Johnson with blood on her hands for the world to see…
"In the mining industry, a mainstay of the economy, many undercover documentaries have exposed how Liberia's 'government' is little more than an extortion racket run by gangsters…

"For years now, while the capital city Monrovia lacked such basic services as electricity and running water, the western banksters, their minions in government and the media kept up a cacophony of praise for the Queen of African Warlords, going so far as to anoint Eleanor Sirleaf Johnson with the Nobel Peace Prize. And this for someone who stood front and center in the ranks of those who supported Charles Taylor?...

"Charles Taylor was a warlord who did whatever it took to preserve his power, and always worried that his mentors, if convenient, would hand him over to the ICC without qualms, which is what they did. His "trial" was fully sanitized and the automatic guilty verdict pronounced with the necessary pomp and circumstance. And the African Queen of the Warlords, Eleanor Sirleaf Johnson, would escape scot free, and remain on her throne, overseeing so much misery and suffering that Liberia should rightfully be considered a failed state…"

And then Secretary of State Rex Tillerson turns disrespects Africa by inviting African Union Chief, Moussa Faki, to a meeting in Washington and backing out at the last minute. Do we want the West to give us self-validation when we have literally turned ourselves over to them on the cheap? Are we really looking deep within ourselves as a people?

As a matter of fact we need a serious, radical rethink and a soul-searching national dialogue on how we've been managing ourselves, else there will be no future worthy of our misplaced national pride to celebrate, if we don't put in place corrective measures to do away with our schadenfreude, self-destructive tendencies and Eurocentric mindsets.

REFERENCES

Ghanaweb. "Sorry Journalists, 'No Soli For You—UK High Commissioner." November 24, 2014.

Ghanaweb. "Probe Into $2.25 bn Bond Will Leave 'Ignorant, Mischievous' NDC Exposed—Baako." April 22, 2017.

Ghanaweb. "I Didn't Even Know About $2.25bn Bond Issued—Gloria Akuffo." April 18, 2017.

For Gloria Akuffo as a former "Non-Executive Director at Enterprise Group Ltd.," see https://relationshipscience.com/angela-lamensdorf-ofori-atta-p49578943

Thomas C. Mountain. "Africa's War Lord Queen; The Bloodstained Career of Liberia's Eleanor Sirleaf Johnson." Modernghana. April 25, 2017.

Robbie Gramer. (April 26, 2017). "Rex Tillerson Spurns Africa In Botched Meeting with African Union Chief." Retrieved from http://foreignpolicy.com/2017/04/25/rex-tillerson-spurns-africa-in-botched-meeting-with-african-union-chief-moussa-faki-diplomacy-africa-affairs-trump-administration-state-department-understaffed/amp/