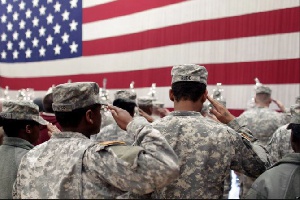 Folks, when I read this news report by MYNEWSGH.com,, published yesterday on Ghanaweb.com, I got angry, not alarmed. My immediate reaction was to urge Ghanaians to say "No" to this move by the United States to use Ghana for its geo-political purposes, disguised as an agreement for whatever Akufo-Addo bought into.
The report: "MYNEWSGH.com, however, can authoritatively confirm that pending parliamentary approval today and barring any last minute change of plans, the United States Military will have a base in Ghana, granted by express permission of the government of Ghana, from documents we have intercepted, including the agreement between the two governments.(See https://www.ghanaweb.com/GhanaHomePage/NewsArchive/Parliament-to-approve-setting-up-of-US-Military-base-in-Ghana-today-636015

What is the justification for Ghana to allow its territory to be used by the US for its geo-political interests this way, especially at this time? And why settle on Ghana?

I recall similar instances under Kufuor when this very issue provoked much public anger and Kufuor was warned not to bow to any pressure to allow the US use Ghana as it had done Liberia.

There is much going on to worsen the matter, though. Defence Minister Dominic Nitiwul is denying the claims about the establishment of a military base, saying that the agreement is only a "defence cooporation agreement" between the two countries to train Ghanaian soldiers. (See https://www.ghanaweb.com/GhanaHomePage/NewsArchive/Defence-Minister-denies-U-S-military-base-in-Ghana-636101).

TENETS OF THE AGREEMENT

Here are the tenets of the agreement that the Akufo-Addo Cabinet approved (as reported by Myjoyonline):

1. Ghana will provide unimpeded access to and use of agreed facilities and areas to the U.S. forces and Contractors.
2. It allows U.S. forces and their Contractors to undertake construction activities on and make alterations and improvements to agreed facilities and areas.

3. The U.S. forces are also authorised to control entry to the facilities meant for the exclusive use of their forces.

4. Ghana has also agreed to "furnish without rental or similar costs to the united states all agreed facilities and areas including those jointly used by the United States Forces and Ghana."

5. "United States Contractors shall not be liable to pay tax or similar charge assess within Ghana in connection with this agreement".

6. The U.S. Forces may also import into and export out of, and use in Ghana any personal property equipment supplies material technology, training or services in connection with the agreement.

Such importation, exportation and use shall be exempt from any inspection, license other restrictions customs duties taxes or any other charges assess within Ghana.

7. "Aircraft, vehicles and vessels operated by or at the time, exclusively for the United States Forces may enter exit and move freely within the territory and territorial waters of Ghana."
Such aircraft, vehicles and vessels shall also not be subject to the payment of landing parking or port fees.

8. Cabinet also agreed that no Ghanaian official shall board and inspect any of these U.S. aircraft, vehicles and vessels without the consent of the U.S. Forces.

9. The U.S. Forces can also use Ghana's radio spectrum free of charge.

10. Ghana has also agreed to accept as valid without a driving test or fee driving licenses or permits issued by the appropriate U.S. authorities to military personnel as well as us civilians and contractors.

BENEFITS TO GHANA?

Ntiwul's memo to Parliament said:

- Ghana will benefit from the deal because it also involves "the facilitation of training, including maintaining unit readiness, continued exercises and other military opportunities for the Ghana Armed Forces."
- The deal will ensure that there is enhanced and fruitful security co-operation between Ghana and the USA.

MY THOUGHTS

Is that all? Indeed, this agreement ties Ghana's hands behind its back. Ntiwul's denial that the agreement doesn't involve the establishment of a military base in Ghana shouldn't be believed. He, particularly, has become notorious for telling lies and ruffling feathers as Dr. Bawumia does.

A careful scrutiny of the tenets of this agreement paint a disturbing picture that the US has a blank cheque to do things as it wishes. Ghana's hands are already tied as far as the agreement is concerned. Once the US is given the nod, it will go the whole hog to do what it has up its sleeves. Ghana's sovereignty is at risk!!!

No need at all for Ghana to go this way. The history of how the US does things camouflaged as "innocuous" is clearly unambiguous about the dire consequences to the unsuspecting country that goes the way the Akufo-Addo government is moving Ghana.

The presence of the US military in many parts of the world isn't without negative consequences to the host countries, even if one sees such an "intrusion" from deeper levels to suggest that it would deter terrorism or whatever else threatens humanity.

In the case of what the Akufo-Addo government has bought into, care must be taken not to sell Ghana out. It is common knowledge that the US doesn't have permanent friends but permanent interests.
I strongly oppose this agreement and urge you to join me make our voices heard. Ghana isn't the first choice for the US in our part of the world. Why draw it into any needless military hegemonism the US?

I shall return…

E-mail: mjbokor@yahoo.com

Join me on Facebook at: http://www.facebook.com/mjkbokor