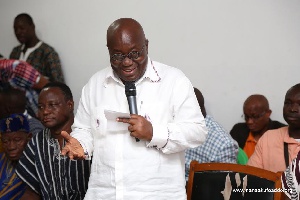 By Kwame Okoampa-Ahoofe, Jr., Ph.D.
Those of us who have been on the frontlines of the protean political battles involving the Akufo-Addo-led New Patriotic Party (NPP) for at least the past eight years, are fully aware of the grim fact that too many things have been allowed to go wrong in the country for any of us to have anytime to savor this most historic of all electoral victories in Ghana's Fourth Republic.

But there are several things that I want to make clear to President-Elect Addo Dankwa Akufo-Addo, and one is that he has absolutely nothing to feel guilty or bad about. Definitely not the crushing defeat that he just handed the man who, to begin with, had absolutely no formidable standing going in, but for the grossly misguided decision, in retrospect, by President John Evans Atta-Mills, late, to presume to contest unarguably the country's most experienced presidential candidate not just once but twice for the presidency of Ghana.

You see, by the time he acceded to the presidency, Mr. John Dramani Mahama, other than the founding father of the National Democratic Congress (NDC), Chairman Jerry John Rawlings, had not paid the requisite dues required for holding the highest elective office of the land.

Anyone who cares can peruse the résumés of Messrs. Addo Dankwa Akufo-Addo and John Dramani Mahama and draw up the most logical conclusions. Needless to say, what continues to disconsolately break my heart in no small measure is the fact that Nana Akufo-Addo took far more vicious abuse from among the ranks of the leadership of his own New Patriotic Party (NPP) than he has ever taken from his main putative political opponents of the National Democratic Congress.

Which is precisely why in deciding to assemble the key players of his government, he would perforce have to be extremely careful. Needless to say, this in no way implies that he has to pay his most vicious "internal" political enemies and detractors in kind; that would be the most self-destructive and facile approach to take.

Rather, what the latter means is that Nana Akufo-Addo has to be self-confident and self-loving enough to jealously guard against packing up his government with people who would rather have him dead than be up and nimble and be producing the sort of results-oriented policy measures avidly anticipated by the well-meaning but badly buffeted voters who so eagerly and unreservedly offered him their commanding support and sacred mandate rightfully deserve.
Akufo-Addo would fatally err not to remember the fact that there are those "internal enemy combatants" who penned and published reams of his well-rehearsed elaborate political and existential obituaries with stentorian and sardonic fanfare in the lead-up to the December 7 presidential election.

Then also, inasmuch as it is incumbent upon him to show great respect, and even reverence, for his predecessors, irrespective of ideological suasion, nevertheless, Nana Akufo-Addo must bear in mind that going forth, he will be held singularly responsible and squarely accountable for each and every decision he makes, particularly those verging on the business of the people who offered him their mandate.

The foregoing, of course, is a long-winded way of saying that the last thing that the Galamsey Capital native ought to be doing is bending over backwards and giving unnecessary assurances to anybody, especially those imperious, self-righteous and self-preening narcissists who have been widely known to cherish and respect the opinions of absolutely nobody but themselves and their most intimate comrades-in-arms, cronies and clansmen.

You see, the last thing that President-Elect Akufo-Addo wants to be doing is to be prematurely hamstringing himself before the real race of his tenure and the test of his leadership have begun.

We are closely watching his every move and paying sedulous attention to his every pronouncement during this most significant, albeit rather brief, transitional period, and shall not hesitate, not the least bit, to call the shots as and when we deem it opportune and productive to do so.

In the meantime, may God bless both our new leader and his incoming administration (as well as the outgoing one, of course, even if we have our grave differences with the same) and, of course, the good, great and kindly-hearted people of Ghana.