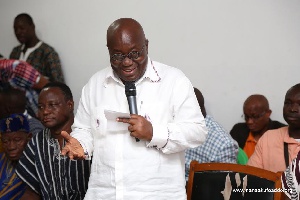 By Nana Akua Tweneboah-Koduah
Sometimes when you hear the NPP Flagbearer, Nana Akufo-Addo, boasting during his campaign stops by making unrealistic promises, just to garner attention and possible votes, you either begin or keep asking yourself, if that serial losing presidential candidate, still thinks his audience are unschooled fools.

Otherwise, how can Nana Akufo-Addo, who claims that President Mahama has driven Ghana's economy to the edge, be able to resuscitate it in just 18 months? Perhaps either Nana Akufo-Addo is not telling Ghanaian voters the actual truth about Ghana's true state of the economy or he is simply a magician.

Charity they say begins at home. This statement is very important and a genuine yardstick to gauge how someone would perform either in public or private life. Therefore, if someone cannot hold his house together, it is equally safe to conclude that, that same person cannot hold an entity or a country together when given the nod.

One thing that must engage the attention of voters from today until election day is, has Nana Akufo-Addo been accountable for anything in his life? The simple answer is a BIG NO. Nana Akufo-Addo has the authoritative belief that he is not co-equal to anybody; therefore, whatever he says or does should be taken to the bank without question.

That is why the NPP National Chairman, Paul Afoko, Vice Chairman, Sammy Crabbe and General Secretary, Kwabena Agyepong were shown the exit when they questioned the leadership style of Nana Akufo-Addo and the way he was mismanaging the finances of the NPP by authorising the opening of dubious bank accounts without resorting to the party's laid down processes. Even constituency executives of the NPP were either beaten or shown the exit by questioning some questionable deals by Nana Akufo-Addo.
There have been multiple allegations levelled against Nana Akufo-Addo, but this man has chosen not to respond to any of them, thinking they will go away. This issuance and missing diplomatic passports to drug dealers when he was the foreign minister, the unprecedented way he was the only law school candidate called to the bar, his association with drug dealers some of whom have been convicted and serving jail time and those who have served jail time are some of the serious allegations Nana Akufo-Addo has refused to comment on.

That aside, has Nana Akufo-Addo done anything remarkable as either a parliamentarian or cabinet minister to give Ghanaians an array of hope that he is an achiever who can turn the fortunes of Ghana around. Again, the simply answer is a BIG NO.

Nana Akufo-Addo and the NPP are using plain lies to win the Flagstaff House at-all-cost. They have no plan to push Ghana forward other than coming to fill their pockets. Today, Akufo-Addo, cannot even mount a campaign platform for more than 20 minutes. He is always tired and panting for breath. And there have been multiple instances that Akufo-Addo has cancelled his campaign events or gone to those events and spoken for only five minutes.

Therefore, how can somebody who cannot function effectively as an opposition candidate, someone who at times does not even know his bearings be able to change the country in 18 months? Nana Akufo-Addo can never be trusted with the reigns of this beautiful country of ours called Ghana.

His temperament alone rules him out. He does not have what it takes to bring the country together let alone improve the fortunes of the country. Nana Akufo-Addo, who had a third class degree in Economics at the University of Ghana, Legon, cannot do anything for the country.
Next time when Nana Akufo-Addo shows up at your neighbourhood simply ask him what he did as an Attorney General, Foreign Affairs Minister, and Parliamentary to clamour for your vote. If Nana Akufo-Addo is able to mention just three key accomplishments simply vote for him. But I bet that Nana Akufo-Addo does not have any credible record to show. His record is very murky and nothing to write home about.

God be with us all!

Writer's e-mail: nakuakoduah@yahoo.com