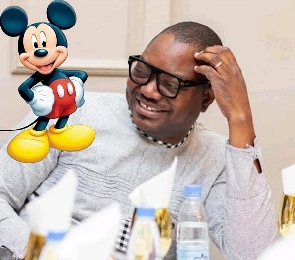 When I was young, they call soap for bathing 'toilet soap'. Up till now, that is exactly what I use it for. Do they still call it like that? Instead of just saying 'bathing soap', why 'toilet soap', Yevu? Yet we call the place we actually go to do the distin 'washroom'.
To wash what? Ah! English language and its ironies! No wonder everybody decides to end with either 30 days or 31 days. But because of the over-confidence of the month of February alone, it has 28 days this year.

This month simply has no respect for January which is like a journey from Ghana to Australia by road. Finally, finally, January has managed to come to an end! Hurrayyyyy! It is weekend again and let's shake it off with some non-fa but remember: please don't read! Hahahahaha!

If you pay attention to land troubles in Accra, you would probably remain a tenant for life. I am sure I told you about the house I was building somewhere. I have completed oo. Clap for me er! But I am sadder than SADDA. These 'hw3so mami' (caretakers) would not let me move in oo. My landlord is also on my neck to pay rent advance of GHC12,000 for two years.

This one too, you have pulled out your mobile phone calculator to check the monthly rent. Oh! Immediately can't you tell the monthly rent is GHC500? Anyway, continue calculating. You are only weakening your phone battery. Where am I going to get this GHC12,000 from? After all, I have my own house but can't move into it.

Hmmm. Akwetey was a labourer who worked with some masons at the foundation stage of my house. He has 5 children who have very good appetite for food. His wife sells rice water.
They were being ejected and wanted a place to sleep and out of pity I offered one of my fairly completed rooms for them to sleep albeit temporarily. Akwetey was a down-to-earth man; very respectful and helpful.

Though poor, he and his wife had time to entertain each other and consequently made 2 more babies within 3 years. I added one more room to accommodate them as they also served as ready security at the place.

The day I announced to Akwetey I wanted to move in in 3 months' time, he was visibly disturbed even though I had offered to support him with rent elsewhere. He suddenly became unfriendly and even refused to pick my calls thereafter. Ei! Has it gotten to that? I wondered.

I visited the site 3 weeks after my announcement on a weekday and was surprised to see some people around the place negotiating with someone on phone how much the house was going for. Ei. 'Please who are you and what brings you here?' They mentioned Akwetey Police as the one they spoke with on phone who claimed ownership of the house. Ei is that the price to pay for having mercy on people who need help?

I called him and his phone was off.
On Sunday I visited him after church only to see a supposed man of God casting out demons in the house and guess who the chief demon was – Mawuli la ah! Hmmm.

I later got to know Akwetey Police secured a loan from a financial institution using my house as collateral.

I tried to forcibly eject him. He called the Police. Then I understood why he is called Akwetey Police. The Police didn't see the head or tail of anything and only advised him to vacate the place by my 3-month notice. Ei. My own house oo.

That was not all. On the painted walls of the living room were graffiti some of which read as follows: 'If God be for us, no Mawuli can eject me from this house', 'The Devil is a liar', 'I shall live in my father's house forever no matter what'. (Here I wondered if I was the one who gave birth to him and his seven children), 'Leaving this house is a matter of life and death', etc…very life-threatening graffiti.

One Tuesday evening I was so determined to show him my true colours. After all, crazy takashi begets legitimate takashi. I got to the house and there was nobody. I was so relieved and thought that was it – they have probably ejected themselves. I tried to open the main door with my master key; it refused to open for it's been changed.
Hmmm. I used force and entered the room. Before my eyes was a frog tied with some red and black bands with chocolate and pepper in its mouth right in the middle of the living room on a stand on which they have been placing mosquito coils at night.

I called my Pastor because I was scared, trust me. My wife started praying there and then. These are the only times that I find her more useful. Hahahahahai! Otherwise, this is how she would normally go: 'I don't like this burgler proof, change it', 'I prefer Spanish floor tiles to China ones; change them'…but her money doesn't change these things oo. Her money changes shoes and dresses.

The things we think about like guest houses when we travel, they don't think about those things o. For example, while a man is thinking of how to undress that girl selling mobile money behind his house, his wife is thinking of how the children would go to the best schools in town…using the man's money anyway and sometimes their own.

Clap for them er…kpa kpa kpakpakpa kpaaaa!

Where was I sef, Koku? Yes oo, we were in the prayerful mood when a battalion of a wounded family budged into the room almost chasing us out. Hw3so Mami??? Don't try it oo.
Finally, I managed to throw Akwetey Police out and my small boy fell sick for so long and no doctor could diagnose the sickness. Be there and think you are the only one who likes doing good; you can suffer for it and actually pay for being nice! Don't think those who don't do these nice things are wicked o; they don't do it because they want to protect themselves and their families.

The best is to just get the services of someone who can be coming and going back to his or her home. But to let him or her stay in there is a premium-less life insurance policy for suicide. I have heard others who talked about using relatives as 'hw3so mami' and their stories were never told because they never lived to tell their unpleasant stories.

Hw3so Mami…don't go there because it is one of the deepest graves you can dig for yourself without knowing. Drop the sentiments and be seen as Mr Wicked or Ms Wicked now and save your life!

So you believe in these lies which can be real-life stories er? Hahahaha!

Enjoy your weekend and be nice to people but have a limit to the extent to which you can be nice.