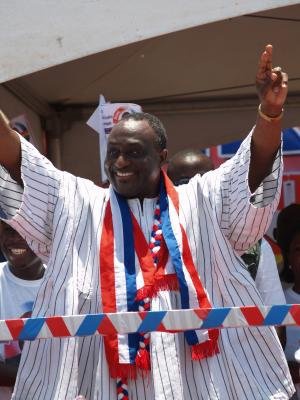 At the just ended centennial celebration of the founding of Adisadel College, President John Atta Mills, the guest speaker may have inadvertently or otherwise predicted as his likely opponent for the 2012 presidential election, an old boy of the school, Alan K, who was present at the celebration. Expectedly since, political pundits as well as social commentators have elatedly feasted on the president's apparent political gaffe. The remark however, that Alan K was a fine gentleman, was I believe, a sincere, 'from the heart' gesture coming from a president who incidentally taught Alan tax law at Legon. As N.P.P. heads for the polls to elect its flag bearer on Saturday, this indicated trait of 'political gentility' should be seriously considered by the delegates in endorsing Alan K.

Many Ghanaians of different political persuasions, are yearning for someone who will usher in an era of peace and put an end to the 'tit for tat' demagoguery politics so deeply rooted in our checkered political maturation history since independence days. While justice would have to take its course, an Alan presidency would definitely set the right tone for national reconciliation and provide a stable environment for our best minds some of who may not be interested in or have time for 'politics', to contribute their urgently needed ideas and services to the national quota for sustained development. Owing to Alan's ingrained respect for all those who have contributed to the nation's development including at the highest levels, it is not inconceivable to expect Alan to bring together surviving past presidents to dialogue and task them to team together in assisting with endeavors and projects of national significance.


Alan's belief in a unified Ghana should be taken into consideration for a second purpose. Obviously, a presidential candidate cannot expunge his partisan base but a person's political pedigree, social up bringing and subsequent world exposure may stifle their motivation to pursue a strict partisan agenda that may be inimical to the country's welfare. Alan's family background, his years of schooling and work over the years in the country and all over the world imbue him with a unique and enviable sense of purpose and a platform for articulating his vision for a unified Ghana.


Thirdly Alan's agenda for National Development is worth considering. The issue that warrants debate is how much a potential candidate 'owns' the core of that agenda. Was it put together for him or her or the candidate himself laid out the ingredients of that agenda and then looked for the best minds to complement or effect the agenda details. On a US 2008 presidential campaign tour with Nana Akuffo Addo, I was particularly impressed with Alan's analysis of how to tackle the country's energy problem. Assuming energy policy was not his forte, I was expecting him to have the question deferred but Alan took it up and espoused a contribution that only a very informed and well prepared 'energy expert' could have given. Alan's surreptitious career seems to have been divinely orchestrated to prepare him for a time such as this. Please visit Alan K's website http://www.alank2012.com with face book and tweeter linkages to find out more about his agenda for Ghana and to dialogue with him. We need a president who is comfortable with and can personally utilize all these emerging media or communication processes to expose and materialize his or her agenda.


Alan K's expertise in Management Dynamics would help usher in a performance assessment based and quality control approach to all sectors of national development especially in his identified critical areas of health, agriculture, education, energy and technology. People who will serve in an Alan K presidency's cabinet will have to demonstrate that they have the capacity to effect change and not just to maintain the status quo. Ghana compared to many other poor developing countries especially in Africa, does indeed have the human resource base to transform our country. What the nation awaits is a leader who not only will cast a national vision but has a track-record of attempting to invigorate that agenda and can assemble a capable and reputable team to hit the road running when given the nod.


With the world increasingly becoming a technological global village, any nation's development is inextricably linked with other nations' agenda and programs. Alan's rich international exposure will definitely come in handy as we seek to attract foreign capital, both financial and human from traditional and non traditional sources in the coordination and execution of a national development plan.

Here are some visionary achievements of Alan K as a Minister of Trade and PSI Initiatives during the Kufour administration:


The construction of a multi-million dollar enclave within the Tema Free Zone dedicated to garment manufacturing for export, furniture manufacturing, revival of the oil palm industry, industrial starch production and diversification of cocoa processing. Mobilized new investments to expand salt mining operations in Ghana. Under his leadership, Ghana's non traditional export sector grew from $400 million in 2000 to $800 million in 2005 Roll out and implementation of Districts Industrialization Programme for rural development Launching of the Trade Sector Support Programme (TSSP) Establishment of product galleries for promoting Made-in Ghana goods. Establishment of a technological Innovation Center for capital goods manufacturing Negotiated $45 million facility with the World Bank to promote Small and Medium Enterprise development in Ghana The launch of the Corporate Village Enterprise – bringing rural communities into mainstream business development and growth.


As the N.P.P. goes to the polls to elect its flag-bearer, the question which should be on the minds of the delegates is not just who appeals to the party but who appeals to the Nation. The party in addition to pursuing land-slide winnings in their political strongholds, needs to win more than two regions in order to have legitimacy for devising and fostering a national agenda.


Undoutedly, N.P.P.'s desire and goal is to win back power and build upon its success in the previous administration. Alan K may just be the person who can win the 2012 presidential election for N.P.P by expanding the party's horizon through fostering a national agenda that floating voters can identify with and ultimately vote for a solid NPP victory.


Collins Sarfo