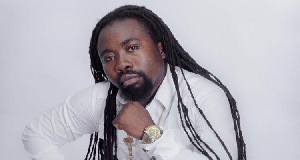 "Obrafour, rap sofour, me hyiren tise obofour…" these were favourite lines back in the 90s when the new kid on the block, Obrafour hit the limelight with his own brand of lyrical dexterity during the early days of the hiplife revolution.
By the turn of the year that would usher us into the millennium, 1999, the diminutive dreadlocked rapper called Obrafour had become a frequent feature on radio and TV and was getting all the vibes at events where he performed.

Obrafour's album in that year was a career defining one for him, and it set him out right from the beginning as one who would lead the pack as far as strong lyrics on a hiplife joint was concerned. It was a big album with some of what we shall consider now as great Ghanaian hiplife classics on it.

Before saying anything about "Pae Mu Ka" and Obrafour's work over the last two decades, it is important to note that before these young men who brought the genre of hiplife to life would have their way, there were many stumbling blocks in their way.

I lived during that period and I know that compared to now there was no access on radio, there was no social media for them to self-promote and apart from the established local song types of the era, they had to fight for share of ear and wallet with the big rappers and R&B artistes of the time.

One of the reasons we call it a revolution (apart from the fact that it gave the young people of the time alternative pop culture and lifestyle) was because these young men had to fight tooth and nail, hammer and tongs as well as use any weapon they could lay a hand on to ensure that the music type they believed in and lived for would thrive.
Obrafour's maiden ten track album had a very good intro like we had not heard in local album release before, and then it had at least four songs that any ordinary rap enthusiast would know till now, "Pae Mu Ka", "Agoro No Aso", "Kwame Nkrumah" and "Yaanom".

The message on that album was more than just words and rhymes. It was a call for the young people at the time to speak up; it was also for the young people to recognize the good deeds of the fathers in the past; and it was a callout to the black race to recognize their greatness and act it.

Obrafour may have written his name in the stars with just his first album, but he still had a lot to offer to the music industry as albums he released later would show.

Nteteepa, Tofa, Heavy, to name a few were some of the great albums Obrafour has released over the last two decades.

There is another big one. His sophomore album. I remember when I was at the University of Ghana, sometime ago, I had a visit from Obrafour.
He came all the way to Commonwealth Hall to see me. All he came to do was to give me his second album to listen to and give him feedback before he would release it that week.

That album, "Asem Sebe", was also pregnant with some of the great works that would define the rap genius that Obrafour was. It had big tunes like "Who Born You By Mistake", "Odo", "Okukuseku", "Obinini, Bra Be Hwe" and "Asem Sebe".

In my list if you are counting the top five rappers ever to emerge from Ghana from the days of the beginning of the hiplife era till now, Obrafour would not only be in the top 5, but would gladly be occupying the number one spot.

What Obrafour did not have in height he had in words. He was the ultimate wordsmith who joined lyrics and said so many wise things many asked if he grew up in the palace.

No wonder many of the people who ended up as our big name rappers say they took inspiration from Obrafour. Sarkodie, Manifest and Pappy Kojo are perfect examples.
Let's not joke about the fact that Obrafour entered the rap scene in an era when there were some of the big names rappers, including Reggie Rockstone, Lord Kenya, Akyeame, Cy Lover, Mensa, Native Funk Lords and many others.

There were others also who came to meet him along the way, including Tinny, Kwaadee, Kwaw Kesse, Obour, Edem, Nkasei, Ex Doe, Chigaco and others.

For him to have stood, in my view, heads and shoulders over many of these rappers says a lot about his abilities.

This year marks 20 years since Obrafour released Pae Mu Ka and I have seen and read many tributes from different people eulogizing the great work he has done since that album was released in 1999, as well as different events to commemorate the occasion.

I believe that the one person that Obrafour would have to be very appreciative of should be Hammer of the Last Two.
Actually, make it two people, Hammer and Abraham Ohene Djan of Sifex Digital (I think) or later OM Studios. These were the men who held Obrafour's hand and showed him the road to stardom.

Hammer's knowledge of music is very deep and his understanding of hiphop was very important at the time Obrafour needed someone of that calibre to lead him into the world of rap music. His prowess was shown on other great works for rappers such as Tinny, Kwaw Kesse and Edem.

For the many people that he has inspired to pick up the mic and have the confidence to try their voice at rap and have been successful at it, Obrafour remains a stalwart in their career and even those who may not have become successful, he inspired a dream.

As we congratulate Obrafour for bearing the torch into a genre that would become the one that many young Ghanaians have embraced, it is important that those who held his hands and those who encouraged him on the road be recognized too.

Two rappers that should walk that fame with him are Cy Lover (who featured on his maiden album) and Dogo (whose rap was heavy on his second album).