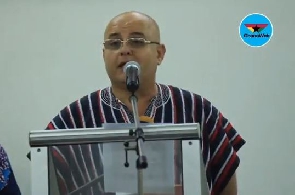 Competence versus incompetence, that is the heart of the matter that has spun the empty coconut heads of the NDC riffraffs.
They think mostly with their backsides having lost every shred of integrity and iota of reason. So His Excellency Nana Akufo-Addo keeps on throwing at them surprises that further burrow them deeper into the heart of a disgusted earth that would seem to want to vomit them out. Today, I was informed that the President announced that government workers will be receiving GHs500 housing allowance each. WOW!!!

By this heavenly intervention, finally, it would be possible for them to buy their own affordable housing units many of which are currently under construction across the country. The NDC will certainly call for its cancellation claiming some cock and bull story about financial crisis in the country, a contrived perception of foolishness that they try to believe in order to cover up their shame. That will not work because Nana Akufo-Addo is leaving no stone unturned in his bid to ensure that Ghanaians live a comfortable life.

The flagbearer of the shameful opposition NDC, Mr John Mahama, will certainly find a licentious way of describing this policy just like he called OtumfuoAsantehene a Liar, an abomination of unforgivable magnitude.

Let me use this opportunity to beg Otumfuo never to accept his apology because this is not the first time that this man and the NDC have insulted the throne of the Ashantis. They are unrepentant! No sooner had he defiled the Ashanti Kingdom with his vituperations than another NDC idiot insulted the Okyehene, Osagyefo Amoatia Ofori-Panyin. I am happy that they are currently banned from campaigning in some 940 villages.

In another bout of bestial shame, the NDC was caught pants down doing the unthinkable with a herd of goats in New York. They hired homeless Togolese prostitutes and pimps to demonstrate against His Excellency Nana Akufo-Addo.
They purportedly paid $20 US Dollars per rotten head. That is how cheap politics has been reduced to by the NDC, and extended to hungry imbeciles living in New York. The Togolese flags printed on the shirts of the demonstrators indicated that they wanted to demonstrate against President GnasingbeEyadema, blaming him for their immorality, homelessness and general predicaments.

So they accepted to get paid twenty US Dollars to hold placards prepared by the subversive NDC, in addition to theirs. SHAME!!!

The grim reality of NDC's future cannot be more disturbing to the leaders of that party, having discerned that they no longer have a credible base to win political power in Ghana, hence the agitations of terrorism that they are so professional at.

The shenanigans that have happened on a number of occasions in the country carried the tangible traces of the ploys of terrorists like Ofosu Ampofo et al. It is not surprising therefore that a bunch of lowlife scoundrels would plot to cause anxiety with their alleged acts of terrorism lined up under the auspices of the NDC hierarchy.

After all, AsieduNtetia has always spoken about causing trouble! After all, NDC's Muntaka and his bunch of humpty-dumpty MPs swore to make Ghana ungovernable under the Presidency of Nana Akufo-Addo.
After all, Ofosu Ampofo promised to unleash havoc on the nation and personnel of the Presidency, National Security, and government at all levels. They are ridiculing the coup plot, claiming that the items were inadequate.

The actual report and pictures have not been released yet, but to refresh the minds of forgetful Ghanaians, the man purported to have wanted to assassinate John Mahama in church was described as a coup plotter and sentenced to lengthy years in prison.

I was told that he later died under mysterious circumstances, or was it JohnMahama who killed him like he was alleged to have killed President Atta-Mills?

Then we are bombarded by empty foolishness from loudmouth charlatan NDC faggots that Akufo-Addo's government is the most corrupt ever. They have soon forgotten that the cost of the Circle-Dubai interchange was inflated by over 150 million US Dollars.

They have soon forgotten that the Kasoa interchange was inflated by over 70 million US Dollars. They have soon forgotten that John Mahama signed off Ghana's 650 billion US Dollar Bauxite deposits to his brother, Ibrahim, to make his family the neo-Dynasty of West-Africa.
They have soon forgotten that SSNIT under Joshua Alabi and Sylvester Tetteh, allegedly, paid over 80 million dollars for software that would cost not more than fifty thousand US Dollars.

They have soon forgotten that they were going to implement the interoperability system at a gargantuan sum of four hundred million US Dollars, which His Excellency DrBawumia did for less than four million Ghana Cedis. THIEVES!!!

They have soon forgotten that they gave Roland Agambire some 30 million US Dollars to train the youth in IT, but there was no show! They have soon forgotten that they robbed the nation dry with Jospong and his cohorts! They have soon forgotten that they duped people with the much-touted Prampram Airport construction only to enrich themselves by monopolising on the lands! They have soon forgotten the Sada rot!

They have soon forgotten that the few E-schools they have to their credit were built in remote bushes, indefatigable distance away from civilisation, just like their charred brains are an indefatigable distance away from reason and reality.

And the case of rot, massive corruption and colossal theft of the nation's coffers prompted a Justice of the Supreme Court to tell them in the face that they were on a "CREATE, LOOT AND SHARE" agenda!
Never has any government in this country, democratic or stratocratic, ever been identified by such a stomach-churning statement.

That would be the inscription on their epitaph in the dumpster of history that we may look for them in should we want to point out to posterity the final abode of the most invidious, divisive, and unprincipled bunch of lunatics to ever run the streets of this country.

#neverNDCagain