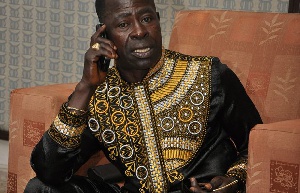 In September 2018 the manager of Amakye Dede, Akwasi Aboagye had discussions with Ghana's Ambassador to China regarding his artiste performing in China.
This was part of the Ambassador's efforts to promote creative arts in China and to give Ghanaian artists exposure.

In June 2018, the Ambassador worked with the UN to invite Steve Bedie to perform at an UN event and then later in Beijing and Shenzhen to large audiences.

Steve's performances were well received by the Chinese community. Steve Bedie became the first Ghanaian musician to perform in mainland China.

In light of the President's state visit to China and the Focac summit, H.E Edward Boateng suggested a local Ghanaian artistes to perform as part of the visit and the broader Focac programs. About 50 African Heads of State and several leaders of international organisations including the UN Secretary General attended the summit in Beijing in 2018.

The Ambassador recommended Amakye Dede. Unfortunately, due to security considerations the event was cancelled by the authorities.

When the Ambassador informed Amakye Dede's manager, he was upset and demanded that his artists be paid the full performance amount alleging Amakye Dede had cancelled a contract in the US just to enable him play the show.
The Ambassador was surprised since the discussions were ongoing and he had not signed an agreement with them as required in such a situation.

Nevertheless, in the spirit of cooperation and maintaining good relations, The Ambassador offered to pay Amakye Dede and his team USD 4,000 which he did from his own resources as compensation for his alleged ticket back to the USA.

The Ambassador advised both Amakye Dede and his manager that he would work to find new opportunities for Ghanaian artistes in China and would duly include the musician in any subsequent events.

As a result, the Ambassador is perplexed that Amakye Dede, whom he has worked with for many years would announce publicly that he is owed money by the Ambassador, which is utterly false and obviously with the intention to defame The Ambassador.

H.E Edward Boateng has been phenomenal in the growth of the Ghanaian creative arts and music industry for years. Several artistes from Agya Koo Nimoh to Nana Ampadu, Amakye himself and several other important artists would testify to his support. From music to fashion, the Miss Ghana pageant, Art, sports and the Ghana Blind Union he has always offered his unwavering support.

H.E. Edward Boateng has been instrumental to the industry and can be described as one of the pillars of the industry over the years to which Amakye Dede has benefitted from.
The first Ghanaian to finish in the top three of The Miss World beauty pageant, was mentored by etv a company founded by the Ambassador. His company has also featured Amakye on the same bill with African legends like Hugh Masekela Yvonne Chaka Chaka and Femi Kuti on the African Legends Night platform.

Amakye's false remarks questions whether he is bitter as a result of the 2019 African Legends Night bill, which features Kojo Antwi, Awilo, 2face Idibia, Ofori Amponsah and more which he was not invited to be a part of.

Furthermore if the $4,000 was not satisfactory why was this accepted?

The focus should be on driving growth and innovation in the creative industry, members of this industry need to practice unity and give appreciation where it's due. The motive should be to create a respectable industry where aspiring artistes can be proud to be part of. Grievances need to be communicated in absolute truth.

… signed… Edmund Kyei Asokwa Constituency 1st Vice Chairman and NPP National Communication Member