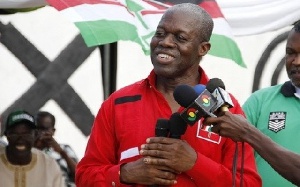 Fri, 25 Nov 2016 Source: Eric Boateng
Vice President Kwesi Bekoe Amissah-Arthur has bemoaned the constant publication of spurious polls ahead of this year's elections.
He said such polls could undermine the integrity of the Electoral Commission (EC) in organizing a peaceful election and urged members of the academia and pollsters to reconsider their work.

He noted that, failure by such polls to come to reality after the December 7 elections could spark violence, which could affect the country's democracy.

"Some of the people are publishing spurious opinion polls that are showing some parties winning and that encourages their supporters to think that if they lose, then someone has done something wrong and this undermines the integrity of our elections", he said.

Mr Amissah-Arthur made this known  when he commissioned a 550 bed boys dormitory block at Enyan Abaasa Technical Institute in the Central region.
He said Ghana is a model of true democracy in Africa and it is important to maintain it.

He also bemoaned the situation where some political parties constantly attack the EC, adding that it set the stage for people to reject the results if it is not in their favour.

Mr Amissah-Arthur said such posture could not be tolerated as it could undermine the integrity of the EC.

He has, therefore, appealed to all stakeholders to support the EC, in its quest to organize free and fair on December 7.
Source: Eric Boateng