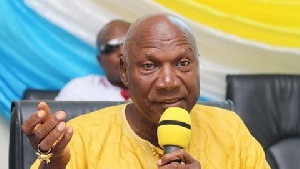 This one is a minefield, especially for sceptics. They label it tribal politics. I detest the word tribe with all its associates because in our globalised world, there's no tribe; ethnic groups, perhaps. Whatever it is, Ephraim Amu said: "As?m yi di ka (truth needs to be spoken)."
P.K.K. Quaidoo, the only graduate MP, then acted on Amu's words after repeating them in Parliament. Amu's wish was for dialogue and debate between and among people of different languages, customs and traditions domiciled in one motherland. With open-mindedness, it's an obligation to raise issues of relevance for the common good.

Check recent post-congress online news headlines which came at the heels of 'who speaks for the Ewes.'

One was: "Now there is no Voltarian in the game, we must think about it." Add to that: "No Voltarian in Frontline NDC Leadership 'Disturbing'" – Rawlings;' founder is obviously incensed.

Another headline actually stated he is 'disturbed.' I haven't read 'disaster for the congress people' yet. But then followed: "'It's non-negotiable'; an Ewe or Ga-Dangme must be running mate – Boakye-Djan to NDC," and many others.

The 'who speaks for' reminds me of my experience some years ago. I accompanied a friend to a funeral and when I saw the school buildings, it was like 'so this is all after sitting on the national cake for all these years'. As for former captain and then major, and as a Ghanaian Times columnist, he was my mentor. In his column, I first read written Bono language. Every motherland of greatness, peace and prosperity achieved those fastest through some unification. Diversity is exploited such that difference is exploited as spice rather than as poison.
If we believe Australia, Canada, Germany, Great Britain, Italy, Russia, USA and other nations are great, prosperous and developed, then we should know they all went through a phase called unification.

I have had Voltarian friends as close as friends can be who don't believe in the isolation politics of 'we perish unless we have everything'. I am somewhat an in-law and some of my bosom friends have hailed from the Volta Region. I know many harbour anti-atsinglingi (elephant) feelings whether atsinglingi as a devil, as imagined or real. Ironically, I just read a piece which said it is the NPP which develops the Volta Region.

I heard the new chairman mention Kabore, as a non-native, who developed the region. Incidentally, I lived in Ho in 1978 and can directly relate to the Kabore achievement. Minyila, chairman said in same radio interview, developed Koforidua, again as a non-native. I was expecting the chairman to cite his examples from his own congress given that they have collectively ruled the motherland for the longest time.

Both Kabore and Minyila worked within the Blaa Kutu administration which some will claim displayed the highest sense of collective selflessness as preached and practised by a government of the motherland. The man Acheampong was a veteran of the UN Congo operation during which some 120 compatriots perished. Then he was NLC Commissioner for Western Region. Yet, he was the same person congress progenitors tied to the stakes and shot on June 16, 1979.

What resident Voltarians have missed in physical development, their elite Accra Voltarians have gained in public sector jobs. One remembers the hurried bobolebobo scuttling of attempts by Colonel Damoah in the military and Foreign Minister Osei Adjei to address the regional imbalance in personnel. Limited resources mean you win in some ways and not all ways because others too need to win something. It should be the principle for equal development.
There must be forgiveness for someone's 'inward looking' words. Sallah must also be forgiven. I believe he who does not forgive does not get forgiven. That is tit for tat and no community, group, society, nation or motherland survives perpetual or even prolonged tip for tap. Taps are hardly equivalent to tips. Its natural instinct protects one another; but that's helpful if doesn't undermine larger group relations. I believe the chairman is old enough to remember that you don't attempt to steal Akufo-Addo's ballot box. Go ask Owuraku Amofa who knows firsthand that the man will retrieve his ballot before you get anywhere with it in a stealing attempt. Chairman wants to return to ballot box snatching by forming a squad. We have moved beyond that and no one is going to sit by for him to take us to those backward days. Or, maybe, he's planning electronic ballot snatching. In that case let's begin forward planning to stop him.

Nepotism is a younger brother of ethnocentrism. There is this debate sparked by someone accusing President Akufo-Addo of nepotism. A contender wouldn't take that and rather points at Kwame Nkrumah, Jerry John Rawlings and John Agyekum Kufuor as the leading practitioners of nepotism. Based on the three experiences, I would say if one delivers with nepotism, so what? Nepotism is so disliked and disapproved of because relations take advantage to destroy.

Not many would dispute the competent performance of Dr Kwame Addo-Kufuor in the ministerial positions he held. If all the other relations of our leaders were to support their relation leader like that, I am sure we would be advocating nepotism. It is only when brothers want to grab everything because their brother is president that the people get cheated of development. It's up to Akufo-Addo's relations and relation-appointees, so suspected, to deliver and shame the critics.

It is very easy to speak and mobilise to exploit the suffering of the many others for your personal gain for some time. You don't continue disregarding the needs of those others and continue with your exploitation of their deprivation by feigning they would gain something by supporting you. One day when you tell them they should protect you from being punished for stealing, they would say it is you and not us. That is the bitter truth of life under political exploitation of the collective for individual benefit. We are all the same. The elite will exploit us in our rural circumstances, but one day, they will pay for ignoring us.