▶ Click Here for Full AFCON Coverage ◀
On Sunday, December 11, 2016, an Accra-based radio presenter who had campaigned for President John Mahama and the NDC in the just-ended elections sat in Joy FM Newsroom and described vividly, how some New Patriotic Party (NPP) supporters had attacked and beaten Ebenezer Osae Aryeh, popularly known as Wofa K.
With a grim face and exaggerated manners, he said Wofa K drove into a crowd of jubilant NPP supporters who had blocked the road. He said Wofa K got impatient and got out to shout at them to give him way.

"At that point, they recognised him as someone who had featured in the NDC's campaign commercials. They pounced on him and before he realised, he was in the Hospital," the man said.

"I visited him at the Korle-Bu Teaching Hospital, where he is receiving treatment," he added.

I was on duty that weekend, and the said radio presenter, who had boasted about how he campaigned for the President but maintained his neutrality on radio, had come to watch Chelsea FC. Samuel Appiah of Asempa FM's sports team and Benedict Owusu Danquah of Joy Sports were also present. Benedict sat far from him and did not pay attention to all the conversation but Samuel Appiah heard him talk about Wofa K's attack.

Because of his closeness with the the NDC's campaign team, we believed him. However, before the day ended, a probe I did revealed that the said attack was probably a hoax.

A source close to Wofa K had cast doubt on the said attacks. None of his neighbours or family believed he was attacked.

According to the source, Wofa K's family and neighbours first heard about his alleged attack on Facebook when some NDC supporters shared it. When they asked him, he told them that he had fallen and injured himself, but when they probed further, he decided not to mind anybody.

Meanwhile members the governing NDC, including the Chairman of the party, Kofi Porturphy, have continued to say he was attacked by NPP supporters.

I called the radio presenter who had said he visited Wofa K in the hospital and asked for further details because information I was getting showed that the said attack was a lie. Surprisingly, he denied the all the things he had said. He denied ever saying he visited Wofa K in the hospital. He said he heard that from a friend, whose name he was not prepared to mention.

"But when you spoke with Wofa K, did he say he was attacked?" I asked him.
"Yes, he was attacked," he told me.

"Where was he attacked?" I asked.

"As for that one I didn't ask him" he replied.

"Did he go to the hospital?" I asked.

"Yes," he said.

"Which hospital did he go?"

"I did not ask him," he said.

"But didn't you say you visited him at Korle-Bu?" I reminded him.

"I made a mistake about the hospital. It wasn't Korle-Bu."

"But which hospital was he taken to?"
"I don't know where he was treated. A friend visited him, not me," he said.

"Do you know whether he reported to the police station?" I asked him.

"Yes, he did," he said emphatically.

"Which police station did he report?" I asked.

"He did not tell me that one," he said.

After my telephone conversation with the radio presenter, he called Kofi Adoma of Adom FM and asked him to plead with me not to use his name in my write up because it might give him problems. When I spoke to him later, he repeated his plea.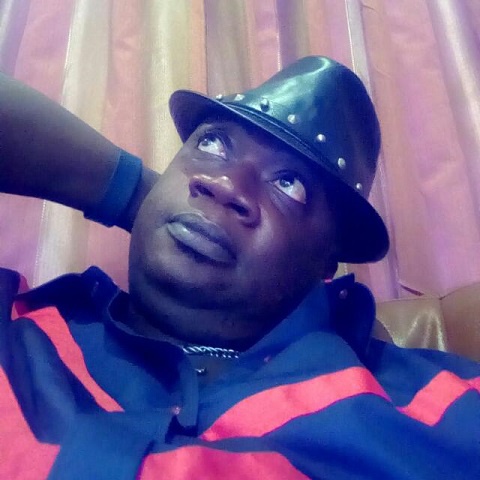 Dr. Edward Omane Boamah speaks to Wofa K

The Minister of Communications, Dr. Edward Omane Boamah, was one of those who first shared photographs of Wofa K's attack. In fact, the first time I saw the pictures was on the phone of a colleague journalist at Multimedia and he mentioned Dr. Omane Boamah as the source of the pictures. We both raised doubts about the credibility of the story even before we got further details.

When I later contacted Dr. Omane Boamah on WhatsApp, he said he had called Wofa K and he confirmed the attacks. He said if the information I had was true, then it meant Wofa K was being "dishonest" because he (Dr. Omane Boamah) had spoken to him. I then asked Dr. Omane Boamah whether he had asked Wofa K where he was attacked, which hospital treated him and whether he had made a report to the police?
His response was that "Wofa K is an adult. I have spoken to him and he insists he was assaulted. Pls interview him…"

WOFA K himself will not speak




Wofa K (left) and the writer of this article Manasseh Azure Awuni at the launch of Efo Kodjo Mawugbe's books, where Wofa K was one of the characters in Efo's award-winning play, Prison Graduates

Wofa K has not picked my phone calls since the issue broke. I called with both my personal number and the office line, but he did not answer either of them.

On Thursday, December 15, I sent Wofa K the following Whatsapp message at 14:17 GMT:

"Good afternoon, Wofa K. This is Manasseh Azure Awuni of Joy FM. [I] have been calling with my personal line and office line. I want to speak to you on your allegations that you were attacked. People close to you say you are lying. What do you have to say about this? Where were you attacked? Which hospital were you treated? Which Police station did you report? "

Within two minutes, he came online and the message ticked blue, indicating that he had seen it.

At 15:24 GMT that same day, I sent him the message: "Do you know something? I can see you are online but you are refusing to respond. Your reputation and career are at stake. If it's true that you were beaten, stop hiding and come out and show us evidence of your wounds. If you are lying, as it is proving to be, then come out and apologise. You cannot hide forever."

It again ticked blue, indicating that he had read it but as I type this, he has not replied.
I also contacted one of Wofa K's friends, who said they had communicated. The source, who did not want to go on record showed me evidence of their communication. Wofa K told that friend that he had, indeed, been attacked but said he did not want to be embroiled in media controversy that's why he would not respond to accusations that he was lying.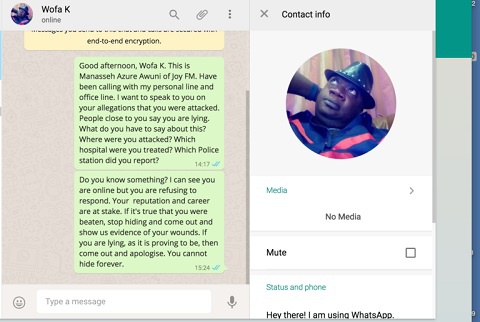 My WhatsApp messages to Wofa K on December 15, 2016. He is yet to answer me.

I can say for a fact that the attack did not happen in Wofa K's house or neighbourhood, because his neighbours and sources close to his family say it did not happen. They have expressed surprise at his behaviour. No family member of Wofa K has confirmed the attack. Everyone close to him I know has doubted the so-called attack. The NDC's propaganda website, ghanapolitics.com claimed his wife has spoken to them, but failed to give any information on at least where he was attacked.

The NDC and all those spreading the photographs of his attack have not been able to answer any of the basic questions of where, when or how he was attacked, which hospital treated him and which police station the report of his attack was made. When Evans Mensah of Joy FM asked Kofi Adams where the attack on Wofa K was reported, he said the fact that it was not reported to the police did not mean that it did not happen.

A careful look at the images of his attack revealed that he has no slight bruises anywhere on his body apart from the areas covered with plaster. The photographs were not taken in a hospital. An injury of the nature being shown in the photographs would have him hospitalised for some time but sources close to the family say they don't have any evidence of his hospitalisation or visit to the hospital.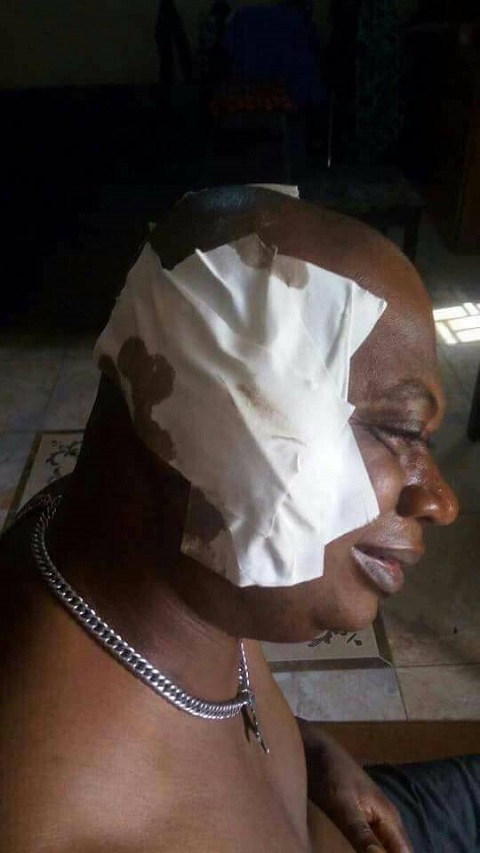 One of Wofa K's pictures of his "fake" attack circulating on social media

So far everything points to a hoax that is being broadcast for propaganda purposes. There were some acts of violence after the declaration of the 2016 election results, but as far as Wofa K's attack is concerned, it appears the NDC is lying. If they are not lying, Kofi Portuphy and the party should produce Wofa K, tell us when he was attacked, where he was attacked, which hospital he was treated, which police station the said attack was reported.

If they check and it is false, they should be humble enough to apologise to the people of Ghana.