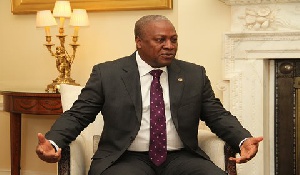 It is quite interesting that a glaring case of presidential payola scam that allegedly occurred in July 2012, or thereabouts, is now coming to light, with barely five months to Election 2016 (See "Ford Gift Controversy: Apology Will Be Helpful – Lecturer" MyJoyOnline.com / Ghanaweb.com 6/17/16). You see, you can always count on the reprobate movers and shakers of the National Democratic Congress (NDC) to cover their tracks for one another; and this clearly appears to have been the case.
Unfortunately, these rascally opportunists seem to have forgotten that evergreen maxim about those who would recklessly presume to play fast-and-loose with the truth. I am here, of course, unmistakably alluding to the globally renowned maxim which runs as follows: "Truth suppressed shall rise up again!"

The seminal observer of this universal law of karma might just as well have poignantly added the following: "Truth can simply not be suppressed nor conveniently contorted." And it is precisely for this reason why this otherwise covert act of gross ethical misconduct is now coming to light.

The timing of this breaking scandal – we have not forgotten the equally scandalous Presidential Diary Affair, by the way – is simply perfect for the electioneering campaign strategy of Ghana's main opposition New Patriotic Party (NPP), although this one particular epic act of moral corruption alone will not in of itself readily facilitate the electoral defeat or the political erasure or wipeout of the Mahama-led government of the National Democratic Congress.

The Akufo-Addo Group will have to assemble a more comprehensive and pragmatic policy agenda to do the trick. And so far, the front-bench members of the 2016 Akufo-Addo Presidential-Election Campaign Team seem to be curiously and quizzically p**syfooting. The least bit of their worries ought to be the fear of whether the Beijing-oriented Mosquito Mafia would shamelessly steal their campaign platform or manifesto.

Ultimately, it is what one does with such policy bullet points, in terms of a government in power's ability to realize them, that matters. And so far, the NDC Abongo Boys have more than amply demonstrated beyond any shadow of a doubt that when it comes to the very adult business of policy implementation, they are still the cardboard parakeets that they have always been known to be.
What annoys me most about the lame suggestion by Dr. Eric Asare Bossman is the patently cynical implication that the mere issuance of an apology by the jolly recipient of Contractor Gibril Kanazoe's Ford Expedition payola would quickly paper off this inexcusable national contretemps, almost as if it never happened. This sort of morbidly soft-headed advice is nothing short of the criminally absurd.

And on the latter score ought to be promptly pointed out that the now-President John Dramani Mahama was part of that exuberant generation of college-going "revolutionary" upstarts that screamed hoarsely for more blood to be spilled on the streets of Accra, and elsewhere in the country, in the wake of the untenably barbaric summary execution of the likes of Air-Vice Marshall Yaw Boakye and Commander Utuka by firing at the globally infamous Teshie Military Range.

And the sole capital crime of Air-Vice Marshall Boakye, as also the cases of Commander Utuka and Maj.-Gen. Amedume, if memory serves yours truly accurately, was that these by no means perfect leaders ought to have known better than to have borrowed $50,000, apiece – actually the amount involved was much closer to GH? 50,000 – of housing loans in their official capacity as military rulers and "criminally" failed to pay back these bank loans on schedule!

In the case of President Mahama, the bribery gift of the $100,000-priced Ford Expedition (luxury van?) was likely demanded and received in camera; and had the giver not squealed to Mr. Manasseh Azure Awuni, the fast-rising investigative journalist, about the same, Little Dramani would still be strolling jauntily about, swagger-gaited, smugly demanding of the British reporter who allegedly called him up on his political integrity, precisely what cut-off point he meant when Mr. John Bull demanded to know whether the Ghanaian leader had ever accepted a payola in his official capacity as a politician.

In retrospect, it well appears that Mr. John Bull knew something fishy about their pathologically crooked leader that most Ghanaian citizens had absolutely no inkling about.
Now, let's get to brass-tacks. And it is that had the Ford Expedition "gift" been presented to President Mahama way before the Burkinabe giver, Mr. Gibril Kanazoe, was awarded the reported $650,000 contract to build a fence-wall around Ghana's embassy building in Ouagadougou, the Burkinabe capital, there would be absolutely no bone to pick with the Chief Resident of the Flagstaff House and his Abongo Boys.

It is more likely, however, that the gift was in appreciation of the awarding to Mr. Kanazoe of the significantly more handsome eastern-corridor highway construction reportedly valued at some GH? 82 million. We have since learned of Mr. Kanazoe's backing out of the latter contractual award.

At the very least Parliament ought to censure President Mahama. In my opinion, the best impeachment package for Little Dramani will be his thorough and epic defeat in the November polls. And Mrs. Charlotte Kesson-Smith Osei, Ghana's Electoral Commissioner, had better play by the rules as clearly stipulated by the country's 1992 Republican Constitution, and peremptorily interpreted and eloquently communicated by the Wood-presided Supreme Court.

*Visit my blog at: kwameokoampaahoofe.wordpress.com Ghanaffairs