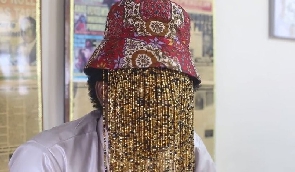 Dear Sir, I bring you greetings from the northern territory where you and hail from. Your old man is doing well, just that all his yam barns are almost empty as he gears towards the coming farming season. He insists that I should tell you to remit him not this month as he still has enough spend from the last remittance you did. The deep "gutters" in our lips have resurfaced as usual, following the sudden climate change. Quite apart from that, we are all "laughing".
Mr. C.E.O. of Tiger Eye PI, I must confess that you've made me very proud as a northern brother but first, as a Ghanaian. I first heard of you in 2006 when you "uncovered the covered" at the malt "n" milk factory. Your work pieces with regards to "death of a lady in Nigeria", "the spell of albinos in Tanzania" and the likes put you on the international arena. Your "elephant size service" to humanity is immeasurable. In fact, "me tu kye ma wo". To wit, I salute you.

Dear Sir, even though you've done what Napoleon could not do, it appears there is one key area you've forgotten. The health facilities where there are abnormal changes in their anatomical structures have become "cocoa farms" for some health professionals.

It so sickening to see some physicians sign death certificates at a cost of ¢100.00. It is also disgusting and appalling to see some nurses sell left over drugs inherited from either the dead or discharged patients at "neck cutting throat prices", turning the noble profession into "noble black market". In situations where relatives opt to purchase their own drugs from authorized places outside the hospital, they are met with nursing management suggesting anger and nonchalance.

Dear colleague brother from the north, I may not have a hard core evidence to back this write up. But you and I know that it is an open secret, just like it used to be until you captured the judges who traded "justice for sex".
Just like I'm craving for your return in this field, I know deep down in my heart that a greater segment of Ghanaians are on the same wavelength with me.

I do not intend to cry more than the owner of the corpse but I think that, should you put your "pinhole cameras" in our health facilities, it will help the nation to expose the loose "sphincter ani internus" in some of our "so called" health professionals.

It is 10pm now and I need to retire to bed. I know you will give this letter your favourable consideration and I look forward to hearing from you soon.