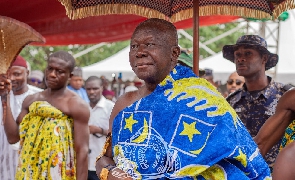 Your Highness,
I wish to express my profound compliments to you as a leader of eminence.

I am a proud advocate of our African heritage who hails from Chamba in the Nanumba North District of the northern region of Ghana.

I acknowledge the relentless efforts you always make to bring developments to your people. You have greatly projected the Ashanti culture and tradition as well as the nation of Ghana to the whole world.

Your Highness, with all due respect, I hope you will agree with me that anyone who trespasses on somebody's land or territory may be culpable of an offence.

Without being invited here in Africa in the early days of our civilization, the European colonizers and their American counterparts came into our lands and took away our ancestors into captivity and slavery. They also took along some of our assets and treasures consisting of precious metals and precious stones.

Recently you visited Britain to celebrate the coronation of King Charles. Later in your visit, you requested the British museum to return to us the artefacts they took away from the then Gold Coast. They did not accept the request but offered to lend us the artefacts instead. It seems like the negotiations with them on this issue have ended and finally they are going to lend us the artefacts.
I cannot fathom how our property can be taken away from us by force and only to be returned to us on loan. It is not a prudent decision to allow them to lend us what belongs to us. We lost our ancestors through dastardly acts like slavery, colonisation, world wars, etc. without receiving any reparations. Going for the lending is likely going to tarnish our image.

Return our assets!

Long live His Highness, the Asantehene!

By Musah Ibrahim (A.K.A. Lincoln Agbiiri)

An advocate of Return African Heritage (Ghana).