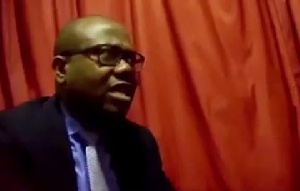 I've been troubled all night, and I hope every Ghanaian who watches #Number12 catches the bit about inflated cost of government contracts.
In an episode, Mr. Kwesi Nyantakyi says politicians and contractors astronomically inflate the cost of government projects in order to share the windfall. He says the cost of a bridge in the US pegged at $50 million will be priced at about $150 million if constructed in Ghana.

Folks, what that testimony means is that, the Ghanaian tax payer pays triple for the price of a government project. In other words, moneys which should deliver three bridges are used to construct a single bridge. Sad.

This, therefore, raises fundamental questions as to how the would-be cost of a bridge, road, schools, hospitals, etc. are calculated. I am worried about how civil servants and their political heads (Ministers/Directors) agree to profit from a project which is intended to bring relief to our suffering people.

Thinking deeply about this, my mind is opened to the revelation that the agents involved in this stealing of our taxes are in public offices (holding public trust) to work for themselves, steal from the taxes we pay and use that looted cash to build empires for themselves and their families.

My friend, think about this very well and ask yourself if we are better off entrusting our destinies in the hands of such politicians, their civil servant subordinates and the contractors or you think we should not continue with them.
Your answer is as good as mine.

We need a Revolution.

#No.12