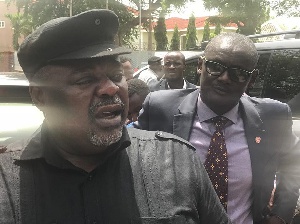 However squeamish the statement by Deputy General Secretary of NDC, Koku Anyidoho may sound in the ears of discerning Ghanaians, coup d'états are synonymous with NDC. Indeed, Koku Anyidoho was only refreshing the minds of Ghanaians about the making of NDC and truculent coup d'états.
Sometimes, one cannot help but to giggle and admire some of our politicians for their adroitness in systematic propagation of propaganda.

Let us face it, the endless display of hypocrisy and dishonesty by the NDC apparatchiks is mind-boggling.

In any case, if most NDC loyalists really know their history, they would have realised that their beloved NDC can regrettably trace its culture and ethos to a series of treasonable coup d'états.

Unfortunately, however, if you were to ask a younger Ghanaian on what is history; most likely, the first thing that would come into their mind would be about the untold stories on football world cup tournaments, music fiestas, beauty pageants, amongst others. The preservation of Ghana's contemporary history is under serious threat, so to speak.

In fact, it is of grave concern that an important subject like history has been unpardonably removed from Ghana's basic education system. How bizarre?
It is, therefore, not least surprising that the present-day Ghanaian student does not even have a clue about Ghana's contemporary history.

"If you would look deeper, history is broad yet deep that binds the core existence of the world. Hence, history keeps the records of events that happened.

"History is a lesson in the past but can also be the greatest regret of the future. Yet the reason why there is history is because of the events that were created by man (Hughes 2010)."

Somehow, the NDC faithful tend to forget their history, or should I say their ideology?

Given that the party has a despicable track record, I will be extremely amazed if discerning Ghanaians obsequiously buy into the NDC faithful's desperate attempts to disassociate themselves from the preposterous remarks by the party's Deputy General Secretary, Koku Anyidoho.
Apparently, the loudmouthed Anyidoho was heard on Accra-based Happy FM ranting plangently: "history had an interesting way of repeating itself and that President Akufo-Addo will end up like his dad who was forced out of government via coup d'état in 1972."

If the preceding revoltingly ugly statement is not treasonable, then what at all is treasonable offence?

The fact however is, the likes of Anyidoho are synonymous with coup d'états. Indeed, we can take a cue from history. Verily, NDC was founded on the ideals of their coup making founder J. J. Rawlings (detailed in Article 6 of their party constitution).

Somehow, the NDC loyalists would never agree with some of us for persistently analysing the current affairs through the lenses of the past. But I am afraid we cannot make sense of the present happenings if we refused to take stock of the past events.

The story is told, in a historical perspective, that after deposing General Akuffo and his Supreme Military Council2 (SMC2) government on 4th June 1979, the founder of NDC, Rawlings and his coup making friends went ahead and formed their own government, which they called as the Armed Forces Revolutionary Council (AFRC) and appointed Flt. Rawlings as their chairman.
The coup makers transferred power to Dr Hilla Limann and his PNP Party following the successful election in 1979.

Anecdotally, the story is told that the Limann government assumed office at a time when the economy was stagnant; all credit lines to the country had diminished and were finally blocked due to brutalities and confiscations at the harbours and other points of entry into Ghana.

Disappointingly, however, Rawlings and his cohorts did not give Dr Limann and his PNP government the breathing space to govern the country, as they relentlessly breathed down the neck of President Liman.

Rawlings and his conspiratorial plotters, as a matter of fact, unfairly kept criticising Dr Limann's administration for what the coup makers perceived as economic mismanagement until Rawlings and his jailbreaking geezers decided to depose Dr Limann.

Subsequently, J.J. Rawlings and the other obstreperous jailbreakers took arms and succeeded in deposing the democratically elected government of Dr Hilla Limann on 31st December 1981.
And, Rawlings and his friends formed a government which they called the Provisional National Defence Council (PNDC) and appointed Rawlings as the chairman.

Starvation, so to speak, visited the vast majority of Ghanaians, and hence developing revoltingly ugly collar bones which the humorous Ghanaians renamed as "Rawlings Chain". That was indeed the pernicious extent of the hunger.

After imposing himself and despotically ruling the country for over 11 years, J.J. Rawlings retired from the military, formed the National Democratic Congress (NDC) and bizarrely metamorphosed into civilian president in 1992.

Apparently, the likes of Koku Anyidoho were brought from their hideouts to form all sorts of paramilitary groups, whose collective mandate was to defend the revolution by hook or by crook.

Whichever way you may view the issue under discussion, the authorities cannot and must not entertain any treasonable statements from coup making enthusiasts like Koku Anyidoho, given their track record.