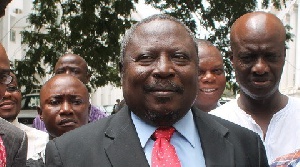 The appointment of Mr Martin Amidu as the Special Prosecutor pending Parliamentary approval by the Attorney General and President Akufo-Addo was received with huge plaudits and labelled as a smart, a display of magnanimity and matured political decision.
To many, it was a clear indication of the President's commitment to combatting corruption and also a display of all-inclusiveness by appointing an NDC man to handle this very important position.

I vehemently disagree with the assertion that the appointment of Martin Amidu is an indication of the progress we have made in our democratic journey because the president made the appointment with little care of party colours. His appointment is far from being an act of generosity towards the NDC. Before stating my whys, I want to put on record that I am excited about Martin Amidu's appointment and believe the president couldn't have opted for a better person.

I know very well that it will be difficult and nearly impossible for Mr Amidu to treat alleged corruption involving the NDC and NPP with equal interest and tenacity. This is not to say he won't but the priority of Nana and the NPP is simple: arrest NDC thieves and this he proved by going further to appoint a man who is perhaps determined than any other to do this job - even if it is for free.

I have huge doubt that the powers that be will allow him to expose the government of the day in the same vain that he would the past administration. We should bear in mind that the Special Prosecutor works under the Attorney General and therefore isn't independent and immune to interference from above.


His primary focus is to go after former NDC appointees who misconducted themselves in office and I will honestly say that if this sense of subjectivity dictate to his work, I wouldn't be so bothered. Yes, I don't care if Martin Amidu prioritises NDC cases.

In the end, NDC will call it witch-hunting but I believe that as long as they allude to being witches, anyone found to fit the profile should be hunted.

If it will mean that the fight against corruption in government is reduced to NDC dealing with NPP when in power and vice versa no problem: it will still be an improvement on the performance of our state institutions in that area because they are virtually toothless when corruption is clothed in politic. At least, current NPP appointees will know that even if they are made to go scot-free while in government, the NDC will deal with them when they come to power one day.

This will at least limit the extent to which people loot the state's coffers steal with impunity and so I am not that bothered about the subjectivity in the execution of his duty.


If the only way we can make strides is for NDC and NPP to be a check on each other, so be it because no President, including 'the incorruptible Nana' will allow his government disintegrated by the very person he appointed. We have seen examples of how alleged corruption were brushed aside over the past year and that alone should tell us that the focus of this appointment former appointees. To my point though, the appointment of Martin Amidu is strategic and convenient at best: nothing less, nothing more.

Nana didn't appoint M Amidu with the mind-set that he was bringing NDC on board, he appointed him as the very best to help in his quest to use legal means to bring past state actors who took undue advantage of their position to book.

Nana made countless corruption allegations against the NDC with little evidence to back them. Now, left with the burden of proving them, he will need someone who can be trusted to do a good job and with an equally great obligation to prove a point.

Mr Martin Amidu is NDC on paper but definitely not one at heart or to be accurate, not one with the current NDC at heart. He called on Ghanaians to vote the party out and has written countless articles against the former administration. This is why the NPP are happy about the appointment but NDC not so pleased.

It is this position against his own party, sustained over 5 years and with the determination to prove a point that Nana seeks to exploit for our collective gain and that to me makes it one of the smartest political appointment in recent times.


As a matter of fact, given the public criticism and accusation he levelled against the NDC, he might have had his membership revoked if he was an NPP man or lost his voice in the party just as he has in the NDC. NDC Members, even before his appointment consider him an enemy within and one whose political career would have been as good as dead if his party remained in power.

It is therefore not surprising that the NDC feel that Nana is exploiting his bitterness against the party. This is why in my estimation, it is wrong to say that President Akufo Addo was magnanimous by giving the position to an NDC man. This was an appointment by necessity convenient for both Nana and Martin Amidu.

Nana has literally appointed someone whose very reputation will be on the line if he fails because of previous allegations and comment.

If there's anyone who can be trusted to achieve result, then that person is Martin Amidu. He alleged that they are thieves and got the tools to prove it.
Beyond that, Mr Martin Amidu exercised independence in judgement by taking a stance against his own party and sided with his conscience even while they were in power, such characters are few in our politics and believe it is commendable and worthy of eulogy. That is what gives me a little hope that he will fight the canker across board but my doubts far outweigh my optimism in the area.

My doubt about him being fair beyond his personal rage against the NDC stems also from the fact that the whole idea of setting up the Special Prosecutors Office, in spite of the provisions of the law that gives it a mandate to fight corruption without bias was to give whoever is appointed the job of dealing with corrupt practices primarily involving former government appointees.

In Martin Amidu, Nana found a man who craves for same if not more.

Interesting times lies ahead but don't tell me he was generous to the NDC with this appointment