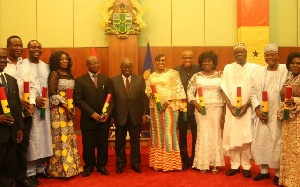 Based on the effective governance being provided by the NPP government amid favourable socio-economic outlook, some of us can confidently state that the good people of Ghana made the right choice by electing the septuagenarian Nana Akufo-Addo and retiring the middle-aged John Dramani Mahama during the 2016 election.
Certainly, there is no gainsaying the fact that if Ghanaians had not intervened timeously by showing the non-performing NDC administration the exit during the 2016 election, the dreadful errors in decision-making and the rampant sleazes and corruption would have wiped out Ghana off the world map without a trace.

Ghana, so to speak, has sadly been in the throes of economic collapse due to the previous NDC government's economic mismanagement and the numerous scandalous corruption cases committed by some greedy politicians and other public servants.

Indeed, there is an unobjectionable evidence of gargantuan bribery and corruption cases, including monies that were given to individuals who did not render any services towards the national development.

The rot in the erstwhile NDC government was so pervasive that even the diehard supporters expressed their displeasure and threatened to boycott the 2016 election.

I recall my long-term friend who had witnessed enough of the mess in his beloved NDC government decided to walk out of the NDC Party.

My pal contended forcefully that he had been defending and promoting the party's much touted ethos of probity, transparency and accountability for well over twenty three years, but lost the zeal to continue, as the sleazes and corruption in President Mahama's government reached immeasurable proportions.

My friend, however, maintained that the straw that broke the camel's back was when President Mahama decided to behave as Father Christmas and unjustifiably gave Madam Akua Donkor of Ghana Freedom Party (GFP) two four wheel drive cars and a luxury bungalow (estimated to cost a staggering $470,000)for no work done.

My mate's beef stemmed from the fact that he had worked his socks off all those years for the Party to enjoy power, meanwhile he had nothing to show for his efforts.
My pal was thus flabbergasted that parasitic creatures like Madam Akua Donkor were needlessly being showered with all sorts of melodic gifts.

Unsurprisingly, my friend abandoned his role in the NDC party prior to the 2016 election and confided in me that he did not even bother to travel to his polling station on the voting day.

In fact, he did not see the urgent need to vote for NDC and President Mahama, given the crass incompetence and the unpardonable corruption. My pal was indeed distraught about Mahama's terrible handling of the economy.

A large portion of Ghana's scarce resources, unfortunately, went down the drain due to irrevocable mismanagement and the wanton sleazes and corruptions perpetrated by the officials of the erstwhile administration.

But in all these, the loyalists NDC Party supporters would want discerning Ghanaians to believe that the erstwhile NDC government provided exceptional governance. Indeed, vague apprehension of patriotism exists in the minds of many Ghanaians, who thus prefer needless praise singing to defending the national interests.

The good people of Ghana, unfortunately, witnessed so much duplicities, corruption, incompetence, nepotism, cronyism and frequent abuse of power in the erstwhile NDC government, and hence the vast majority of Ghanaians have permanently lost trust in the NDC Party.

Ghana's massive economic meltdown, so to speak, took unexpected flight after the sudden and unfortunate death of President Mills.

It is worthy of note that during the 2012 electioneering campaign, the late Mills successor, Ex-President Mahama and his NDC apparatchiks went haywire in their desperation to cling on to power. Thus they broke all conventions. Many government departments spent over and above their allocated budgets.
Consequently, the previously single digit inflation and budget deficit doubled astronomically. The GH9.5 billion debt which former President Kufuor and his NPP government left in 2009 ballooned to GH122.4 billion as of December 2016.

Ghana's economic growth regrettably slowed for the fourth consecutive year to an estimated 3.4% in 2015 from 4% in 2014 as energy rationing, high inflation, and ongoing fiscal consolidation weighed on economic activity (World Bank, 2016).

Ex-President Mahama's maladaptive government, as a matter of fact, squeamishly dragged the economic growth from around 14 per cent in 2011 to around 3.5 per cent as of December 2016.

In addition, the high inflation rate remain elevated at 18.5% in February 2016 compared to 17.7% in February 2015, even after the Central Bank's 500 bps policy rate hikes (the inflation stood at 15.8 per cent as of October 2016).

Unsurprisingly, therefore, during the epoch of Mahama's maladministration, some concerned patriots like Jake Obetsebi Lamptey of blessed memory, lamented: "Ghanaians are worried because the economy is being handled in a manner reminiscent of the NDC's mishandling of the economy in 2000. We do not need to return to HIPC status."

Ex-President Mahama, in all honesty, did not do enough to improve on the socio-economic standards of living. Take, for example, former President Kufuor quadrupled Ghana's GDP to a staggering $28 billion in 2008. While the late Mills inherited oil in commercial quantities and managed to increase the GDP to $40 billion in 2011.

However, President Mahama disappointingly reversed the GDP to an incredible $37 billion as of December 2016.

If you would recall, during the 2016 electioneering campaign, the then presidential candidate of NPP, Nana Akufo-Addo, declared: "I am promising you that within 18 months of a new government of the NPP, under my leadership, the face of our country, Ghana, is going to change".
And since assuming power, Akufo-Addo's government has taken commendable strides to improve the social mobility through implementation of poverty reduction policies such as free SHS, one district one factory, one million dollars per constituency, tax reductions, a dam per village in the northern part of Ghana, among others.

Despite the huge economic mess created by the outgone NDC government amid stunted economic growth, Akufo-Addo's government has efficiently raised the economic growth from a disappointing 3.5 per cent as of December 2016 to over 8 per cent within a short space of time.

Since taking office, the NPP government has dramatically reversed the inflation rate to a little over 11 per cent from a little over 15 per cent as of December 2016 (GSS 2017).

It is also worthy to note that prior to the 2008, 2012 and 2016 general elections, the then presidential candidate, Nana Akufo-Addo, made Free SHS his principal campaign message. As it was expected, the opposition NDC communicators scoffed endlessly, and revoltingly labelled him an inveterate liar.

However, some Ghanaians, including my maternal uncle, disappointingly bought into the NDC's manipulating gimmicks and rejected the offer of the Free SHS on two previous elections (2008 and 2012).

But lo and behold, discerning Ghanaians saw the light and eventually gave the Free SHS provider, Akufo-Addo the mandate on 7th December 2016.

To his credit, though, President Akufo-Addo has estimably honoured his promise of the poverty alleviation Free SHS.

Pessimists like my maternal uncle, who vehemently campaigned and voted against the Free SHS in 2016, are going to pocket not less than GH16598.49 over three years if three of their children were to enjoy the Free SHS.
It is absolutely true that Akufo-Addo's government is tackling the erstwhile Mahama's government economic mess head-on. Take, for example, a few weeks ago, the finance minister presented the 2018 budget, against the backdrop of an improving macroeconomic performance and falling inflation.

It is also worth mentioning that agricultural growth was around 7.4 per cent in 2012, but the erstwhile NDC government abysmally reversed it to around 2.5 per cent as of October 2016 (GSS 2016).

It is, however, gratifying to note that the Ministry of Agriculture, under the able leadership of Mr Owusu-Akoto, has prudently rolled out a flagship programme known as 'planting for food and jobs', which is expected to give us bumper harvests. And, more importantly, boosts the agricultural growth.

Ghana is indeed heading towards the right direction under the able leadership of President Akufo-Addo.

Long live Ghana!

K. Badu, UK.