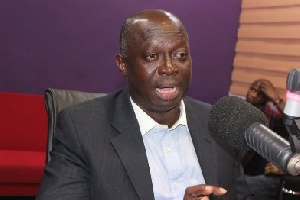 I wrote the following piece exactly a year today. A lot has changed but much needs to be done. Journalism in Ghana, with emphasis on sports, shall rise again.
The current legal tag-of-war between Tema Youth and Dreams FC in one case and, Techiman City and Wa African United in another case reminds me of this piece. But ...

... if only we shall investigate to inform, educate, and entertain, we shall surely rise again. Read on ...

You may be taken aback with the above headline. But if you know what the role of a journalist is towards the development of every field of endeavor, then I am very sure you will appreciate this write-up. The basic role and the universally accepted function of the job is to INFORM, EDUCATE and ENTERTAIN.

But when I look at the current media landscape and sports reportage, I keep on asking myself, "What kind of sports journalism are we practicing in Ghana?

The current court ruling on the GFA/King Faisal law suit which has impregnated our local football with inactivity and has given birth to high cost of funding of clubs leaving administrators in huge debts, has revealed that, indeed, some journalist may be struggling with the semantic comprehension of King Faisal's court action.

Are we not the same people who came out trumpeting that Alhaji Grusah should go to court?

Now he seems to have lost the case which some of us knew was eminent but when we said it, blows were thrown from everywhere.

Instead of educating, informing and entertaining, some of us have allowed personal issues and hatred to pre-occupy our minds.

You may hate Kwesi Nyantakyi?, or Fred Crentsil or George Afriyie? or even Alhaji Grusah, but your ability to separate objectivity from hatred and nepotism makes you a professional journo.

I wrote an article during the turmoil calling on all journalists to educate Alhaji Grusah by letting him know the repurcussions of his court action, but I was lambasted here and there.
Now we have been leagueless since September, but some of us still blame officialdom leaving ourselves. Let us blame ourselves and avoid the personal hatred and jealousy because the media industry is weeping.

Surprisingly, some have started lashing the PLB for proposing a new date for the league when we were the same people calling for the commencement of the league.

What sort of hypocricy is this? Were we not aware that there is AFCON ahead and we went ahead calling for the commencement of the league after failing to educate Alhaji Grusah?

Oh oh oh, sometimes some of us speak as if we are not stakeholders of the soccer.

Do you think it is only going to stadium to give commentary and reports or sitting on set or radio to speak is enough a contribution? You are also responsible for the delay of the league.

What at all is the duty of the sports journalist?

It's really really sad to see some journalists failing to inform people of how and why King Faisal went to court let alone educate them on the effects of the court action. Hatred, hatred and jealousy is killing most of our colleagues and the earlier we change, the better.

Some have been blind folded by these items and reality has become a scarce commodity for them. Chaaaiii, we have a long long long way to go!!!

Today, you will see up-and coming-young guys with great potential in the industry raining insults on elders and officialdom like nobody's business. Ei ei ei! Where are we going?

I took inspiration from Otuo-acheampong Sometymer?, Joe Laka, Yaw Ampofo Ankrah, Mohammed Amin Lamptey?, Frederick Acheampong?, Oheneba Micheal Nyame KwameMekke?, Daniel Owusu-Ansah?, Abdul Mumin Abubakar?, Joe Debrah?, Charles Osei Asibey? and Abass Caesar? and that has brought me this far.
I feel sad to see some young journalist who listen to others and allow that to influence their thinking and go on air to drum the same thing with no investigation.

I remember I drew the attention of a young gentleman to a post he wrote on facebook and after investigating he came apologising. Where are the ethics of our work, journalism?

Someone once lambasted George Afriyie and President Kwesi Nyantakyi for lying about Avram Grant's target for Africa. I called the person's attention but he wouldn't listen.

I spent more than an hour on the phone trying to educate him but still. So I asked him to go and listen to the tape he claimed he listened to again and again.

He complied and did that. It turned out that it was not the two gentlemen who had made the purpurted comment he is lambasting them for, rather it was Fred Crentsil. He later came apologising after soiling the images of the two gentlemen.

Where are we going as journalists?

Am sad

NOW THE SUBSTANTIVE GFA/KING FAISAL LEGAL WAR

Let us all be learners and read very well. No insults or branding. It is sad today that a journalist cannot be objective. Objectivity has now become very poisonous. If you dare, you will be branded somebody's pay boy. So so so sad.

Now, from what I gather from the court ruling on the GFA/King Faisal case, King Faisal's application for injunction has been dismissed. So FA can go to Congress. Which means that the FA can go ahead and fix a date at Congress where promotion and demotion are also made officially.
So the question is, from the FA's point, who is promoted and who is demoted?

Before Alhaji went to court, three clubs were considered relegated by the FA, King Faisal, Ebusua Dwarfs and Amidaus Professionals and three were considered promoted, BA United, Accra Great Olympics and Fetteh Feyenoord [WAFA].

Now if the court has dismissed King faisal's injunction and has given the FA go ahead to hold Congress, who will be confirmed promoted and who will be confirmed demoted?

Mind you, Alhaji went to court because of the promotion and demotion.

Now, let me look at this, and I quote from what a colleague sent me from one of the local sports newspapers,

"The court also ruled that King Faisal is reinstated in the Premier League in the event the Kumasi-based club won its substantive case against relegation. In that regard, the GFA was ordered by the court to provide a written undertaking within the next seven working days."

Now watch this part of the sentence very well. "... in the event the Kumasi-based club won its substantive case against relegation".

Now here is the real instance that King Faisal lost the case. What is the substantive case? The substantive case is King Faisal's petition which the Disciplinary Committee and the Appeals Committee all ruled against.

So tell me, what has changed at the Committee where Alhaji lost that will make him win this time around?

What this means is that the court has indicated that they cannot decide for the FA and Alhaji must come bact to the same body he took to court. You know the rest.
WHAT DID JOURNALISTS DO WRONG?

We the journalist should have guided Alhaji Grusah rather than telling him to go to court because of hatred and jealousy among us. And now he risk facing stronger penalties. Yes, stronger punishment. He may even end up quitting the sport. Alhaji Grusah leaving football after 50 years?

Please, read through this write-up very well, I have never mentioned anything as to whether Alhaji Grusah's action is good or not. All I have been saying is directed to my colleagues. I have been in the industry for just 10 years and I know the politics there.

You may think those who called Alhaji to go to court were in love and suppport of the man, you need to hear them off air. Who even told you they like the man?

Watch this, if there is no news in the system, they call Alhaji and ask him controversial questions to make news. If there are, they forget Alhaji is alive.

Brethren please let us not forget the core responsibilities of journalism and attach the fear of the lord to whatever we do. We shall be accountable one day.