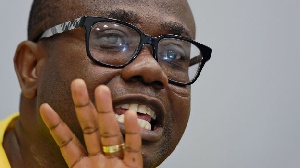 Fri, 5 Dec 2014 Source: Dennis Mirpuri
I remember vividly when the 2013/2014 Ghana Premier League season started without sponsorship last year. The situation meant top-flight clubs had to play throughout the first round without funds because the previous sponsor Globacom had refused to pay up the arrears from their deal with the FA, leading to several complaints by football administrators.
In January 2014 when mother luck smiled on the Ghana Premier League, the FA secured a 5-year sponsorship deal worth US$10 million with the First Capital Plus Bank. But the question is how are the Ghana FA and clubs protecting the interest of the GPL sponsor?

Before last season's Premier League, the GFA had announced to the sports media that it had made it mandatory for the top flight clubs to make appearances at post match press conferences but as fate would have it, most club officials flouted the rule and refused to turn up for interviews with no club receiving a fine or a sanction.

It remains a shock to me that club officials would fail to turn up at post match press conferences when they are fully aware that the backdrops and banners of the First Capital Plus Bank would have been often filmed by the pressmen from TV and online portals to further market the league sponsor's brand and ensure the outfit enjoys the needed mileage and returns on their investment.

On Thursday night after Zamalek were held to a goalless draw by Ismaily in the Egyptian Premier League sponsored by Presentation Sports, I was reading about the performance of Ghanaian striker John Antwi only to find out that the Egypt FA had decided to hand Zamalek Coach Jaime Pacheco a fine of 15,000 Egyptian Pounds (GHC 6,692) for failing to turn up at the post-match press conference.
Unfortunately for the GFA, its failure to check the situation in the Ghana Premier League means the nation's football governing body has also failed to protect the interest of the sponsor First Capital Plus Bank. While the top flight clubs and the FA continue to enjoy the funds from First Capital Plus Bank, they must remember that the sponsor's interest must be protected.

By: Dennis Mirpuri

(Sports Journalist – STARR 103.5FM)
Source: Dennis Mirpuri