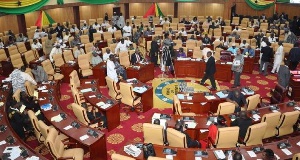 For me, 'honourable' does not roll well on my tongue. Period! I would rather refer to senior males as 'sir'! The reference, 'sir", is simple, unaffected, unpretentious and from the bottom of my heart.
'Honourable' comes with a lot of baggage.

If the word 'honourable' rolls on my tongue and out of my mouth, then surely, I will be saying it in mockery or jest!

Meanings

Honour means high respect or great esteem. It is also the quality of knowing and doing what is morally right.

The adjective, 'honourable', on the other hand is: possessing or characterised by high principles or a person worthy or entitled to honour or esteem.

In certain definitions, 'honourable' is a title used by Members of Parliament (MPs) in some jurisdictions like in the United Kindom (UK) (and Ghana) as courtesy for counterparts during parliamentary debates.
Abuse

Analysing the definitions, it seems 'honourable' is a title for the nobility of the UK or used to accord courtesy among MPs.

Do we find these qualities predominantly among most politicians in Ghana? Why then do Ghanaians abuse the word or title?

For some politicians themselves, I hazard a guess.

Is it because they do not know that they have endeavoured to fully appropriate the title?

Some would insist that they are referred to by that and would sometimes openly demand that reference.
The insistence of the word 'honourable' may also be a cover up by politicians whose jobs are indefinable and characterised mainly by being verbose.

Perhaps, they insist on the title to arrogate some importance to their work or to cover up the fact that they are woefully not working in the interest of their constituents and have failed Ghanaians.

For Ghanaians, I believe that most use the title to get favours with politicians.

Some, like me, would use it in jest, knowing fully well that the politician being referred to is not worthy of that title.

Wordy

In my practice as a journalist, 'honourable' is sometimes too wordy, so we simply use 'Mr'.
I remember that in the mid-2000s, a personal assistant of a minister, after I had written a story, called into the newsroom to complain about the fact that I had not used 'honourable' before the name of the said minister in my article.

Good old ace reporter, Edmund Kofi Yeboah, who picked the call did not mince words as he told the assistant to the politician off on phone.

"Sir, even when we report on the President, we don't use excellency!"

Really?

What is honourable about some of these people who lie, clamour or shout to impose their views rather than argue out their point of view dispassionately but with command to convince?

What is honourable about some public officials who connive with those not working in their institutions to sublet services owed freely to Ghanaians for gain and to pervert the smooth running of institutions.
What is honourable about us all, who focus primarily on our interests above those of all others?

Let us all keep it simple and show by our actions rather than talk that we are all truly honourable.