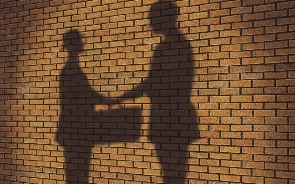 Notwithstanding the code of ethics that abhors corruption in government organizations, it is almost becoming normal for public servants to engage in corrupt practices in the discharge of their duties. Succeeding governments in Ghana have been fighting corruption in government bodies.
However, a cursory survey in all the important government agencies like the Passport Office, the Driver Vehicle and Licensing Authority [DVLA], Registrar General's Department, hospitals and clinics among many bodies shows that corruption is still prevalent there. A visit to the above named offices would reveal the presence of "goro boys" and huge contractors hanging around, transacting businesses to process documents on behalf of other people. They don't provide these services for nothing.

The common justification given by those offering bribes using middle men in these outfits is that they require rapid services to be rendered to them in the three main offices which are centralized in Accra and require to offer services for thousands of people travelling down from all parts of the country.

They therefore see nothing wrong with offering bribes to get their hearts desirers. Decentralizing government agencies like Passport Office, DVLA, Registrars General's Office etc. in all the ten regions of Ghana is therefore the way to go. To this end succeeding governments have intended to push through decentralization programs in all regions and districts. It seems to be working to some extent. However, we are yet to see it happening in full swing. One other way of ensuring fast and easy processing of documents in government office is through mechanization of all government offices. This method of pushing through documents is reported to have been adopted but it is yet to be widespread and effective.

Although a mad rush for services in government offices is responsible for offer of bribes in government offices, some Ghanaians say bribery is normal in consonance with our customs and traditions in which "libation pouring" is normal. While some people say it is customary to offer gifts for services, others say that would induce government officers in organizations including hospitals and clinics to pay attention to them.

Secret corrupt practices also happen during procurement involving top government officials and foreign,local contractors and suppliers.
There are government officials including those at the very top echelon of offices who make huge money through bribery enough for them to buy cars and put up buildings. This means that those officials accept government jobs in lucrative government organizations in order to enrich themselves through bribery and other private duties, but not to serve the nation.

The former Member of Parliament for North Dayi Constituency in the Volta Region, George Loh, has hit at public sector workers who transact private businesses instead of what they have been mandated to do in their various offices. For us bribery andcorruption in government bodies amounts to using governments outfits for private undertakings and gain.

He contended: "we only pay people to go and sit in the offices and they do their private things and go away but are paid at the end of the month by the government of Ghana".

A research published by a reliable source has shown that Corruption in Ghana has been common since independence. Since 2006, Ghana's score and ranking on the Transparency International Corruption Perceptions Index has improved slightly, ranking higher than Italy and Brazil.However, there is a growing perception in Ghana that government-related corruption is on the rise, ranked 64th in 2012, tied with Lesotho. Even though corruption in Ghana is relatively low when compared to other countries in Africa, businesses frequently quote corruption as an obstacle for doing business in the country. Corruption occurs often in locally funded contracts; companies are subject to bribes when operating in rural areas.

In a book published in 1975 by Victor T. Le Vine,bribery, theft and embezzlement arose from reversion to a traditional winner-takes-all attitude in which power and family relationships prevailed over the rule of law. Corruption in Ghana which has led to many government officials being found wanting is comparatively less prevalent than in other countries in the region though.Although winner takes all is not preferable by many people in Ghana, that alone cannot be responsible for massive corruption in the system.
Ghana is not a signatory to the OECD Convention on Combating Bribery. It has, however, taken steps to amend laws on public financial administration and public procurement. The public procurement law, passed in January 2004, seeks to harmonize the many public procurement guidelines used in the country and also to bring public procurement into conformity with World Trade Organization standards. The new law aims to improve accountability, value for money, transparency and efficiency in the use of public resources.It is our hope that the appointment of minister in charge of procurement would help matters.

However, some civil society organizations have criticized the law as inadequate. Civil society representatives, have drafted the Right to Information bill, which after being passed by parliament will allow greater access to public information on government transactions.The passage of the RTI bill is important because notwithstanding the new procurement law, there may continue to be fear of corruption in the tender process. The RTI law would therefore lead to transparency and accountability in government transactions and to lead to the elimination of corrupt practices in government circles.

By Alhaji Alhasan Abdulai

Executive Director eanfoworld for sustainable development