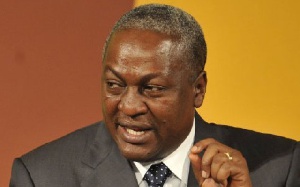 At the African Leadership Magazine (ALM) Person of the Year 2016 Awards programme in Johannesburg, South Africa, Ex-President John Mahama is said to have admonished "Africans to devise the necessary structural reforms that will put the African continent back on the path of growth", to ultimately achieve development (See: "Take Advantage of Africa's Opportunities", Ghanaweb.com - 23rd February, 2017).
For an individual who combed through the whole country, belligerently proclaiming that he had a "dead-goat syndrome" that prevented him from listening to Ghanaians, regardless of the complaints about economic hardship during his tenure, it is outrageous that he is talking about the development of the continent now that he is out of office. Scrapping of students' allowances, teachers working for 24 months and getting paid for only 3 months, poor general conditions of service for the Ghanaian worker, ban on recruitment/employment in the country, among others. What shocked many was his nonchalant adding of salt to the injury of the Ghanaian with a rambunctious bashing of Lumba's "Yentie obiara" (We won't listen to anyone) song in his vehicles as he and his entourage graced the principal streets of the country. What a painful way to prove he was indifferent to the predicament of the Ghanaian!

According to Brian Muldoon, "listening helps reduce resistance and opens our thinking to creative solutions". Obviously, Mouldoon draws our attention to the significance of listening vis-a-vis fashioning out creative solutions. Listening helps in equipping the leader of a country with effective solutions to the plethora of development problems confronting his/her country. The implication is that an African leader who refuses to listen to the cries and lamentations of his/her people cares less about the development of the country and the continent. So why should one of the best communicators of mother-earth, who refused to listen to his fellow Ghanaians, because he was not interested in the development of Ghana and Africa, be pretending to be concerned about their development now that he has been voted out of office? Indeed, Mr Mahama has carved an "obnoxious niche" for himself as the first African leader who never listened to his people and vehemently proclaimed it publicly, simply because he didn't care a fig about the development of his country whilst in office.

Frankly, I do not think Ex-President Mahama should have the moral muscle to flex about his humongous knowledge on development issues and the extent to which he cares about the development of Africa. That was never demonstrated when he was in power. For someone who never cared about the development of the continent, what went horribly wrong or magnificently right, for him to be talking about it now? Charity, they say, begins at home, so he should have proved his love for the development of Africa by starting with the development of Ghana, when he was on the enviable seat.

Then also, for him to be advising Africans as to what to do before development can be embraced and expecting every Tom, Dick and Harry on the continent to heed to it is really insulting to the intelligence of Ghanaians in particular and Africans in general. What that means is that we are all terribly daft and bereft of the significant ideas required to achieve development, except him. He is the only one who can help take Africa to the Promised Land, although he couldn't do so with Ghana. Sad to say, it will take some time for him to be accorded the due recognition as one of the finest Ex-Presidents in Ghana and on the African continent at large.
It would be naive for anyone to think I am a detractor of Ex-President Mahama. The crux of the matter is that I am a patriotic Ghanaian, who loves to see the development of my country and Africa at large. We have languished in the jail of underdevelopment for far too long, and most of us seem not to be perturbed about it. That is the reason I mince no words in pointing out any hypocrisy or sycophancy I come across. Turning a blind eye to such conspicuously nauseous and churlish acts will make our forefathers turn in their graves, and that is the last thing I want them to do.

Well, it is important to reminisce the fact that, "If you throw a ball against the wall, it comes back to you". That is what our politicians should be reminded of on a daily basis. The fat salaries and the other comforts they enjoy appear to obfuscate their sense of judgement. Our leaders should listen to the very people who helped catapult them to where they are. Even if they won't listen to them, it is politically incorrect for them to rubbish their complaints and lamentations in a derisive fashion as done by His Excellency President John Dramani Mahama. And isn't it ironic that the person who didn't listen yesterday, because of a "dead-goat syndrome", wants to be listened to today?

By: Kwabena Aboagye-Gyan

(kwabena25@hotmail.com)