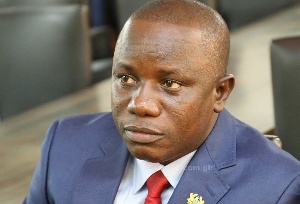 Fellow Ghana youth, tomorrow is the day of seizing back our destiny. You are being called to join all other concerned Ghanaians tomorrow to fight the oppressors rule. Please join the massive Put Ghana First Demo to take back our destiny. We cannot afford another Bond of 1844. We have always pledged to resist the oppressors rule with all our might and will. The time has come to do so, God will help us!
What is the problem? The problem is our future has been sold by some reckless old-dying man and a drunkard to a war-mongering selfish superpower who sees nothing about our welfare but only their sadistic desires. This is a country that refers to us as 'shitholes'. This is a country that is deporting our brothers and sisters from their soil inhumanely. This is a country whose ambassador said our country is going to legalize homosexuality soon! They want to come and occupy our sovereignty!

Fellow citizens, the need for us to resist this nonsense of a deal is more urgent than we can think. We cannot leave the determination of our future destiny in the hands of a corrupt president and his drunkard minister of defence. These people were simply made to sign a deal prepared by the selfish Americans. They did not even understand the word "materiele" in the document yet they want us to accept we are safe.

How will we be safe in our country when foreign forces move about with impunity while our government is not able to control them? The clueless drunkard in charge of our defence, Dominic Nitiwul, ignorantly bleated a hoax in our ears that the agreement does not allow a creation of a military base in our country. However it was clear the American forces will be allowed unfettered access to our military facilities and even make alterations to them.

What is the need for the alterations? What are US civilians and contractors coming to do in Ghana? Look at the suspicious alacrity with which the deal was irresponsibly ratified by the NPP side of our parliament. We are now convinced that Akufo-Addo actually signed this deal in the US when he attended the US governors' conference last month. At that conference, he surprisingly declared to the US he was going to help them fight terrorism. That declaration, sort of a goat telling a hyena it will help it scavenge, raised eyebrows.


The US Congress then followed up with a humorous award to Akufo-Addo for 'exemplary leadership'. The US ambassador to Ghana, Robert Jackson, followed suit showering praises on the corruption-clearing Akufo-Addo as a visionary. This is the way our old man was fooled to sell our sovereignty to the modern day imperialist Americans.

We should also note that our country is non-aligned. We deal with the West and the East but we always stay out of the non-productive ideological warfare being fought by proxy in weak territories by the world powers. We cannot allow our soil to become the latest stage of this ideological battle. We have the duty to protect our future; those who are already making it and will die soon do not care of the ramifications of their current foolishness.

Just imagine Donald Trump insulting us as shitholes! How can shitholes who do not think well all of a sudden become so intelligent that they sell their sovereignty to you? America is deporting many of our citizens on monthly basis. They come back here jobless yet our careless leaders have signed a misleading deal to allow their soldiers and civilians to set up their subversive systems here.



The point here is this: Ghana, a shithole country, can never have this shithole deal ratified by the US Congress. This is what we should consider. How much is $20 million dollars when our national debt stock is now $32.9 billion? What can it do for us if only it has not been shared among those who pushed the senseless deal already?
Fellow youth, the more reason why we should resist this stupidity is the fact that those who wrote it for our ignorant men to sign have said we will legalize homosexuality soon. That means their next move is to draft another agreement to force us to legalize the dirty Babylonian practice. Our careless president has already said it is bound to happen. It is clear they have already drawn the roadmap for it. We need to nip it in the mud. We must throw away this suicidal deal to warn them against going further.



Sensible people cannot co-habit with shitholes! Arise Ghana youth to save your motherland. Don't sit back and regret later. Our forefathers made this mistake and it took us 113 years to reverse it. With this sophisticated one, only God can tell how long it will take us. Let us stop it now before it starts!