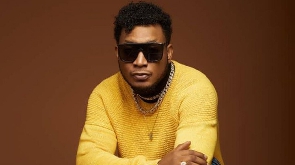 The pomposity and ignorance of Hiplife artiste, Nana Boroo, has inspired this piece.
The 'one-hit wonder' is out with a new single he calls Fine Boy and as usual, he's been on some media rounds to promote the song. Congratulations to him!

The release of the song doesn't interest me, it is just another song from an artiste trying to revive a floundering career.

My interest is in the aftermath of the release of the song, where the son of the legendary Hiighlife musician, J. A. Adofo, has lashed out at Nana Boroo for sampling a greater portion of his dad's popular song, Yaa Dufie.

Like many copyright-related matters before this, the issue got some music aficionados talking and as always, I just have to chime in!

Nana Boroo's ignorance and arrogance

Nana Boroo's single samples a song by a VGMA Lifetime Achievement winner and the connection is so glaring; radio presenters and entertainment analysts who get the opportunity to interact with the young act do not hesitate to let him know, but the foolhardy artiste has failed to acknowledge the fact that his song is almost a complete copy of Adofo's hit song.

In his arrogance, displayed both on Peace FM and Happy FM last week, Nana Boroo talked about how he doesn't need to seek permission from Adofo to use the song and that he only took inspiration from it. How silly!

He unashamedly shows ignorance by stating that he was being creative and that, Ghanaians should respect creative guys like him, for even having the idea to sample, no, get inspiration from songs by legends.

According to him, he has not infringed on any copyright-related matter and pooh-poohed suggestions of him going to see Obuoba J. A. Adofo.
There are other culprits

Nana Boroo's brazen disregard for J. A. Adofo is understandable; he took inspiration from other young folks who sample songs from the old generation with impunity and when quizzed, act all snotty about the issue.

Afrobeats artiste, Kelvyn Boy sampled an element from Oheneba Kissi's song, Asem Ben Ni for his Stonebwoy-assisted single, Na You and during one of his media tours, he disclosed how he did not seek Ohenaba Kissi's consent and acted as though it was not important to ask permission in order to use any element of the original song.

It took an outburst from the producer of the song, Mark Okraku Mantey before Kelvyn Boy offered an unconvincing apology.

Thinking this young chap would learn from his earlier indiscretion, he went ahead to release another single that sampled elements of a song by Nana Agyemang without seeking permission and consent.

Once again, he was nonchalant about his actions when he was queried. Kelyvn Boy and Nana Boroo are two of the many young artistes who blatantly use the works of the old folks without getting the necessary approval.

Some also just acknowledge the owners of the songs by putting their names in their videos, without going through the appropriate channels in seeking clearance.



Attention-seeking gimmick
Some are suggesting that this move by Nana Boroo is just for media hype, his way of getting attention for his song, something that has eluded him for years.

That's okay! I have always maintained that it is a hallmark of any good artiste to have the ability to garner attention to his/her brand.

Again, there is nothing like negative publicity, so, I am helping Nana Boroo – calling out his folly in his attempt to brush off the fact that he sampled a popular song from a legend and is imprudently refusing to go talk to the old man.

In giving him that needed attention, I am also telling him how insolent he's been since the days he unjustly treated S.K. Blings, who virtually owned his only certified hit song till date, Aha Y3 D3.

No respect for our legends

I have the conviction that these young artistes have a total disregard for our legends by 'stealing' their songs and it is disrespectful and humiliating.

What they forget is that when they also grow and record their original songs, some young artistes would come along, disrespect the hard work that went into the making of such original songs and use them without their permission.

I was not surprised when Highlife great, Oheneba Kissi, expressed worry about the spate of unsolicited sampling of original songs by these young artistes.

Speaking to Radio Central, he said: "It's worrying. If it's abroad there is respect. We call it a cover version. One can use the whole song but you will be notified with a letter that they want to use your song.
"With that you can tell the person that you can use the song but you can't transfer the copyright to your kids because I have it. Even 70 years after my death my children will still have the copyright of my songs so you can't use it.

"This kind of arrangement is not working in Ghana but we are trying. It's not best to do that knowing the song belongs to someone and it's his right. It will be worrying if you say you will take them to court."



Refusing to learn

Elsewhere, where copyright-related issues are of great concern to the music industry and its players, governments make laws to protect the intellectual property of the creators and curators. The lawmakers have a better grasp of the law and it works!

In the case of Robin Thicke's 2013 hit Blurred Lines, written with Pharrell Williams, a federal jury found the similarities between the song and Got to Give It Up by Marvin Gaye to be pretty straightforward.

After an initial legal dispute lasting a year and a half, and an appeals decision three years later, Gaye's children were awarded more than $5 million.

The Isley Brothers in 1964 and Michael Bolton in 1991 both dropped songs titled Love Is a Wonderful Thing, and the infringement claim was based primarily on musical similarities in the chorus rather than lyrical ones.

A federal appeals court upheld a jury's decision that found the similarities to be the result of subconscious copying, and the Supreme Court declined to review the ruling. The $5.4 million that Bolton and Sony were ordered to pay was one of the biggest awards ever in a music copyright case.
In 2017, Ed Sheeran settled a dispute over his song Photograph and its similarities to Amazing, a song by the British singer-songwriter Matt Cardle. Sheeran settled another suit last year regarding a song he wrote with Tim McGraw and Faith Hill that two Australian songwriters claimed was copied from their song, released two years earlier.

Just last week, pop star Katy Perry, her collaborators and her record label were ordered by the Los Angeles Federal Jury to pay $2.78 million because the pop star's 2013 hit Dark Horse copied a Christian rap song.

It was an underdog victory for rapper Marcus Gray, a relatively obscure artiste once known as Flame whose five-year old lawsuit survived constant court challenges and a trial against top-flight attorneys for Perry and the five other music-industry heavyweights who wrote her song.

Ghana's terrible copyright system

In all this, how can one blame these ignorant artistes when the copyright laws in Ghana are almost worthless? When such matters are reported to the enforcers, perpetrators are left off the hook every time.

We have a law, Copyright Act, Act 690, enacted on May 17, 2005 which serves as the legal framework that protects the use of an individual's work once the idea has been physically expressed.

All the provisions are there, yet, people unscrupulously use others' work without going through the proper procedure.

Sensing the challenges that face our copyright system, some industry persons under the NPP, deliberated for months and decided to include the setting up of copyright courts across the regions in the 2016 NPP manifesto, in order to convince people in the arts to vote for the party.

Almost a year to the end of the four-year tenure of the NPP government, nothing has been heard of this commitment – absolutely nothing! The likes of Nana Boroo are having a field day in this current state of our copyright system.