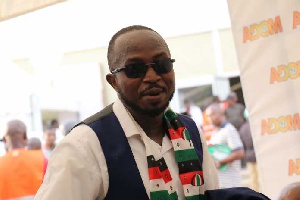 I wonder why audacious insanity has become the portion of NDC members since they lost general election 2016. For their burning desire to regain power in election 2020, right from the NDC presidential-candidate John Dramani Mahama to any of their faithful crawling on the ground have found the boldness to speak on authority that Ghana will burn should a new voter register be rolled out for election 2020, or should John Dramani Mahama be summoned to answer questions on the Airbus scandal.
By Atubiga's submissions, it is clearly true that John Dramani Mahama is the said "elected Ghana official one" in the investigations into the Airbus corrupt practices that infringe international corporate/business practices for which the British, French and the American courts fined the company £3 billion. Therefore, Mahama is the one who accepted the £5 million bribe from Airbus before contracting them to sell military aircraft(s) to the Ghana military. Having taken bribe, he has breached Sections 139 to 147 or 150 of the Ghana Criminal Code 1960 (ACT 29).

Are there not laws in Ghana? Are the laws in Ghana toothless bulls before vociferous political activists, the rich, and politicians but only bite the poor and the needy in the country?

I cannot understand why any idiot can simply emerge from the NDC camp to threaten the entire nation with impunity. What are the security agents doing? Are they waiting for the crime to be committed before they arrest this NDC little-minds who are causing fear and panic in the nation by their unceasing daily threats to burn down Ghana?

On peacefmonline.com, under their Politics of Monday, 2 March 2020, under the heading, "We Shall Bring Chaos If Mahama Is Invited Over Airbus Scandal ~ Atubiga", there is this rabies-infected NDC mad dog, Stephen Atubiga, threatening to cause chaos in Ghana and also, threatening to ensure that any judge that presides over any interrogation of John Dramani Mahama on the Airbus scandal will disappear. He says, "Any judge who sits on such a case will vanish"

I know that you cannot threaten the lives of people, a group of people or a nation and go scot free. There are precedents where some people who had uttered similar statements had been arrested. Kennedy Agyapong (Hon), the Member of Parliament for Assin Central constituency in the Central Region, was once arrested and kept in cells for several days if not weeks, by the National Security, Bureau of National Investigations, for allegedly inciting the Ashantis to take machetes (cutlasses) to behead the Ewes.
Again, the three crazy Montie FM host/panellists, Salufu Maase alias Mugabe, Alistair Nelson and Godwin Gunn were arrested and convicted to Nsawam Maximum Prisons for three months only to be granted presidential pardon a month into their sentence by then President John Dramani Mahama. These intending killers, had threatened on radio to kidnap and rape then Chief Justice Mrs Theodora Georgina Wood as well as ensuring the death of some Supreme Court judges if they obliged then Chair of the Electoral Commission, Mrs Charlotte Osei, to clean up the electoral register deemed bloated. This was following a petition lodged with the Supreme Court by Abu Ramadan of the opposition People's National Convention (PNC), and Evans Nimako, a farmer from Ghana's Eastern region.

Subsequently, this NDC bigot who is now feeling too big in his worn shoes, can equally be arrested for carrying himself around same as his mentioned predecessors.

You cannot come to Britain, France, Germany, Canada or the USA to threaten to burn down their country, or kill their judges, and they will let you go scot free. You will be arrested, questioned and possibly jailed. They will not wait for you to cause the carnage before you are arrested. You will be arrested at your silly threatening pronouncements.

Go to any of the airports in the mentioned countries and jokingly shout that you are a terrorist and that you will blow up the airport within minutes with explosives hidden in your rucksack. You will be lucky not to be instantly gunned down by their armed security officers. You will straightaway be arrested, taken to the police station, investigated, and put before the court where you will 100% surely be sentenced to jail.

Why is any Tom, Dick and Harry in the NDC going around talking complete nonsense as if they have not an iota of grey matter in their oblong skull but have all the powers from Satan to let the hell break loose upon Ghana, my motherland?
Arrest Stephen Atubiga, that bushman in Ghana behaving as if he is in the jungle. Even in the wild jungle life, the animals do comport themselves within their groups more than the NDC are doing in Ghana ever since they lost election 2016.

Do they think Ghana belongs to them and that they were created to be heads but never to be tails even for once?

By their collective stupidity, I am beginning to dislike them with passion, even though I have a few credible friends in the party. This nutter, Stephen Atubiga, has spoiled my sleep tonight.