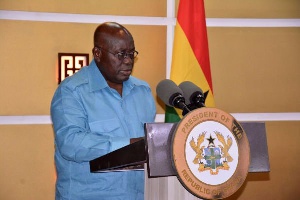 It is gladdening to learn that at long last the free SHS promise is going to be made good. As a flagship project of the government of President Akufo-Addo and his party the New Patriotic Party (NPP), it is our take that all the necessary ingredients are provided to reduce the hitches which usually accompany novelties of such magnitude.
They said it was only a campaign gimmick, nowhere near being implemented but now nobody indeed not even propagandists on the side of the largest opposition party can doubt the sincerity of the initiative. They might still want to play the usual propaganda pranks on persons who are hard at understanding such initiatives but inside them they understand it is coming and pronto.

The number of kids who fall out at the end of their JHS education unable to proceed to that level is enormous and worrying. It is reason all Ghanaians who are the stakeholders in this matter must support the initiative regardless of their political colours. Ghana comes first before our political affiliations and not the pettiness some of us trade in the name of partisan politics.

We recall with pain the efforts by some Ghanaians to derail the project and wondered how some of us can be so mean in our practice of politics.

We have come a long way from independence that children roaming the streets for want of support to attend school should be anathema.

The initial hiccups which would be experienced when the project is launched should provide us with important lessons for fine tuning. Such challenges should not be used to castigate officials at the forefront of the implementation of the project as we are wont to do.

The initiative is too critical for our human resource development that we must ensure its success come what may. Indeed we can make it shine and become a source of admiration for other African countries.
Finland and how the country is benefitting from the dividends of education is a shining example of how education even in the absence of natural resources can ensure the growth of a nation. Overlooking this crucial subject would not be in the interest of our development even as we strive to hit this mark and all the attributes associated with this status.

There are within us as a people and in the education system bad persons who would rather the project fails. Such persons would resort to varied ploys as means of throwing spanners into the works.

We ask that the eyes of the Ghana Education Service be riveted on the schools with a view to finding those who would want to tread on this tangent.

Help desks should be created in the various districts where parents who encounter deliberately created challenges can go for redress.

Those found to have hindered the success of the project must be named, shamed and sanctioned.