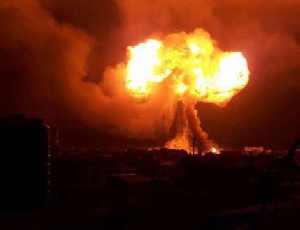 On Monday, the front page of our newspapers will read: Scores dead as gas explode at Atomic, Accra shocked with another gas explosion, Atomic gas explosion: NADMO pledges support for victims, Atomic gas explosion: the inside story etc.
The middle pages will be cladded with pictures (watch out for Daily Graphic's famous centre spread).

Many editorial spaces will be dedicated to drawing the attention of state actors on the need to put in place measures to curb the occurrence of a similar tragedy in future.

Television and radio stations will go to the scene of the explosion, speak to eyewitnesses and people who narrowly escaped.

Our President and Ex-President will send their condolence to victims via their social media pages between now and Monday.

Senior journalists, Kwesi Pratt and Kweku Baako will give us history of similar explosions and how we haven't learnt from the past. They will begin their submission by registering their disgust at revising similar issue without any hope of something being done by state actors.

NDC and NPP will have their say and blame each other if possible (expect Kweku Boahen to blame it on Nana Addo anywhere he gets the opportunity to talk about the issue).
Experts will speak, analyse the situation and give recommendations on how similar disaster can be prevented.

Government will not be left out; a statement will be released, empathising with the victims and the assurance of government's decision to provide victims and their families the needed support. It is very likely that an amount will be named to be given to them.

In the statement, government will pledge to conduct full scale investigations into the issue and bring those whose negligence contributed to the disaster to book.

Celebrities and regular people will join and sing the chorus of compassion for the victims through social media, articles and what have you.

NADMO will be in the news presenting relief items for victims.

Then, just when you think all that needs to be said has been said, a prophet will come out, talk about how God revealed the disaster to him and even link it to God's wrath against sin in the country.
In about a week, everyone will revert to type, another corruption scandal will shift the attention back to the politicians and everything will be normal as though nothing ever happened.

It will never be revisited until another disaster occurs.

This is Ghana.

Sometimes it feels like we are all on autopilot.

Isaac Kyei Andoh