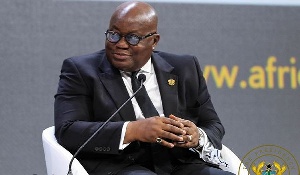 Power-drunk Akufo-Addo, by his own conduct and character traits, coupled with his made in Akyem government, and Kyebi mafia style of administration has done so much in establishing for himself his one-term presidency.
Akufo-Addo has been NPP leader for the past ten years, but the past two years of his Party leadership and President have exposed him and his weaknesses, as well as his ulterior latent motive and mindset. Never did the millions of NPP voter-admirers think of him as having such a soft malleable and puppet-like brain that can be so easily manipulated to dance and turn to any direction, and to any shape of the will of the manipulator.

The NPP manifesto advocated for one District one factory, and one village one dam policy.

We appealed to the people of Ghana to vote for Akufo-Addo to be President of Ghana so that corruption-infested Ghana could be cleansed.

With a strong hope in Akufo-Addo as our first amongst equals leader, together, we promised Ghanaians to establish and appoint a Special Prosecutor to deal with all corrupt officials of all political colours, and of every shape and size.
After a very long hesitation, the supposed Special Prosecutor was appointed. This came without Regional and District equivalents to assist in such an onerous task.

To this day, the Special Prosecutor has not been able to start work due to constraints put in his way by a corrupt Gabby Asare Otchere Darko-controlled mafia government.

As we write now, Gabby is reported to be operating an off-shore foreign account, of which the money is of both corrupted and stolen sources, purportedly for incorruptible Akufo-Addo and his Kyebi mafia group.

When we proclaimed our one District one factory, and one village one dam policy, pejerotively, NDC and John Mahama, in their state of jittery, also teasingly campaigned on one house one meter, on the basis of the fact that Ghanaians strangely buy into anything, no matter how farfetched and unreasonable.
Today, from nowhere, whereas even most of the promises have not been executed and realised, Akufo-Addo and either his agriculture or trade minister have childishly and confusingly preaching to Ghanaians on establishing one village one warehouse. As to what sort of warehouses and what commodity to store there-in, only Akufo-Addo and his empty-headed agriculture minister can tell.

These sorts of political gimmicks of one this one that make NPP and Akufo-Addo look ridiculous in the minds of the public, because to this day, Akufo-Addo cannot tell how many wells he has dug out for Ghanaian needy communities, let alone dams for irrigation and supply of potable water.

Akufo-Addo is such a vindictive and grudge-bearing personality that he is at loggerheads with many NPP top ranking members. It is strange whether the so-called learned man of laws knows what it takes to be a political party leader and President of a country.

Touching on fighting against corruption in Ghana, which has always been of prime importance to Ghanaians, how far has Akufo-Addo gone on that? What is he going to tell Ghanaians for his re-election, if we allow him, in spite of all his overt childish weaknesses, failures, and disappointments, to contest as our presidential candidate. Running again as our NPP leader and Presidential candidate for 2020 should be a forlorn hope to him, as we have already set him aside even before the congressional primaries.
It is only under Akufo-Addo's barely two years of presidency that he has fostered and personally expressed factional differences in the NPP. The wedge that he has placed inside the Party has already been snatched from his grips and destroyed, before he can cause any damaging split up in our Party.

Akufo-Addo has colluded with John Mahama and the NDC with a clear intent to ditch the NPP to create chances for the NDC in 2020.

If this were not so, by this time, he would have disentangled the shackles around the Special Prosecutor for him to have been able to start work with special laws in a legislative instrument that would enable speeding up cases for determination, and laws that would facilitate their prosecution by pushing the burden of proof of non-wrong doing on the suspected accused. Yet Akufo-Addo is playing a political game of "I scratch your back for you, and you scratch my back for me", because he's protecting his corrupt Akyem mafia group in his administration.

Further to the above, John Mahama's mansion in Dubai is currently on the social media, yet corrupt Akufo-Addo and his Akyem mafia thieves in his administration dare point a finger at it, not even for commentary, let alone for questioning and investigation by the relevant authorities.
This is because the last stop of corruption and thievery in government has been extended to the Akufo-Addo administration. This is typical of ergodic sequences, thus one failure or success directly leading immediately to another in succession. Hence Akufo-Addo and John Mahama weigh equally on the scale of thievery and corruption in Ghana.

With all these manifestations, whereby the voting public have openly shown signs of having rejected Akufo-Addo, it will be strange and lack of sense for NPP delegates to either re-elect him, or return him by unanimous acclamation to lead our Party, and be our 2020 presidential candidate.

After-all, with all these deceptions and disappointments, it will be senseless of anyone to think and believe that Akufo-Addo is the only Party member who "could be trusted to lead" the NPP in elections, as the NDC have only John Mahama as their sine qua non winning hope. There are many well-groomed potential leadership and Presidential hopefuls in our Party than anyone can think.

Credit: The Secretariat of the 1956 United Party Tradition Committee