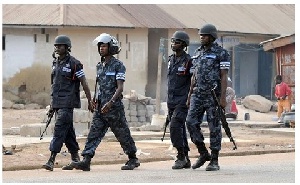 If there is a group of politicians or political appointees who disrespect and at times despised the police, is the DCEs and MCEs, followed by the MPs and Ministers in that order per my observations.
The most dangerous and criminally minded ones are party foot soldiers and serial callers who can demonised the police and make them very ugly before their party sympathisers for no reasons at all. As for DCEs and MPs, it is so annoying and sickening to deal with them as a police officer at times. Prior to their appointments and elections, they are very common at the police stations with all their problems but immediately they get appointed or elected to office, they want to jump on the head of police and immediately they leave office too, you see them coming back to police as old friends. Is it not hypocrisy?

Before the NDC left office as the ruling party, they organised a joint seminar for Police Commanders and M/DCEs at Sunyani. During the seminar, the general secretary of the NDC, Mr. Johnson Asiedu Nketsiah remarked that among the top list of requests brought to them at the party's headquarters by M/DCEs is to have police commanders at some Districts and units removed and to him Mr. Asiedu Nketsiah, he does not understand why a government appointee particularly a DCE or MCE would want a police commander removed instead of cooperating with their respective Police Commanders to have the security situation in their Districts brought under control.

Mr. Johnson Asiedu Nketsiah went ahead and admonished that they should bear in mind that their office is a political one and very temporary but the police officer even if transferred would still remain a police officer and will continue to do his work till he retires or dies. He went ahead to say that he has personally seen some police officers who were branded to be sympathisers of NPP during the Rawlings administration and under Kufour administration, the same police officers were accused to be NDC sympathisers so they should be mindful about the fact that political administrations will come and go but the police officer will continue to do his work. "As for police commanders, if you try to show them that you know their work more than them, they will let you fall in a big hole because they know many things that you might not know as a political appointee when it comes to matters of security so team up with them and work together", he said.

General Mosquito does not only talk nonsense and wears his wife's coat to Germany all the time. He only plays wit with politics because that is what Ghanaians and his political opponents enjoy. He gets serious when it is time to be serious and one of such time was the seminar organised for Police Commanders and M/DCEs at Sunyani and I respect him for that. I also enjoys his political gimmicks because it heals me of stress as result of intense police pressure. I sometimes laughs out loud immediately the radio stations call him to grant interviews.

True to the words of General Mosquito, the NDC is out of power and mending the umbrella to see whether luck will shine on the come 2020 but here we have a DCE at somewhere at Asante Akim North who seem to have been affected with political coccidiosis to an extent that he goes to the house of his District Police Commander who should be his lieutenant in security matters with guns and attacks him. How sad! Just about one year in office as a political party and in the case of M/DCEs, less than a year because they were recently nominated and approved. We are watching!
Is it not sad for a whole District Chief Executive who is representing the President, His Excellency Nana Akufo Addo in the Asante Akim North to organise some bandits in the military uniforms and wielding guns to go and attack Police Commander? Isn't this very unfortunate and worrying far as security situation in Asante Akim North is concerned? I just do not know what is wrong with politicians at times and what makes them think that the police should bow down and worship them because they are government in power? It is sickening at times.

After matching soldiers to go and attack the police commander by the DCE, a very unhealthy report coming from Asante Akim North and reported by Abusua Fm indicates that 3 soldiers and a police officer have allegedly been shot by some Fulani herdsmen. If this report is credible and anything to go by then one can ask "na who cause am?" I am told there will an emergency DISEC meeting this morning and the question I want to ask is the Police Commander whom he went to attacked with guns expected at the meeting? Won't the DCE attack him again? Very unfortunate!

My disappointment is the soldiers who should have used their heads to think instead of using it to carry loads and also followed the so called DCE to go and attack a whole Police Commander with guns in the presence of his wife, children and other family members. Looks like these our friends are always waiting to pounce on the police at the least opportunity. Shouldn't the police and soldiers complement each other in national duties? If the DCE at the time has lost his senses should train soldiers also follow him to go and do what they did?

We all know how precarious and sensitive the Fulani menace has been as a thorn in the flesh of the people of Asante Akim and its environs in particular and Ghana in general. I do not want to remind them of the gruesome killings of their relatives and loved ones as a result of constant clashes between them and the Fulani herdsmen but does it warrant a whole DCE who should be leading the fronts for peace to prevail within Asante Akim North indigenes and Fulanis to go and attack the District Police Commander with guns? Does it?

Isn't the DCE and the District Police Commander supposed to work in tandem to bring this menace of gruesome murderers and constant attacks on natives of Asante Akim and Fulani herdsmen abase? I thought the DCE is the Chairman of District Security Committee -DISEC and in his absence, the District Police Commander chairs District security meetings? Couldn't the District Chief Executive who is the Chairman of DISEC called for emregency DISEC meeting to have this whole issue resolved than to storm the house of the District Police Commander with guns and some bandits in the presence of the Police Commander's wife, children and other family members? What happened to his sense of politics and diplomacy?
This tells how security situation in Asante Akim North has failed. The end result is the constant clashes between the natives of Asante Akim North and the Fulani herdsmen. The behaviour of the DCE shows that there is no cooperation between the very people who are mandated to ensure that law and order is restored at Asante Akim and its environs so the innocent and the poor are dying because the big shots are robbing shoulders.

The whole situation looks like His Excellency Nana Akuffo Addo, the president of the republic fighting the IGP, Mr David Asante Appeatu in public and that is an eyesore and condemnable. This DCE should be called to oder if not removed. If this is how he will approach security issues by attacking his Police Commanders with guns, then the people of Asante Akim North should brace themselves for something untoward as far as the security situation there is concerned.

Usually in situations like this, the police administration is quick to transfer the police officer whilst the politician is left to flaunt his muscles to show his superiority over the police. Due to this, politicians and people holding political offices feel they can always control the police and those police officers who are not ready to kowtow to their whims and caprices are removed through political machinations from sensitive command positions so police officers are increasingly losing the confidence and the boldness to deal with issues that have political strings attached to them. It is high time the police administration should revise their notes and their approach towards how some of these matters are handled.

In as much as I would agree that the police officer be transferred from Asante Akim North as early as possible to restore confidence in the police and also to heal the psychological trauma that this police officer and his family went through in the hands of this probable lunatic in the name of DCE and politics, the DCE should be made to understand the implications of his uncouth behaviour towards the District Police Commander and its ripple effects on the security situation on the people of Asante Akim North. We should not forget the popular saying that when two Elephants fights, it is the grounds that suffers and also the fact that security and crime combat is a shared responsibility.

The political disrespect against the police is just too much and I am sending a greeting text this morning but we are all watching and applying our discretion accordingly. I am very sure I am very close to be charged with political controversies again but it is very normal. Ghana is for all of us.