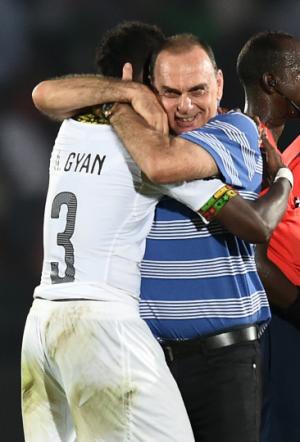 Avram Grant has revealed his Ghana squad for the upcoming friendly against the Republic of Congo and the Cup of Nations qualifier against Rwanda. As before, it is more of the same from the Israeli coach, who will both take the opportunity to work with his key core of players, while also taking the opportunity to broaden the squad's options and integrate new faces into the team.
I have eulogised, in the past, about how Grant, compared to his counterparts across Africa, is 'doing national team coaching right'.

There is no chopping and changing from the former Chelsea boss, who is managing the fine line between staying loyal to his key performers regardless of their club situation and rewarding good performance. It's a nuanced meritocracy and is, in my opinion, how it should be done.

The familiar faces are almost all present for the Black Stars' latest squad.

The only surprise absentee is Anderlecht winger Frank Acheampong. The wideman featured in started all of Ghana's six matches ahead of the recent qualifier against Mauritius (starting the last three), and is fit, even if he hasn't been a regular in Anderlecht's starting XI so far this season.

Acheampong, who was one of the better performers in the friendly defeat to Senegal, can feel hard done by at being left out, particularly when his versatility makes him such a useful addition.
Elsewhere, Waris Majeed and Kwesi Appiah are both injured, while Albert Adomah clearly didn't do enough in his cameo against Togo to retain his place. Might it have been a different story had Middlesbrough pipped Norwich City in the Championship playoff final to secure a spot in the Premier League?

By and large, however, all of the familiar names are there.

Andre Ayew—one of the star performers in the EPL so far—returns after missing the Mauritius and Togo matches, while Richmond Boakye has been recalled following his encouraging showings against Senegal and Mali.

Ebenezer Assifuah also returns, hopeful, perhaps, that he will be afforded his senior debut.

Several national team regulars might have been concerned that inactivity or injury at club level might have jeopardised their standing in Grant's vision.
However, as he has done in the past, the former Partizan Belgrade chief has reaffirmed his confidence in figures such as Jonathan Mensah and Christian Atsu.

The former might have found himself in harm's way due to a four-month ban from club football and his inability to secure a move away from relegated Evian.

With Celtic having turned their attentions elsewhere, the centre-back reminds in Haute-Savoie and looks set for half a campaign (at least) in the French second tier. Jonathan has featured in only two league games since the Cup of Nations, and will surely be rusty.

Admittedly, Rwanda, Ghana's opponents in the competitive fixture, aren't the most ominous of foe, but Grant's selection is a keen show of faith in the 25-year-old.

The manager also kept faith with Atsu last term despite his toil at Everton, and was rewarded with a star turn at the 2015 Cup of Nations.
The winger moved to newly-promoted Bournemouth at the end of the season, but as yet, his fortune shows no sign of improving—an injury means that Atsu is yet to feature in a competitive fixture for his new club.

Grant retains faith, however, and in doing so, is surely guaranteeing that Atsu and Jonathan support him to the hilt moving forward.

Back in June, I wrote a feature focusing on eight players who we'd love to see get a Ghana call-up during the coming 12 months.

Grant, with his first squad of the season, has already opted to include one of these players, with Bologna midfielder Godfred Donsah being handed his maiden call-up.

It's an invitation that should delight Ghana fans, and put the fear of God into the hearts of Emmanuel Agyemang-Badu and, particularly, Mohammed Rabiu.
Donsah demonstrated last season, in his battling performances in Serie A with Cagliari, that he is destined for a career at the top of the game. He has been given the moniker 'the new Michael Essien', while Yaya Toure has also tipped the young Black Star to succeed him at Manchester City.

Donsah, like Bernard Mensah before him, is further indication of Grant's desire to turn to youth and to furnish the future of the national side.

The fledgling powerhouse may not be ready to take a place in the starting XI just yet, but experiences such as this, the chance to integrate with Black Stars' big-names, could set Donsah up for a decade of success with the national side.