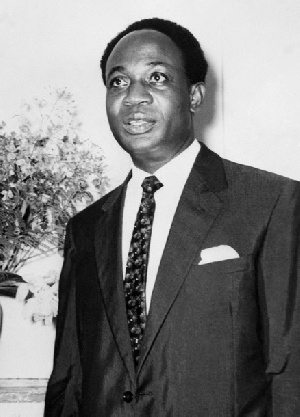 The chorus rose to a crescendo,"Kwame Nkrumah never dies."
He has indubitably bitten the dust,but we are told he never dies.Such a socratic irony,I guess!

Today,our dear country as the tradition goes is drawn in what I describe 'a hell-for-leather debate.The politics-as-usual heated contention remains,who actually founded Ghana?NPP vrs CPP featuring NDC.They have their own answers and facts as usual.

History is being turned upside down.

It is a simple question of who founded Ghana....And the historians say it is an enigma.The lettered are either bankrupt or economical with the truth.To the politician,it is the politics of business-as-usual.The NPP for Kwame Nkrumah Memorial Day/Founders Day and the NDC for Founder's Day.

The "unintelligent public" is now enwrapped in an immutable sense of dogma.The choice is to believe what we hear without question.
For the unborn generation,the least said about them the better...History-now-turned mystery.Which of the versions are we bequeathing to the unborn ones? "Confusion has come!

Indeed,you may consider the foregoing a mickey mouse debate,but to the politician,it is a big deal.Why not?We need our past to guide us and our present to shape us...." The most effective way to destroy people is to deny and obliterate their own understanding of their history.

George Orwell

To set on foot,I am not here to bore you with history(I doubt my knowledge therein).I am neither here to tell you my position in this substantive dispute.

In fact,I am only here to encourage you to envision Nkrumah beyond this debate.I want you to know it is a himalayan blunder to catch a shadow and lose the substance.
Osagyefo Kwame Nkrumah(21st September,1909-27th April,1972),Africa's Statesman of the 20th Century is simply beyond just founding Ghana. He was a very staunch Pan-Africanist and a founding member of the Organization of African Unity.

He won the International Lenin Peace Prize(equivalent to the Noble Peace Prize) in 1962, and was adjudged the Personality of the Century at the Millennium Excellence Award in recognition of his contribution,toil and dedication for Ghana and Africa.

Nkrumah went the hard way,but today,most leaders in Africa choose the line of least resistance in sympathy (aid) with no gain.

His ultimate aim was to unify the entire African Continent.He embodied an enchanting air of peerless leadership.He was the star of Africa,and a global icon.

If the people of Tema are awake,let them join the chorus,"Nkrumah never dies."
If you enjoy power from the the almighty Akosombo Dam today,join the chorus,"Nkrumah never dies."

Ghana Airways Corporation(sold),Tema and Accra Motorway,Tema Harbour,Adomi Bridge,Ghana National Trading Corporation (sold),Cocoa Marketing Board,Trade Union Congress,Meat Processing Factory-Bolgatanga,Bank of Ghana,Ghana Commercial Bank,Ghana Atomic Energy Commission,Ghana Cement Factory,Volta River,Okomfo Anokye Hospital,Ghana Medical School,ad infinitum...Unprecedented!Nkrumah indeed,never dies!

His dream of a self-sustaining economy based on socialist production and distribution is very much alive today.His dream of a socialist state which accepts full responsibility for promoting the well-being of the masses never dies.His dream of massive industrialization and mechanisation of Agriculture remain our leading goals today.This is the crux of the matter.

Today,majority of Ghanaians are poverty-stricken and disease-ridden meanwhile,our politicians are preoccupied with the task of carrying coals to Newcastle.Well,I don't begrudge them.The Yorubas have a saying that,"a man who has bread to eat does not appreciate the severity of a famine."

I only implore you not to join them make mockery of our situation.The least we can do to the memory of Nkrumah is to take a leaf of his book.
We must continue to live the vision,dream and philosophy of Nkrumah.That is the way to go.

The current raging debate cannot be justified.

Well,I understand children are to be seen and not heard. I leave it here.

But remember, Kwame Nkrumah never dies!

May God bless our homeland Ghana.