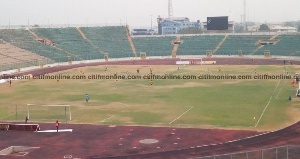 Watching Asante Kotoko vs Kariobangi Sharks in the CAF Confederation Cup match at the Baba Yara Sports Stadium yesterday, I was utterly appalled by the quality of the pitch I saw. I wondered why whoever manages the pitch passed it for the game which was beamed live to the rest of the world.
I've been asked if I saw the pitch well. That's an insult but that's also the tragedy we live with in Ghana. That, if something isn't right and you talk about it, you're rather seen as the problem. It's pathetic of us.

The Baba Yara Sports Stadium is state-owned. It's managed by the National Sports Authority (NSA). Football clubs like Kotoko who frequently use the facility pay for its usage. It should logically be assumed that, a pitch at a facility like a stadium, will best suit the reason for which it was hired.

But closely watching Saturday's match, I sadly observed that, the quality of the Baba Yara pitch was poor. Television pictures exposed the dry, brown-looking grass – in some instances – grassless patches showing sand and dreadfully exposing the players to injuries. Injuries that the NSA will not take care of and injuries which will solely be the burden of clubs, who would've however paid for or expected a pitch in good state.
Why will the NSA offer such a bad pitch in exchange of money or deductions from gate proceeds? It's insensitive. It's irresponsible. It's unacceptable. Kotoko must formally complain. If they won't, the media should draw the NSA's attention to their dereliction of duty. They must fix the Baba Yara pitch.

The notion that, we are in the dry season so we shouldn't expect the pitch to be green flies without wisdom. How are pitches in usually dry environments in other parts of the world kept green? Isn't there an irrigation system at Baba Yara stadium to water and keep pitch green? Is it that, the grass at this stadium can't go green even when it's watered and kept well? Are the pitch managers doing their job well?

The NSA must sit up with its management of facilities like the Baba Yara Sports Stadium and the pitch at the stadium deserves more attention that they've given it. What was seen on Saturday was terrible.