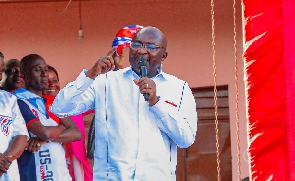 The resignation of Dominique Strauss-Kahn in 2011 as the International Monetary Fund, IMF boss following accusations levelled against him for sexual assault in a hotel means that, the IMF as a body stands for some principles, and his resignation was a classic case of good leadership.
After that watershed incident, Dominique Strauss-Kahn never aspired to head any institution by election or nomination. But unlike Strauss-Kahn, his successor Christine Lagarde alias the "rock star" of international finance, went ahead to accept the nomination to be president for the Central Bank of Europe.

Why is Dr. Bawumia not resigning like the former IMF boss, but wants to continue this national humiliation his economic mismanagement has subjected us to?

Fellow Ghanaians, you see, a stick should not be used to demonstrate what a snake is like if there's a snake. In his what many believed was the last address to the nation, President Akufo Addo eulogized and praised his Vice President to the highest heaven for basically his "hard work" and loyalty to the cabal - the government.

For many political onlookers, despite the comatose state Bawumia has put the country's economy, this was a tacit approval and endorsement of the Veep by his boss in the upcoming flagbearership race of the New Patriotic Party, NPP. And for majority of Ghanaians, the president's cousin and his so-called financial aide, Ken Ofori Ata who has colluded with the Veep to recklessly collapse the economy with massive borrowing for the benefit of his private companies, would likely become the running mate of the "economic Maguire", the Walewale Adam Smith.

And like joke, like joke, today May 30, 2023, the humiliated economist actually picked up nomination form and declared his intention to contest for the flagbearship race of the NPP. And who said Dr. Bawumia won't win the flagbearership race? He would win because only few bright guys in the NPP are really willing to be humiliated by President John Dramani Mahama in the 2024 presidential election.

But like it or not, the parable of Dr. Bawumia's flagbearership of the NPP as well as his presidential bid as the infamous chairman of Ghana's economic management team, could be likened to a man who has fallen in love with a female cartoon in cartoon series, and has been yearning to marry her. He can neither himself be come a male cartoon to marry his lover nor is he capable of turning the female cartoon lover into human.
You may say what you like, but the fate of such an individual is like that of the man who's on a wild goose chase or chasing his own tail, or attempting to lick his own nose: he is not far from lunacy in every attempt. It's a mid-day madness.

Fellow Ghanaians, it's said in the land of my mothers that when you bend down to watch someone else's exposed buttocks, you forget that by bending down to watch, those standing would no longer have to bend in order to watch yours.

Today, unless a wilfully blind man, every Ghanaian both educated and uneducated alike, are watching the buttocks of Dr. Bawumia after he had bent down to watch Mahama's with cooked up economic data that brought the NPP to power.

It's said in Dagbani that "if you have sent your beloved child to the hereafter, he shall surely return but you won't recognize him; he shall return with only one eye". And that's quite deep to comprehend. Bawumia's child has surely returned today from the hereafter he sent him seven years ago as he picked up nomination form, but trust me, he won't be able to make him up on the day of election. You can't destroy people's reputation and slander them willy-nilly and expect heaven to simply do nothing.

Does it then surprise anybody that Dr. Bawumia's choice of slogan is "it's possible"? It's indeed possible. It's possible that a honorable man with conscience can choose to abuse and squander it on the alter of fraud and economic criminality. It's possible that one can mismanage an economy and still have the temerity to want to continue. It's possible that a Birmingham university pride can really sow the dragon's teeth in his attempt to manage an economy. It's possible that a man like Bawumia can shamefully mount a political campaign trail again to talk about economic management. What a shame?

With the ugliest humiliation Bawumia has suffered in his chairmanship role as the economic management team chair, were he a Japanese, he must have committed suicide to honor his conscience. It's still possible.
To have come out to contest in order to continue with this economic mess, Bawumia has demonstrated a clear lack of integrity, dignity, and honesty.

It was Benjamin Franklin who said that honesty is the best policy. We are in this pit of hell today because of the limitless greed and avarice of some few individuals who have taken Ghana as a personal fiefdom supervised by Dr. Bawumia as their economic mojo and macho, and corruption King Kong.

Having received the first tranche of the IMF loan at a sum of 600 million dollars, one doesn't need any economist to tell him or her that the purchasing power (corruption, looting, thieving power) has been restored by the IMF for those who have been holding this country by the jugular in the last seven good years – the New Patriotic Party, NPP. And the recent announcement by Dr. Bawumia to replace textbooks with laptops is an apparent explanation of this thesis.

That, the government is ready for their wanton profligacy and squandermania of our paltry resources is not longer a tragedy. Citizens are numbed this economic battery. And this is happening at a time our economy is not only in quandary but in a conundrum the like of which Ghana has never seen before.

As I having been trying to spotlight this callous inequity of the government to fellow Ghanaians, cursory but unbiased glance at government activities suggest, that there's no project, either flagship or "unflagship" under this government of the New Patriotic Party that is really for the benefit of Ghanaians, or is in the interest of Ghana. Every project they ever forged, be it Covid-19 vaccines, one-dam-one-village, Planting for Food and Jobs, one-district-one-factory, drones to dispatch vaccines, Green Ghana project, so-called free electricity and water consumption, one-ambulance-one-constituency, or the latest nonsense: 1-student-1-laptop, which have not been vehicles to siphoning money from our national coffers. All projects under the Akufo Addo government have been complete fraudulent ones. And Free Education is the biggest scam ever! An economic scam. A Sakawa economic management.

So, the government is looking for another fraudulent strategy in the name of undertaking a project to siphoning the latest cash that has been credited to the Central Bank of Ghana. Hence, this recent madness and nonsense by the Veep that one student, one laptop.
Any concerned citizen should pay attention to the numerous projects of the NPP, and one would have realized that they are all scam! Fraud! It's simply to steal us.

For the massive corruption he's been supervising in the Akufo Addo government, nobody expected Dr. Bawumia to ever dream of coming near any public office again. Because his economic expertise in Ghana has literally been in limbo. In fact, had it not been the previous IMF program which started under President Mahama that the economic guru egged on from 2017 to 2019, he would have been exposed long time ago. No wonder immediately that IMF program ended, the whole economy came down crumbling into a fiasco.

Don't let them fool you into believing that Covid-19 and Russia's war in Ukraine created this mess. The question is simple, why is it only Ghana and Sri Lanka, which became a failed state, that went to IMF with their currencies challenging each other at the bottom of the rest of currencies in the world? Don't we say in Africa that the enemy without defeats you only by when assisted by the enemy within? Our economy was already in tatters and in shambles before Covid-19 and Russia war started.

Indeed, if Dr. Bawumia hadn't become Vice President of Ghana, nobody would have distinguished between public economic lectures and real economic management.

My problem, and of course, our national tragedy is, why would the International Monetary Fund continue to trust these unprincipled leaders who have been nothing to us but economic vultures kneeling on the neck of the central bank of Ghana? Why does the IMF continue to entrust and put our lives - millions - in the hands of crooks to continue to mess us up when they know better?

Didn't the IMF care to know what the government of Ghana did with the 2 billion dollars the fund gave Ghana? Our Covid-19 funds, what happened to it? And if a crocodile can drink its own eggs what can't it do to the flesh of a chicken?
In saner political climes where citizens are bothered about their leadership and common wealth, someone like Dr. Bawumia, Ken Ofori Ata, and majority of the officials of this government must have been executed long time ago for causing financial lost to the state, and humiliating the country.

Is it not embarrassing, very shameful, that having thrown needless tantrums, displayed unnecessary chest-beating, and unhygienic bragging about not going to IMF, the NPP finally licked back their own saliva?

Is it not most shameful, that Ken Ofori Atta and his flopped, most incompetent economic managers still have the shameless audacity to continue to stay in power despite the precarious state they have put the Ghanaian economy into?

Do these people have conscience at all? Do they have sense of shame? Do they not feel shy when they meet Ghanaians? What about their families and friends? So, nobody would advise all those jostling for the perpetuity of this "criminal empire" called government that Ghana is not for sale?

I mean, can't someone within the inner circles of Bawumia and all those who aspire to keep the NPP in power tell them point blank, that cancer can't be treated with paracetamol? Isn't what they have stolen enough to last them for ages - they and their generations unborn? Do they not feel pity for the average Ghanaian? Don't they have pity for the bleeding country?

Is Dr. Bawumia and his party goons so valueless, principle-less, clueless, and dishonorable to know when the people no longer need them? Must they continue to government on credit?